Every Single McCormick Middle College Student Earned PTC Associate Degree
Valerie Yarbough-Jones is on the road a lot around graduation season. All 16 of her students ― 100 percent ― graduated this spring with associate degrees from Piedmont Technical College (PTC). In fact, McCormick Middle College (MMC) has logged a near-perfect completion record since it started in August 2011. She keeps tabs on nearly every one of her students, and she's seen many go on to graduate from four-year universities.
"I try to make as many graduations as I can," said Yarbough-Jones, MMC Coach at McCormick High School. "I've become a lifelong mentor to the majority of my students. It's a great feeling when I see them out in the community and they come up to me in places like the grocery store and hug me. Some will even stop by to visit when they are on break from college."
Yarbough-Jones is excited by how the program has grown, and students tell her that when they arrive on a college campus, people are impressed with what they have accomplished.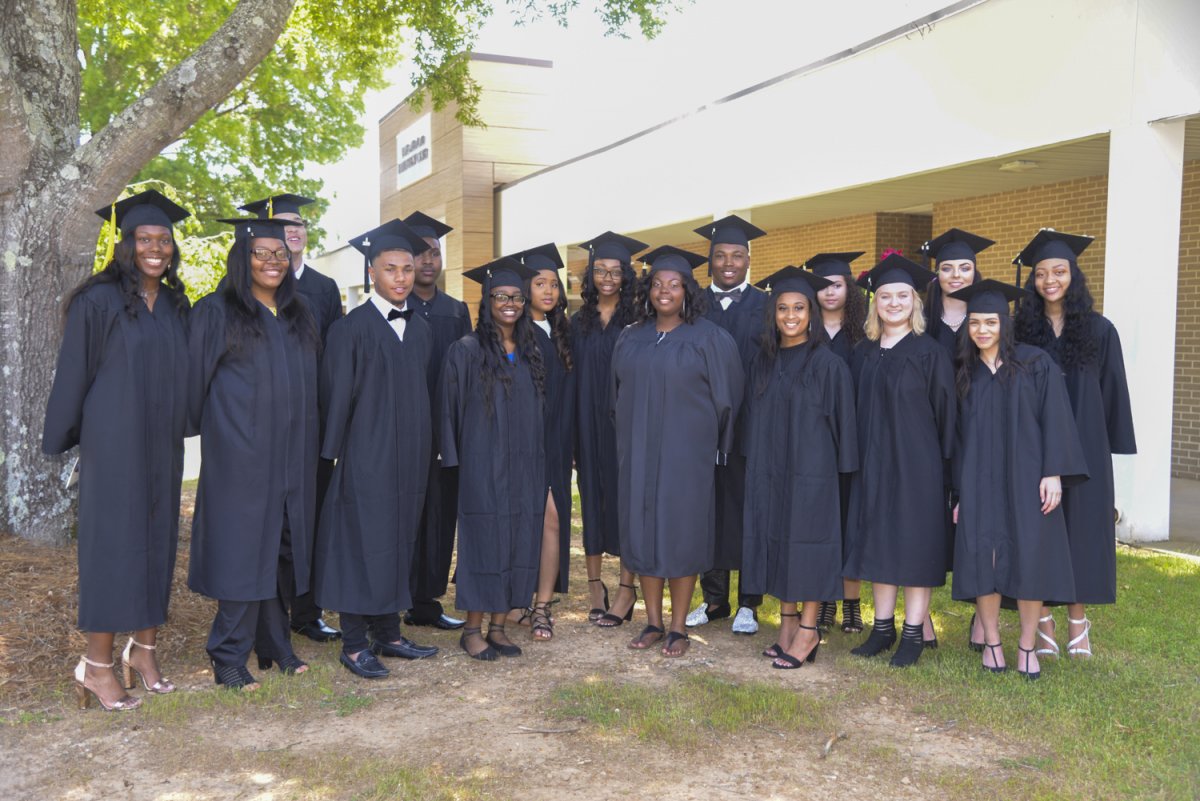 "The students who make the best candidates for MMC are those who are self-motivated and understand the advantages of this opportunity," she explained. "It's a rigorous program, and it takes a lot of discipline. They need to know and understand the importance of being accountable and responsible. … We understand that they are still in high school, but we try to give them an opportunity to grow and develop into the best version of themselves."
One student who embraced the MMC opportunity is T'Laysha Creswell, a high-achieving spring 2019 graduate of McCormick High School, MMC, and PTC. Creswell also delivered one of PTC's commencement addresses, in which she expressed that she always knew she had what it takes to be a college student. However, the lack of coddling or extra hand-holding she and her classmates may have experienced in high school was notably absent. This was a no-excuses endeavor.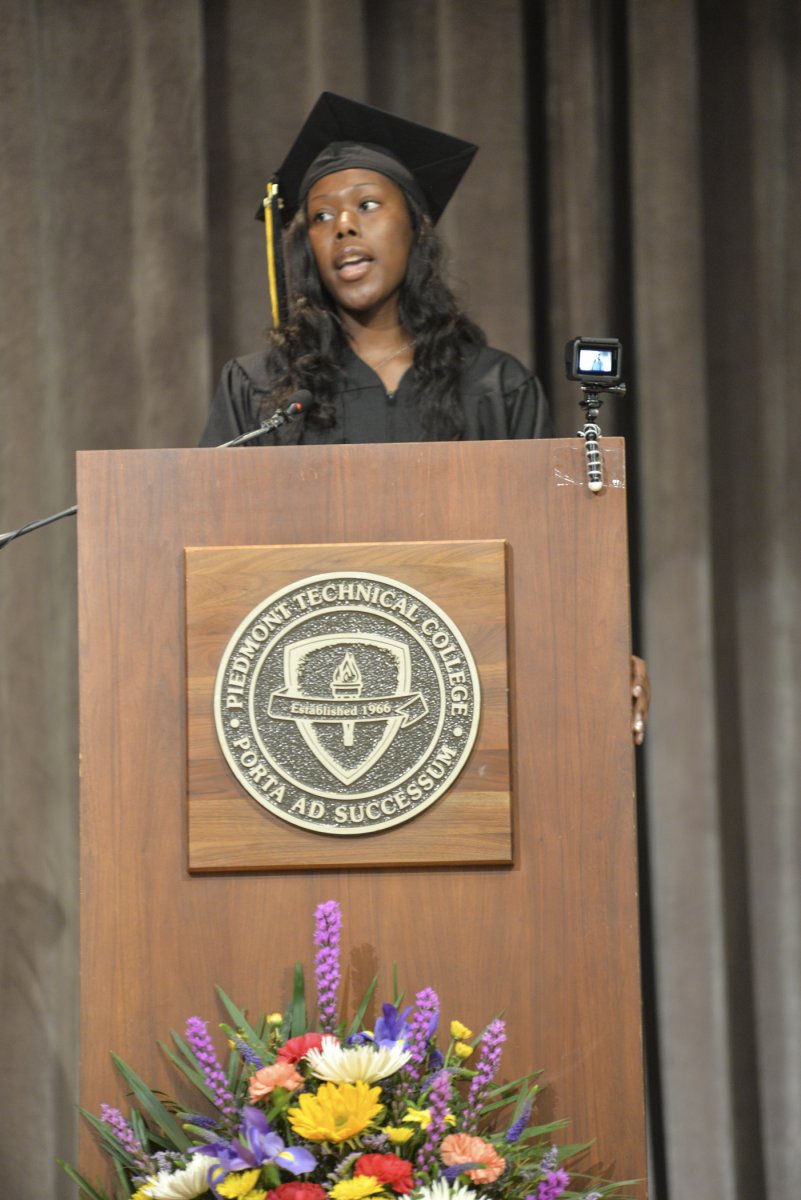 "We soon realized that there would be no one standing over us to remind us what we had to do," she told her fellow graduates. "… It was now our responsibility to keep up with all of the different assignments and deadlines."
"T'Laysha has always been a little genius. This is from elementary school and up," Yarbough-Jones said. "She participates in many extracurricular activities and sports. She manages her time well, and she is focused. Anything that sparks her interest, she will look it up. She is amazing. She is never late. She likes to read, so she never misses assignments. If no one else has read it the night before, T'Laysha did. She is always on top of her game."
"Being a dual enrollment student has not been an easy task, but I am proud to say that I am graduating today with a 4.0 grade point average," Creswell told her classmates at the spring graduation. She is attending Clemson University this fall on a full scholarship to major in engineering.
Jalen Freeman, 20, graduated from MMC in 2017 and is now a student at Clemson University working on a degree in creative writing. He recently completed his first book of poetry, titled "Live Yours, That's It." He said MMC took a lot of hard work, and he expressed gratitude to Yarbough-Jones for believing in him.
"At first, there are feelings that you aren't good enough," he said. "You ask yourself 'how do I know this is going to be right for me?' I haven't taken college courses before. … After a couple of classes, I realized it wasn't as daunting as I thought it would be."
Freeman always has had writing in his blood, and MMC helped give him the confidence to pursue his dream. "I believe I have known it my entire life. I have been writing since I was a child. My teacher, Ethel Cannady (McCormick Elementary English/Language Arts), was the one who really brought it out in me. 
That is when I realized I was meant to do this thing. I was meant to write stories."
Parents of MMC students had many favorable things to say about the program.
"My daughter, Hayley, attended Middle College her senior year at McCormick High in 2012. It is my opinion and Hayley's that it was the best and most advantageous event of her senior career," Steve Nowlin said. "It not only cut expenses but aided in her graduating from the University of South Carolina Upstate. Mrs. Yarbough-Jones was so helpful with navigating the schools and paperwork needed to get enrolled into college. I would highly recommend to parents and any eligible students to take advantage of this program."
Yarbough-Jones works hard to establish trust with her students and to build lasting relationships.
"Whatever the students need, I try to provide it," she said. "It's not just academics. If they have a problem, I want them to feel comfortable talking to me about it and finding a solution."
Yarbough-Jones expressed sincere gratitude to PTC, its faculty, and the McCormick School District Board of Trustees and administration for their continued support of the program. "Our success would not be possible without these strong partnerships in place," she said.
"Middle College has given me an advantage and a solid foundation in school, plus you get to graduate college before high school at no cost," Creswell said. "It's a great feeling to walk across that stage as a child amongst other adults."
For more information about dual enrollment opportunities with PTC, please visit www.ptc.edu/dual.
PHOTO CUTLINES
This year's McCormick Middle College Class of Spring 2019, front row from left:  T'Laysha Creswell, Tykeyma Davis, Silas Cannady, Daishawna Gilyard, Astacia Adams, Jalisha Hardy, Cindy Glassburn, and Mylionette Charis; back row from left:  Jordan Mather, Roderrious Sibert, Ambra Fuller, Ja'Mya Blair-Payton, Donzell Jenkins, Kaitlyn Blakes, Addy Willis, and Rebekkah Luchey.
T'Laysha Creswell delivers her commencement address.