Piedmont Tech Producing New Generation of Truck Drivers
Updated: 02/11/2020
Some millennials may be as familiar with operating a rotary phone as they are with driving a manual transmission vehicle. After all, those things are so last century. But it is exactly the millennials (and now Gen Z'ers) who are needed in the coming years to keep vital economic supply lines moving, and that means providing ground transportation ― trucking, if you will. A nationwide shortage of qualified truckers demands it.
Brandon Dendy is among those in-demand millennials. He is considering a career change by enrolling in Piedmont Technical College's Truck Driver Training program, a six-and-a-half-week course of in-depth classroom instruction and hands-on training to help graduates launch a logistics industry career.
"Right now, I'm working as a machinist at ZF Transmissions," Dendy said. "My father-in-law has a trucking company and has been trying to get me to come work for him for years. … I had never even driven a stick-shift before this."
The 30-year-old married father of two also trained for his current position as a machinist at PTC, so coming back was a natural decision as well as a smart one.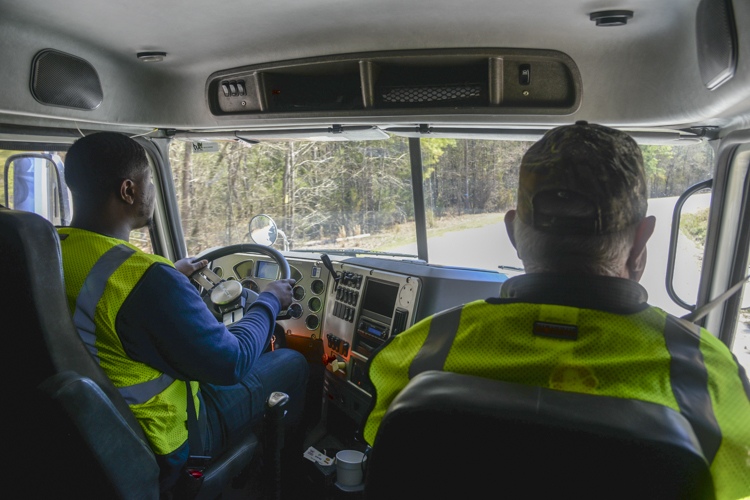 According to the American Trucking Association, the national shortage of truck drivers is quickly approaching 60,000. In South Carolina, where more than 80 percent of communities depend on trucks to stock shelves with food and other consumer goods, the problem is equally acute as older drivers retire and turnover rates steadily increase. The shortage has motivated companies to increase driver pay, add benefits and even offer signing bonuses for new recruits. Last year, Walmart announced that its drivers would earn, on average, $87,500 a year, as well as more predictable schedules, three weeks of paid time off and the prospect of quarterly bonuses.
Dendy is taking advantage of a partnership between PTC and the SC Workforce Development Board that designates the college lead agency and training provider for a grant project called "Ready to Roll," which was launched last year and has financed training for dozens of truck driver graduates to date.
The Pivotal Right Turn
After their initial seven hours of orientation and 50 hours of classroom instruction, PTC truck driver trainees get acquainted with the "Skills Pad," a training area off Quarry Road in a blacktop space next to Wilson Brothers Sand Co. There, amid orange cones forming narrow lanes, students practice basic maneuvers such as backing up and parking. Then it's time for field training, observation and behind-the-wheel training in one of PTC's two semi-trucks.
"During the first weeks of the course, I wasn't really comfortable. I didn't even know if I would be able to do it. There was so much I needed to learn," Dendy says. "But I was driving a stick in the second week of class. That was a confidence-booster."
Dendy said it is very exciting to actually get rolling on South Carolina highways. One of PTC's trucks has a reconstructed sleeper cab that now provides observation seating. Before he'd had his chance behind the wheel, Dendy said he was a little apprehensive: "I haven't made a right turn yet."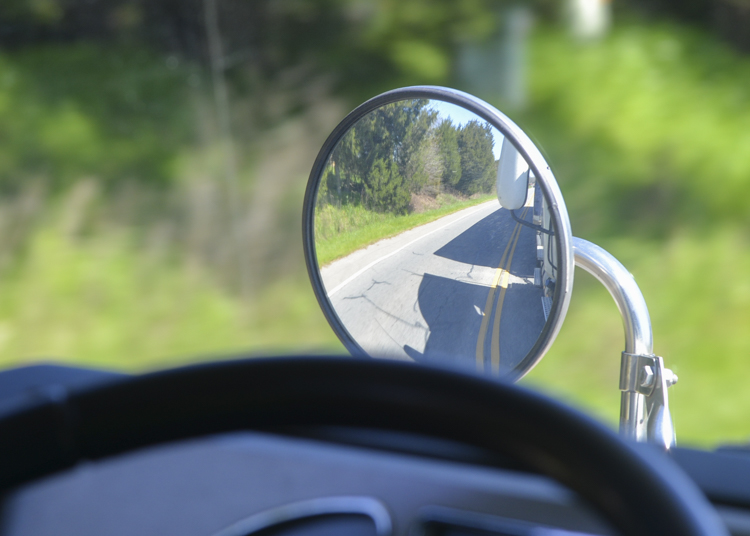 Guaranteed to spark anxiety in many new commercial truck drivers, the dreaded right turn is a common yet accident-prone maneuver. It can be especially complicated in a double right-turn lane situation because drivers of long trucks must swing wide in the outside right turn lane to clear the corner curb. Meanwhile, impatient or inattentive car drivers often pull up in the inside right turn lane (a blind spot) before the truck has completed its turn and the truck's trailer collides with the car as it follows through the turn. Awareness and precautions such as signaling and deliberately keeping the trailer close to the curb, blocking the inside turn lane, can alleviate the risk. But it's still a nail-biter to the uninitiated.
Dendy has since successfully made dozens of right turns and gained a lot of confidence on the road. However, he knows not to ever let his guard down and always be vigilant. The biggest challenges have been backing up and parallel parking.
"The hardest thing, when you are backing up, you can't really see where you are going. There are so many blind spots," he said. "You are completely dependent on the mirrors."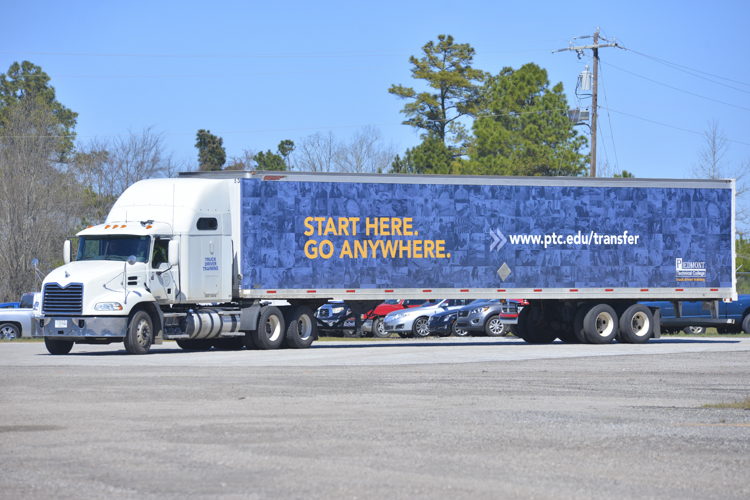 Of course, there is the ever-present issue of mastering 10 sensitive, seemingly elusive gears that must be manipulated in quick succession, to get an 8,000-pound truck moving. Errors in shifting can leave the truck precariously stalled in the middle of an intersection.
Keeping a Cool Head
Truck driving instructor Jim Burton is a reassuring presence in the cab. A retired Air Force veteran, he at one time worked as an air traffic controller. His instructions to the student driver are calm and encouraging yet also instructive: "Break it down; let it roll." "Take your time. You're OK." "What gear are you in?" "Try to hold off the gas when you push the clutch in." "There's a slight incline here." "Sixth gear now." "You have a tendency to ride the white line. Try to stay in the middle of your lane." "Don't let it roll back. Remember there's someone behind you." "OK, brake. And stop."
Dendy feels the instructors made all the difference.
"I think the instructors did a great job," he said. "Of course, everybody makes mistakes, but I think they catch mistakes before you even make them."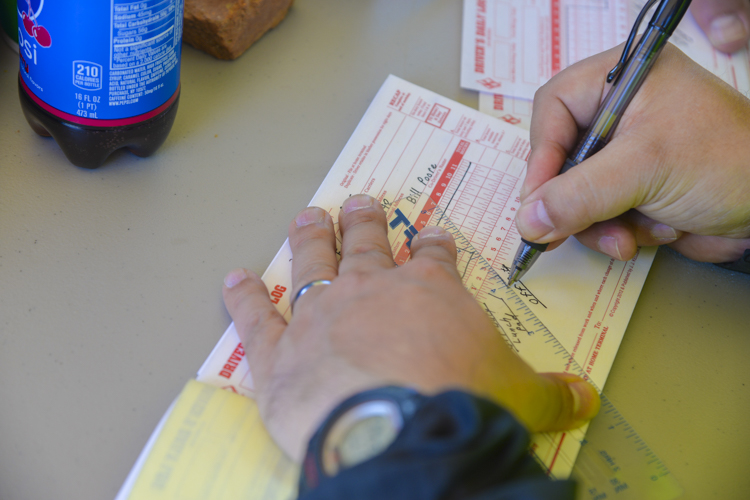 More than 80 percent of communities in South Carolina depend exclusively on trucks to transport goods, so the need for qualified drivers remains strong. In fact, demand is expected to grow by 14 percent through 2026. PTC is one of 13 technical colleges in the state that provide hands-on Commercial Driver's License (CDL) Class A training. The program has been developed in collaboration with major logistics agencies in the region, and Ready-to-Roll program grant money is still available. For more information, go to www.ptc.edu/cdl.  
PHOTO CUTLINES
Brandon Dendy, left, trains on the road with instructor Jim Burton.
There are many blind spots behind the cab, as this mirror view demonstrates.
This is one of three trucks in the PTC fleet.
A student logs his hours driven.