Piedmont Tech Student Creates Prototype to help Special Needs Children in the Classroom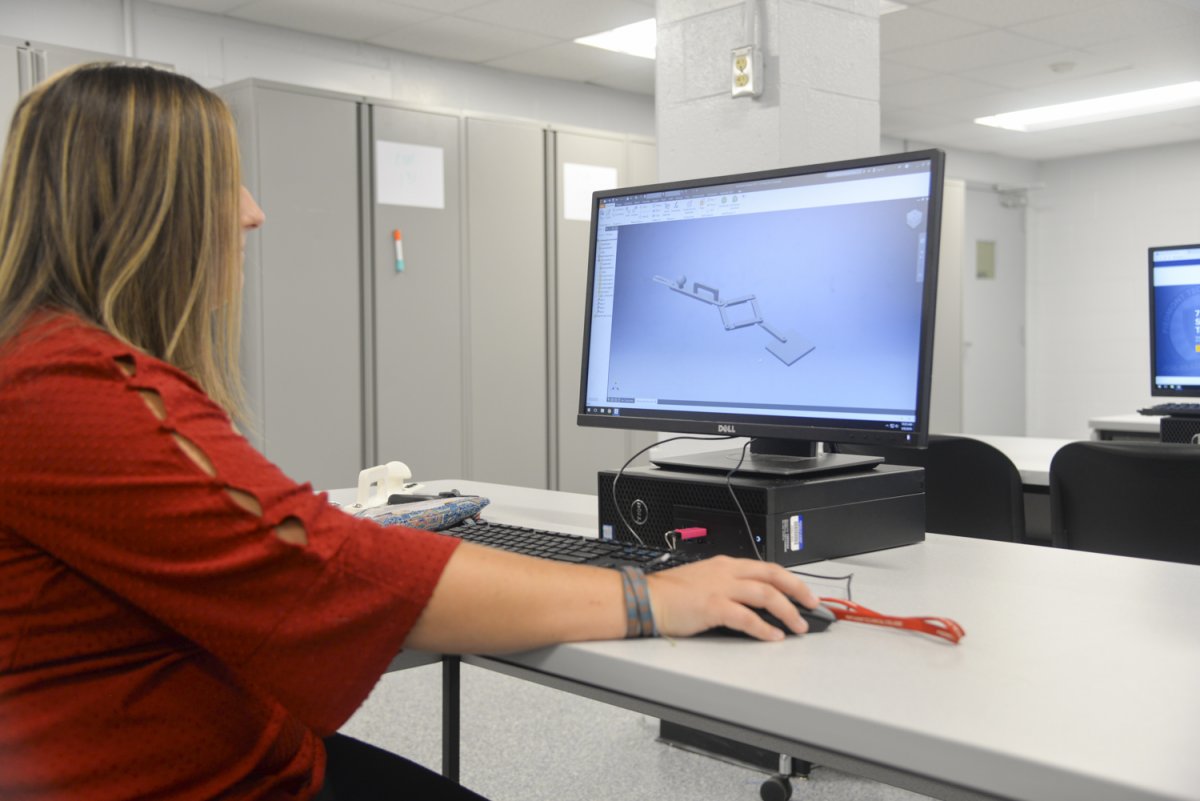 The tycoons of reality television's Shark Tank should take note. Piedmont Technical College (PTC) Engineering Design Technology student Kaleigh Price may not have invented the next big thing like the Simply Fit Board, but she's designed something that undoubtedly will make a BIG difference for special needs students at Woodfields Elementary School in Greenwood.  
"I call it the 'coloring arm.' It can hold pencils, crayons and paintbrushes," Price said. "It helps students who struggle with their fine motor skills to grip small writing tools such as pencils. It helps them write their name," which is no small feat for many with physical or neurological challenges.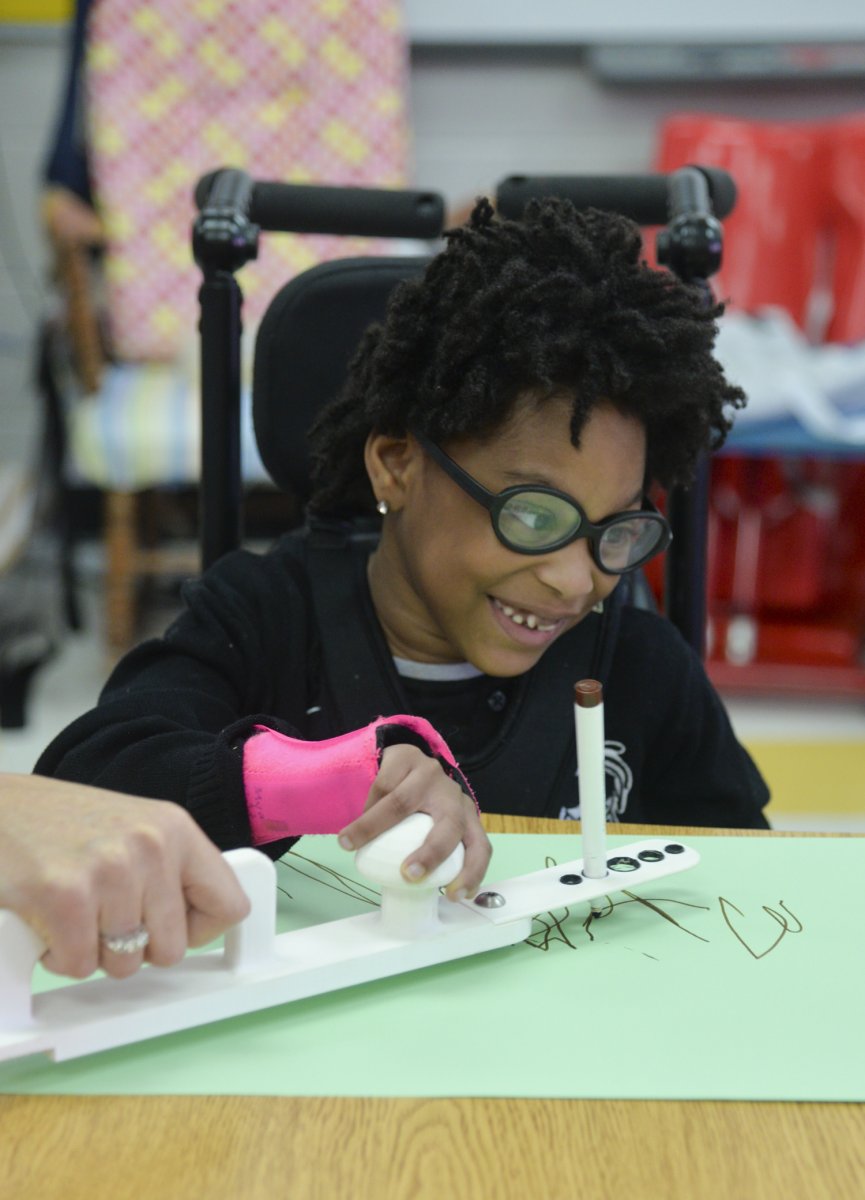 Price started the project this past spring at the suggestion of her PTC Engineering Design Technology instructor Sandy Warner, the parent of a daughter with special needs who attended Emerald High School under the tutelage of teacher Stacy White. The women stayed in touch, and White, who now teaches at Woodfields, told Warner about needing a mechanical arm to assist students in her special needs classes. That's when the seed was planted.
White found an illustration of an arm-like device in a special education magazine from the 1970s in an article suggesting helpful gadgets parents could make at home. With only the illustration and no measurements to go by, Price went to work until she had a design that would perform as intended.
"I just started from scratch," she said. "In the past, special needs teachers have used clothes pins or tennis balls to help students have something to grip so they could write or draw."
Price designed her prototype on a 3D CAD computer, with interconnected parts produced by a 3D printer at the college. She said it takes a few days to print all the arm's parts and assemble them.
"We like that students can actually design something and print it out," Warner said. "It's come a long way. It's a lot different than it was a few years ago. … Kaleigh took this thing and rolled with it."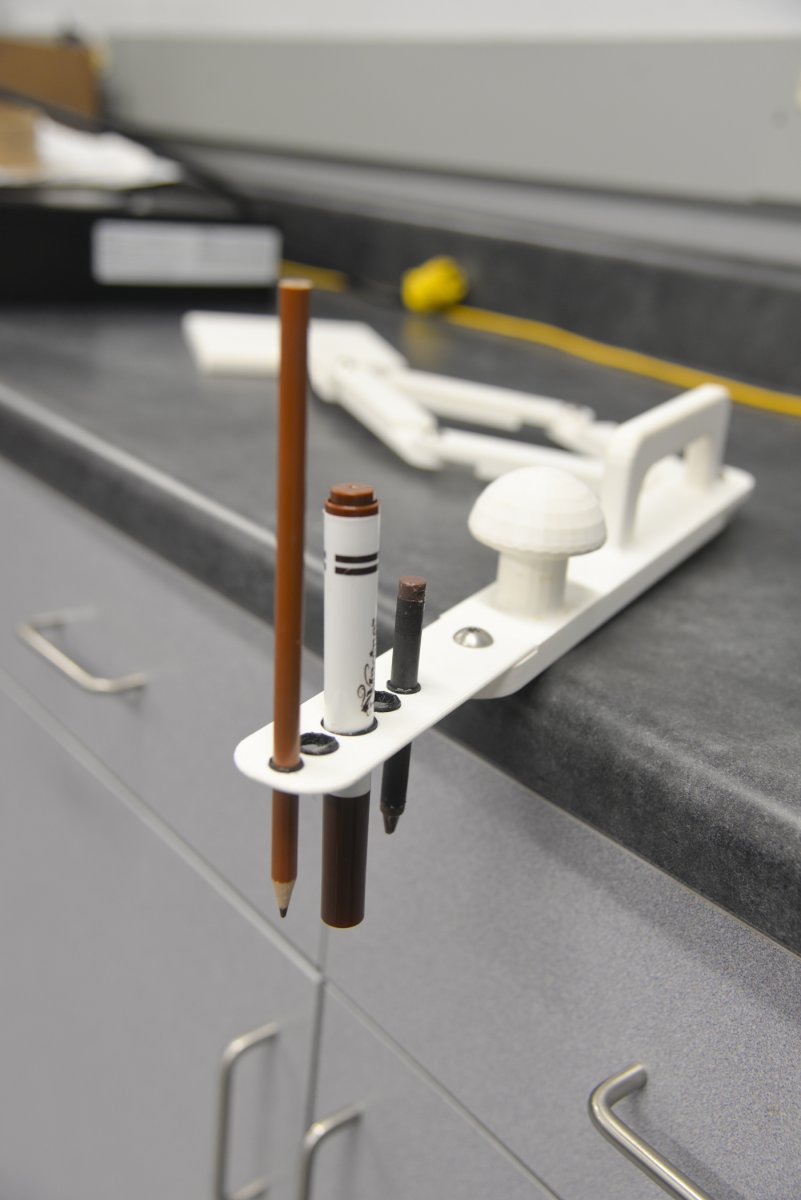 Price continues to refine the prototype arm, which, in its current iteration, is potentially most useful to students with cerebral palsy, a common group of disorders affecting motor skills and balance. The result of abnormal brain development or damage, it is congenital in 85-90 percent of those diagnosed. White has several students with CP in her self-contained, special education class.
In trying the arm out in the classroom, Price identified a series of modifications to improve the design.
"It's kind of heavy, so we are going to hollow it out some," she said. "It needs to be sturdy so it will last a long time. And I've added a place that will hold a paintbrush."
White also has some ideas for future modifications. One of her students has sensory issues and likes the feel of Mylar™, a type of shiny, crinkly polyester film. Because the student seems hesitant to grasp the bare handle or knob on the arm, White thinks she and Price might wrap the knob with Mylar™ or other textured materials to entice participation.
"Children with CP don't usually have the strength or dexterity to hold a pen. The arm gives them the ability to hold a pen in a natural position," White said. "I sit around at night thinking about how I can make things accessible for them, maybe different-sized knobs customizable for every child. I want to explore anything that will help them, protect them, or give them access. I want them to have access to as much in this school as they can."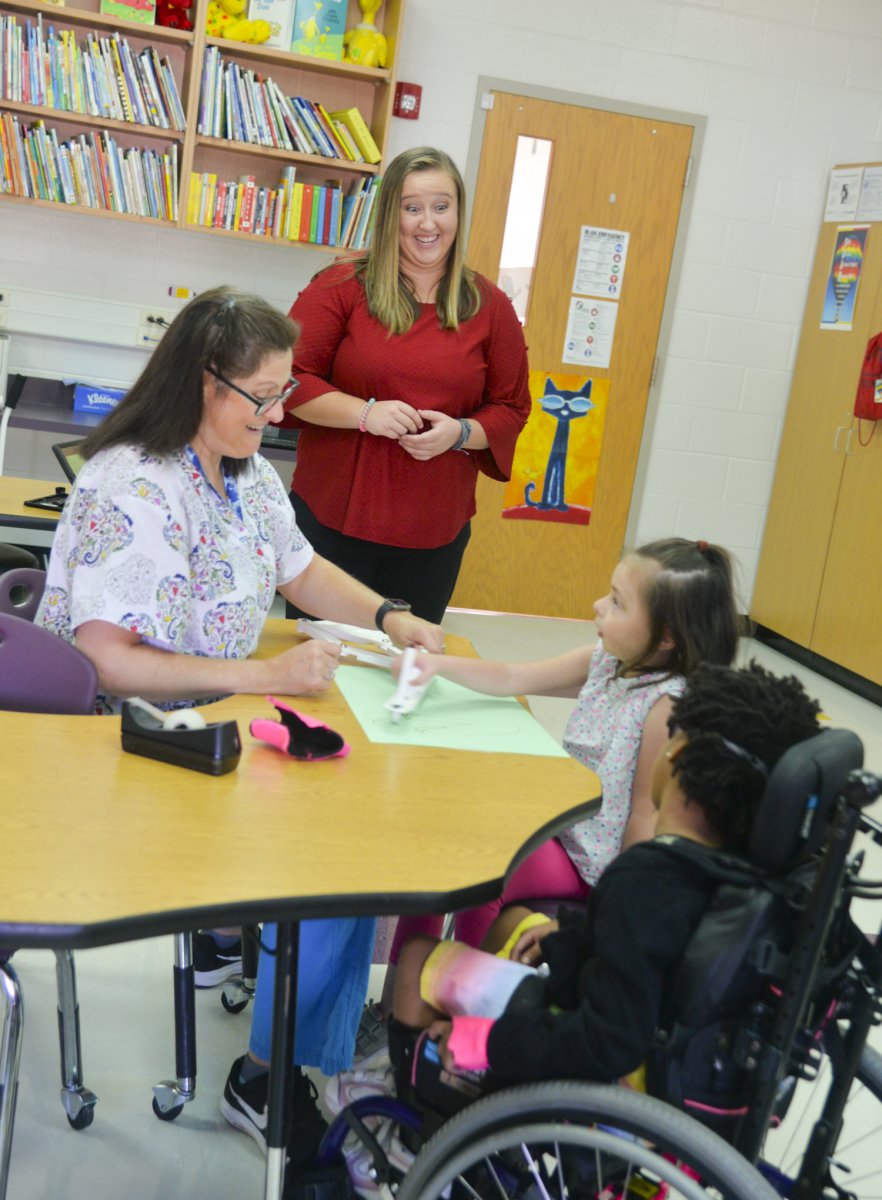 White sees possible variants of the arm-like device employed outside of special needs classrooms. Her grandmother suffers from arthritis, which makes gripping things difficult. The device could be customized to serve the dexterity needs of the elderly. "There are lots of potential applications for it," she said.
Which begs the question, would Price consider pursuing a patent on her design?
"There have been so many people asking if I was going to put a patent on it, so I decided to look into it," she said. "It takes one to three years for a patent to go through. My dad told me he would pay for me to go through the patent process."
Price hopes to produce at least two arms for permanent use in White's classroom before the end of the year. No charge.
"We have done a lot of different community projects in the past," Price's instructor Warner explained. "We encourage our students to take on projects that will benefit the community."
In the meantime, Warner's Engineering Design Technology students might be thinking of the next adaptation that can help White's students.
"We are always thinking of new things. I have thought about magnetizing the arm so some of the kids could move magnets around to learn counting," White said. She also has considered using the arm to accommodate students in using an iPad. "We will want the arm to be able to hold a stylus. My students love the painting app."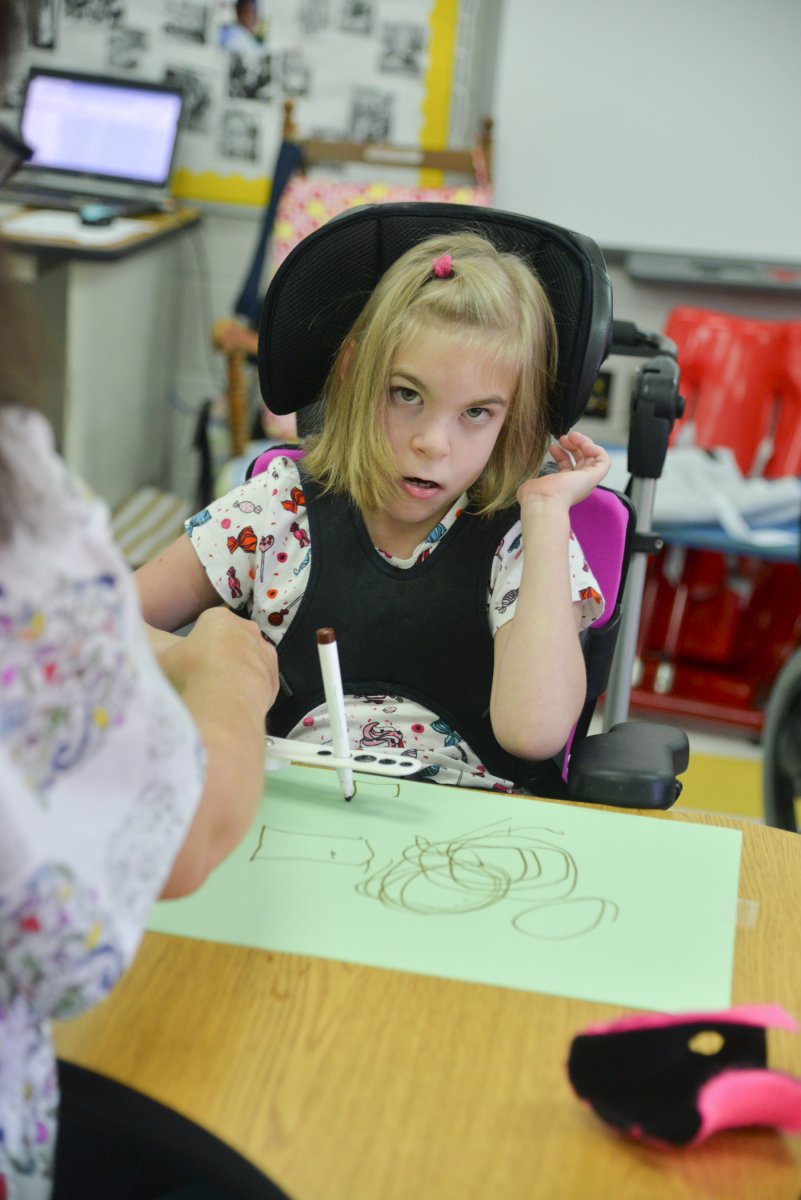 Hearing squeals of delight from the students as the sight of Price entering the classroom with the arm is pure and joyous music. Because White teaches her students over their school journey, she enjoys the benefit of building lasting relationships with them.
"I have them for their entire school career. They are not just students to me," she said. "These babies are always my babies."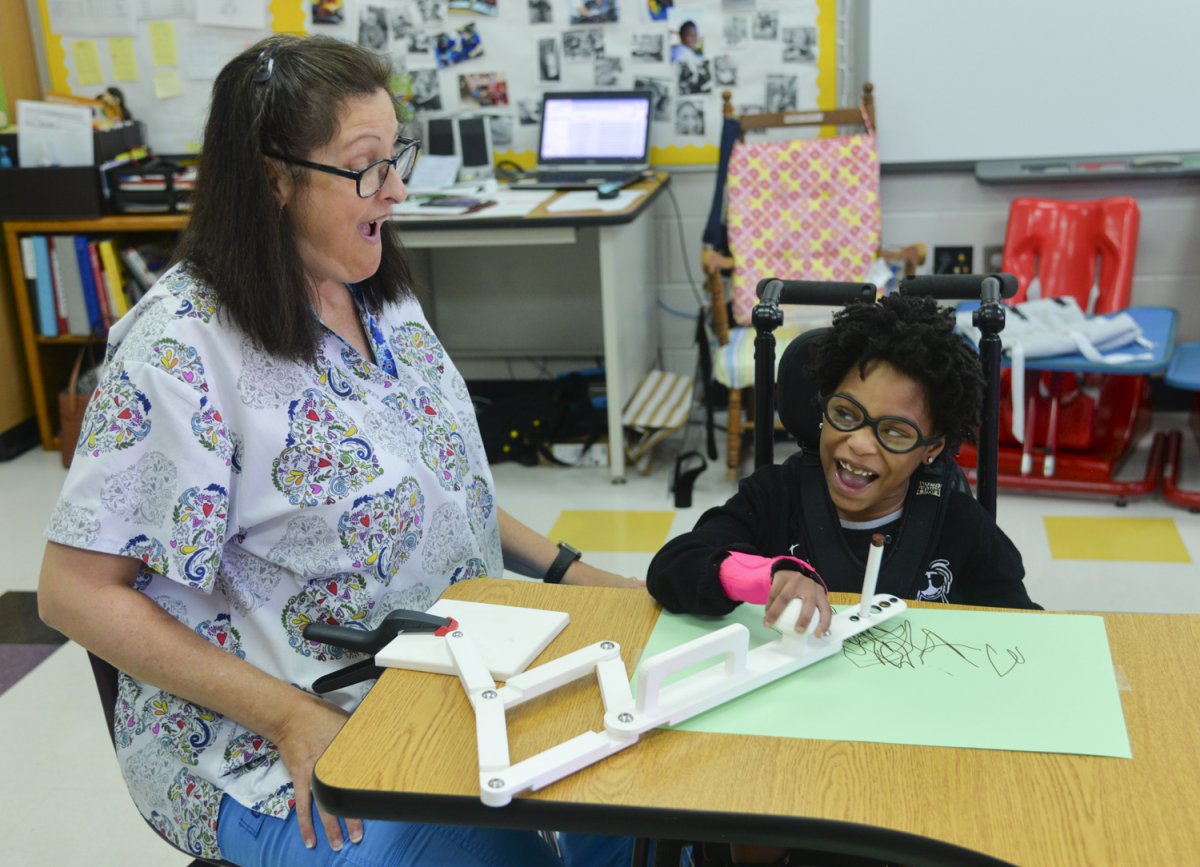 Through her project, Price is getting just a taste of the rich gratification White must feel as a special needs teacher.
"They are so thankful and grateful to be able to do something that they don't normally get to do," Price said. "That is the reason I do this."
PHOTO CUTLINES
Woodfields Elementary teacher Stacy White, left, with PTC student Kaleigh Price
One of Ms. White's students draws with the prototype arm.
Kaleigh Price, standing, visits Ms. White's classroom.
Kaleigh Price views her prototype design on a computer.
Different implements that fit in the prototype arm.