Mechanical Engineering Technology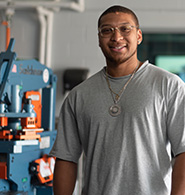 The Mechanical Engineering Technology curriculum equips the graduate for: performing a key role in the mechanical design process; installing, troubleshooting and repairing mechanical and electro-mechanical equipment; programming CNC machine tools, computers, programmable controllers and robots; performing general maintenance functions.
Credentials offered
A Career in Mechanical Engineering Technology
If you've always been curious about how things work, enjoy fixing things and solving practical problems, the Mechanical Engineering Technology program may be right for you. Most industrial products are mechanical in nature, and almost nothing can be made without the use of machines and structures. 
The Mechanical Engineering Technology curriculum at Piedmont Technical College equips graduates for performing a key role in the mechanical design process; installing, troubleshooting and repairing mechanical and electromechanical equipment; programming CNC machines, computers, programmable controllers and robots; and performing general maintenance functions.
What Will I Do as a Mechanical Engineering Technician?
Because of the scope of the program at Piedmont Technical College, graduates are not limited to a specific area of employment. After completing your training, you'll be qualified for positions like mechanical technician, maintenance technician and junior engineer.
Advancement to positions in engineering or management is possible with experience and further education. Possible positions include field service representative, engineering sales representative, product engineer and design engineer.
Some of your responsibilities may require you to:
Work with a variety of engineering applications and programs
Test and inspect machines and equipment
Work as part of a team to eliminate production problems
Discuss the design of parts and ways in which they will be made and assembled
Record and analyze data and report their findings
Design, develop, test and manufacture devices such as tools and engines
Career Quick Facts
Career Outlook

Median Salary Average:  $61,730
SC Salary Range:  $47,490-$78,700
100% placement rate for 2020-2021 graduates

Salary and career information from the U.S. Bureau of Labor Statistics.

Physical Demands

generally: mildly active - some standing, walking
light lifting (up to 20lbs.) due to working environment

Entry Level Positions

Mechanical Technician
Maintenance Technician
Junior Engineer

List of Employers

Some recent graduates have found work at:

Ascend
Bosch
Cardinal Health
Carolina Fabrication Inc
Carolina Pride
Caterpillar
Center Manufacturing, Inc. (MEC)
CeramTec North America
Ceratizit USA
Correlated Solutions
Eaton Corporation
D & D Electronic Services
Fuji Film
General Electric
Georgia-Pacific Corporation
Greenwood Fabrication & Plating
Hitachi
Kimberly Clark
Komatsu
Kraft
Lonza
Milliken
Norbord
Prysmian
Sage Automotives
Sapa Extrustions, Inc.
Sealed Air Corp (Cryovac)
South Carolina Department of Transportation
Synergetic Design
Tran Tec
US Army Corps of Engineers
Velux
Program Information
You'll take a variety of courses focused on the different varieties of circuits, engineering technology applications, programming and other courses important to a strong foundation, like algebra, trigonometry and physics. 
Coursework includes: Engineering Technology Applications & Programming; Electrical Circuits; Manufacturing Processes; Fluid Mechanics; Dynamics and Thermodynamics; Fundamentals of CAD; Machine Design; and Robotics.
Coursework is strongly application-oriented and includes hands-on labs and project experiences. Students who complete their Associate Degree in Mechanical Engineering Technology can also transfer their credit hours toward USC Upstate's Engineering Technology Management B.S. program. The program allows students to complete up to 76 credit hours of the total required 127 credit hours at PTC.
Video