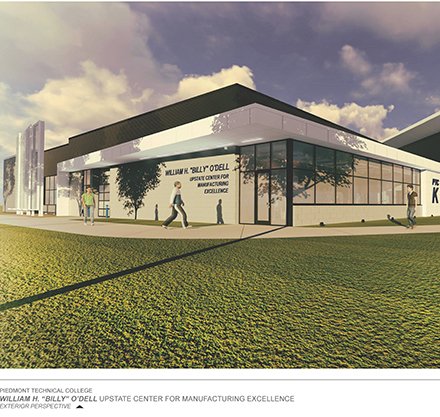 $1.5 Million Grant Benefits Planned Upstate Center for Manufacturing Excellence
April 10, 2018
A $1.5 million federal grant announced March 28 by the U.S. Economic Development Administration (EDA, a department of the Department of Commerce) will provide essential gears in the funding machine that will bring to fruition Piedmont Technical College's planned William H. "Billy" O'Dell Upstate Center for Manufacturing Excellence (UCME) on the Lex Walters campus in Greenwood.
The $15 million construction project is being financed through state funding (25 percent), the Greenwood Capital Project Sales Tax, passed by voters in 2016 (40 percent), and this the EDA grant (10 percent), with the remainder paid by PTC.
"This grant moves us closer to groundbreaking on this important workforce development resource for the region," said Dr. Ray Brooks, president of PTC. "The fact that voters of Greenwood County supported the penny sales tax referendum to help finance the O'Dell Upstate Center for Manufacturing Excellence reinforces our confidence that this public-private sector initiative reflects both the practical needs of industry and the will of our visionary citizens."
In addition, the Piedmont Technical College Foundation is continuing to raise funds to assist the College with costs for equipment and furnishings for the Center. Those interested in donating can do so online at www.ptc.edu/online-giving.
"This important project would not be possible without generous support from all of these partners," Brooks said. "We are excited to see progress continue toward making the Center a reality."
"Ensuring that every American in the workforce has the skills to succeed in the face of stiff global competition is a top priority for the Trump Administration and our President," Secretary of Commerce Wilbur Ross said in a news release. "Giving Americans the option of developing new skills in their own communities will help fuel further economic growth."
Commerce officials estimate that the project will create 86 jobs and generate more than $16 million in private investment.
Named in memory of longtime Upstate Senator Billy O'Dell, who passed away in 2016, the Center will feature state-of-the-art equipment and resources to support PTC's advanced manufacturing workforce training programs, including welding, machine tool technology, and mechatronics. The Greenwood Partnership Alliance, a public-private economic development partnership, has estimated that manufacturing jobs comprise more than 26 percent of the county's workforce, so the need is evident.
PHOTO CUTLINE
An architectural rendering of the planned Upstate Center for Manufacturing Excellence at Piedmont Tech.