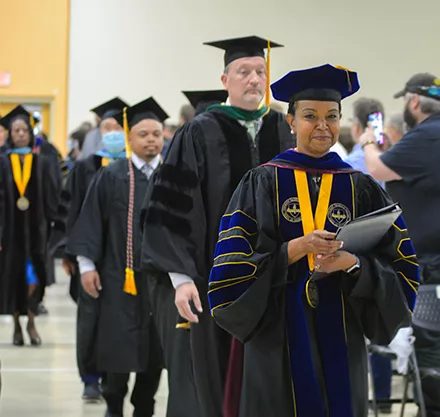 Academic Honor Students Recognized for 2022 Summer Term
Piedmont Technical College students who had outstanding academic accomplishments during the 2022 summer term have earned inclusion on the President's List. To be named to the list, students must be full time and earn a term GPA of 4.00. These students will receive a certificate of achievement signed by the college president.

    President's List students include:

    Aiken County – Hayden Smith of Aiken.
    Anderson County – Quinterious V. Thomas of Belton; and Sherry R. Dean of Honea Path.
    Berkeley County – Brian Mason of Moncks Corner.
    Edgefield County – Amanda Nowicki of Edgefield; and Austin Byrd of Johnston.
    Greenville County – Dakotah L. Anderson of Greer.
    Greenwood County – Jacob A. Belcher of Bradley; Alkeisha L. Cannady, Juan A. De Leon Gonzalez, Andrew Diehl, April M. Lewis, Brandon M. Malone, Ashley Morse, Peter Thurlow and Tasha L. Whatley, all of Greenwood; Jerri S. Beasley of Hodges; Elijah D. Brown and Hannah G. Madden, both of Ninety Six.
    Laurens County – John W. Goforth of Cross Hill; Shannon L. Martin and Robert Peterson, both of Gray Court; James M Hershman and James B. Mcnuer, both of Laurens; and Chayney M. Whelchel of Mountville.
    Lexington County – Graham M. Jacobs of Chapin; Trevor C. Armstrong and Tabitha Swygert, both of Leesville; and Justin Owens of Lexington.
    Marion County – Jeremy Odom of Mullins.
    McCormick County – Robert L. Houston of McCormick
    Newberry County – Arkeavis Q. Harmon and Rodrigo A. Martinez of Newberry; Stephen M. Rumfelt of Pomaria; and Azucena Mejia-Santiago of Silverstreet.
    Spartanburg County – Charles B. Diffie and Stormie E. Dotson, both of Spartanburg.

    To be named to the Dean's List, students must be attending full time and have earned term GPAs of 3.75 or higher. 

    Dean's List students include:

    Abbeville County – Levanah S. Reil of Donalds; William C. Ashley and Jonathan W. Leslie, both of Abbeville.
    Anderson County – Adam N. Falmoe of Anderson; and William Cantrell of Honea Path.
    Edgefield County – Crystal Williams of Edgefield.
    Greenwood County – Shenetta M. Chiles, Alexander Duncan, Samuel Henderson, Anna Marie Mayes and Kristina S. Mitchell, all of Greenwood; Shannon A. Mccoy of Hodges; David S. Murphy and Devondria K. Smith, both of Ninety Six.
    Laurens County – Heather R. Strickland of Clinton; Ryan P. Mercer of Cross Hill; Jeffrey L. Breazeale of Fountain Inn; Cameron A. Mcdowell, Temple S. Rice and Liliana G. Weathers, all of Laurens.
    Lexington County – Anita R. Husbands of Chapin.
    Saluda County – Jerry M. Daniels and Charles N. Dean, both of Saluda.

    The Merit List recognizes students who are registered for 6-11 credit hours and have earned term GPAs of 3.75 or higher.

    Merit List students include:

    Abbeville County – Lauren Brown, Andrew J. Cook, Taylor R. Fleming, Allysa L. Hinson, Asher Johnston, Randy Mullet, Jalisa K. Paul, Sierra J. Stoll, Brian J. Tiller, Rebecca C. Tiller and Calvin Wilson, all of Abbeville; Jadan James, Teresa King and Wesley P. Newton, all of Donalds; Pearl Patel of Greenwood; Angela M. Brown, Hailey J. Smith and Taylor N. Smith, all of Iva; Billie J. Brown and Joshua Sanchez, both of Ware Shoals.
    Aiken County – Taylor G. Simpkins and Ashley White, both of Aiken; and Jason D. Loehr of North Augusta.
    Anderson County – Gary J. Coleman and Angela D. Richey, both of Anderson; Timothy N. Clardy of Belton; Shannon E. Haynes and Tyler E. Murray, both of Honea Path; and Brandi L. Mobley of Iva.
    Charleston County – Rachel L. Caron of Mount Pleasant.
    Darlington County – Latoya Mitchell Hodges of Darlington.
    Edgefield County – Calista Smith of Clarks Hill; and Lauren E. Strock of North Augusta.
    Florence County – Shayward S. Mckenzie of Scranton.
    Greenville County – Amaro A. Sunga of Greenville; Emily Sami of Greer; Sarah R. Bailey, Latasha Y. Partlow and Kieanna M. Welch, all of Simpsonville.
    Greenwood County – Jennifer L. Adams, Tiffany Bailey, Richard Blodgett, Astra Brooks, Alexis C. Burleson, Faraji A. Callahan, Joshua S. Campbell, Dequila S. Carroll, Emily L. Carruth, Sabrina R. Castillo, Christopher M. Cockrell, Jennifer B. Daniel, James T. Davis III, Zachyya N. Elmore, Matthew G. Estes, Matthew J. Evans, Archie R. Ferqueron, Leiquetta J. Fuller, Tracy L. Gable, Amanda N. Galloway, Sarah M. Grenci, Matthew E. Guareschi, Sharneka L. Hamilton, Mary Hendrix Jones, Jennifer L. Hill, Jennifer L. Hooten, Tara M. Hubbard, Jeannie E. Jenkins, Samuel N. Jones, Andrew T. Joseph, Janet M. Kelly, Olivia G. Lane, Joel J. Logan, Chastity C. Lubang, Sabrina R. Martin, Caleb M. Mcclary, Charles D. Mikalauski III, Kimberly Miller-Holloway, Anna G. Mitchell, Emily Mutch, Austin S. Oxner, Stephen O. Palmore, Victoria T. Palmore, Kristy Patrick, Jamya K. Payne, Daniel L. Phillips, Nathan T. Pierce, Jessica E. Rearden, Ashley V. Redden, Taylen A. Richey, Hampton W. Rickenbaker, Luke Roberts, Erin A. Roetling, Billy G. Sartin, Leslie A. Scott, Adam R. Sitarz, Spencer G. Smith, Ashley S. Taylor, Thomas E. Thompson Jr., Joel W. Tiller, Alana K. Turner, Kylie A. Turner, Ravon B. Wallace, Brooke A. Welborn, Gregory O. Wells Jr., Bryan W. Willard, Lea B. Williams and Mashaila Woods, all of Greenwood; Oscar Aleman-Jose Jr., Jenny L. Gonzalez, Kalen N. Mathis and Emily M. Stawski, all of Hodges; Charlotte C. Delk, Brandon L. Farver, Krystal Rowe and Keri E. Wood, all of Ninety Six; John G. Alexander of Saluda; and Darren F. Maddox of Troy.    
    Laurens County – James Q. Alverson, Patrick J. Castaneda, William J. Clark, Leatrice A. Dewitt, Kari D. Fuhrman, William R. Gambrell, Kimberly N. Hodge, Thomas E. Keadle and Janet T. Speaks, all of Clinton; Alexia B. Johnson and Ayreka C. Skelton, both of Fountain Inn; Stephanie P. Babb, Kacsy Benitez, Brianna A. Black, Kayla R. Kellett and Mica W. Lane, all of Gray Court; Emma G. Senerchia of Honea Path; Melissa G. Simmons of Joanna; Twanisha A. Cofield, Robert A. Davis, Amy K. Elkin, Candice R. Epley, Mandi Gistinger, Anne M. Gordon, John R. Gordon, Blair M. Griffin, Kayla E. Hall, Chrystalyn M. Kernell, Matthew P. Maresca, Ian M. Pierce, Estefany Reynoso Milian, Charis M. Sloan, William M. Tinsley and Trinity M. Williams, all of Laurens; Justin J. Lopez of Ware Shoals; Summer L. Butler, Bryson C. Ferqueron, Sharnice A. Rice, Amber N. Taylor, Tamera A. Thompson and Danielle M. Vinson, all of Waterloo.
    Lexington County – Jennifer J. Fairhart Chapin and Delaney J. Ratcliff, both of Chapin; Madeline Howard of Columbia; Madison L. Derrenbacher, Angella D. Drafts, Megan C. Mcnatt and Kenneth K. Rawl, all of Gilbert; Aliya G. Martin and Kayla L. Martin, both of Leesville; Joanna Hernandez-Vazquez and Maegan Togneri, both of Lexington; and Thomas R. Corley of Swansea. 
    McCormick County – Samiya L. Anderson, Jon T. Cason and Deontee M. Tinch, all of McCormick and Cayla J. Smith of Parksville.
    Newberry County – David L. Kibler of Chappells; Cindal M. Bautista, Breanna K. Bise, Mckenzee E. Chadwick, Meredith Koon and Ellen Y. Lindler, all of Little Mountain; Richard Baxter III, Jacob L. Bedenbaugh, Mitchel C. Burriss, Marshall R. Caldwell, Lucia E. Catucci, Shanquetta Cohens, Christopher B. Crumpton, Wanda A. Davis-Coleman, Jeremy Glasgow, Serena P. Graber, Brady V. Hall, Morgan C. Harshaw, Jessica D. Herndon, Bethany J. Jones, Colby G. Kneece, Alison B. Mclawhorn, Benjamin R. Meetze, Natalia Moreno, Hely A. Patel, Madison N. Reppart, John B. Shealy and Martin D. Singley, all of Newberry; Jimmy Berry, Jessica B. Bullard, Travis Haltiwanger, Sarah E. Hentz and Anna Marie Milstead, all of Pomaria; Tracy L. Arrowood, Hannah L. Hamilton, Ivey E. Horne, Ryan N. Long, Anna Grace L. Morris and Rachel E. Redd, all of Prosperity; Candace H. Bouknight, Jemerio T. Gary, Christian Gilliam and Marshall A. Johnson, all of Silverstreet; Jose N. Avila, Micah C. Dickerson, Brooklyn Gagnon, Olivia Martin, Cameron E. Rice and Stacey M. Zobel, all of Whitmire.
    Pickens County – Andrew L. Foust of Clemson.
    Richland County – Christopher R. Williams of Columbia; and Sidney N. Young of Blythewood.
    Saluda County – Samantha L. Jones, Hannah Lovette and Alicia Shealy, all of Batesburg; Sharon Burt-Anderson of Johnston; Alberto M. Gomez, Daniela Jimenez-Leon, Paul Santos-Vicente Jr. and Fulton Winn, all of Saluda; and Taylor R. Forrest of Ward.
    Spartanburg County – Ana Ferreiro of Greer; Courtney R. Frost and Elizabeth Springs, both of Duncan.
    Union County – Larissa J. Horne of Union.
    York County – Sabrina C. Millard of Fort Mill; and Ivette Tanis of Rock Hill.
    Washington, Ga – Nyeshia Fanning.
    
###
PHOTO:  PTC President Dr. Hope E. Rivers leads Summer 2022 commencement processional.