BCT Student Gets Start at Piedmont Tech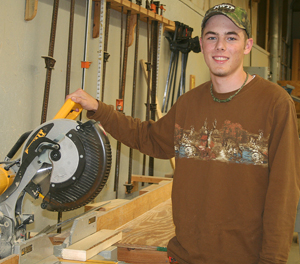 Aaron Walker came to Piedmont Technical College to carry on a family tradition. Walker is from the small town of Bradley where his father is a cabinetmaker.
"My dad has worked at cabinetry since he was my age, so I've always been exposed to that type of work and I was really interested," said Walker.
Upon graduation from Greenwood Christian School in 2010, he enrolled in the Building Construction Technology program. Walker said the BCT program has been the perfect fit for him because it gave him experience not only in the cabinetry, but in other areas.
"I liked the electrical because it was something I had never done before," he said. "It's just a great program overall."
Entering the BCT program wasn't Walker's first contact with Piedmont Tech. As a middle school student, he participated in the annual automotive summer camp. He was also enrolled in the Dual Enrollment program while at Greenwood Christian School.
"The dual enrollment classes were very helpful in preparing me for Piedmont Tech," Walker said.
Walker helps in the community as a volunteer firefighter and will be working with the U.S. Forestry Commission in Bradley. At PTC, Walker is president of the BCT-4-Life Club, a member of the Phi Theta Kappa and serves as a Presidential Ambassador.
"I'm big on serving others and I want to do what I can for the college," he said.
Walker said he would recommend Piedmont Tech to anyone interested.
"I've had a great experience here," said Walker. "It's inexpensive, it's close to home and the programs are some of the best in the state."