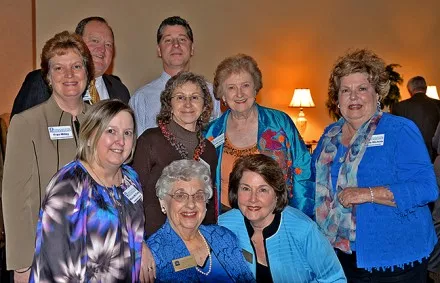 Benefactors and Community Leaders Honored by PTC Foundation
Benefactors and community leaders joined together at Piedmont Technical College recently to celebrate the successes of the past year with the annual benefactors' event.
Dr. Ray Brooks, president of PTC, welcomed those in attendance. The event was to honor Cornerstone Society members and benefactors who had contributed to the growth and success of the college.
"One of the things that brings us all together tonight is that we are all thankful for all the blessings we have in our lives and the commitment each of you has made to this college," he said.
Y. J. Ahn, chairman of the Piedmont Technical College Area Commission, thanked the donors.
"On behalf of the Area Commission, I want to thank each one of the society members who have generously given in the past," he said. "Your support makes a quality education possible for many of our students."
The newest members of the Cornerstone Society, John and Susan Thompson and Bil and Susan Heath, were introduced and special recognition was made for Elizabeth Moss, a long-time supporter of the college.
Moss's formal relationship with Piedmont Technical College began in 1973 when she became head of the department for Human Services. In 1975, she joined DHEC where she eventually became district director of social work. She retired from the organization in 1983. During that time, Moss continued to support the college. When Piedmont Tech hosted its annual Fourth of July Family Fun Day, she and her husband, Edward, graciously allowed the college to use their upper pasture located across from the current James Medford Family Event Center.
"Lib is a wonderful person, a great neighbor and a generous friend of Piedmont Technical College," said Fran Wiley, associate vice president for development with the PTC Foundation. "She is loved by all of us at the college and is known fondly as 'The Queen'."
Photo Caption: In recognition of her support of Piedmont Technical College, Elizabeth Moss, front center, was honored at the recent Cornerstone Society event. Pictured with her family are, front from left, Missy McCravy; Moss; and Linda Sheffield. Second row, from left, Fran Wiley, associate vice president for development with the PTC Foundation; Nancy Harki; Sarah McJunkin; and Donna Nichols. Back, from left, Dr. Ray Brooks, president of Piedmont Tech; and Matt McCravy.