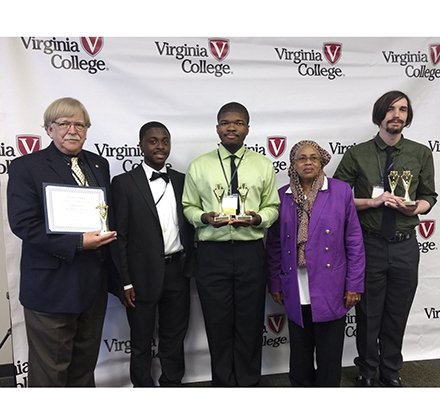 Business Students Excel at State Conference
May 4, 2018
Seven students from Piedmont Technical College's chapter of Phi Beta Lambda (PBL) joined their instructor, Coronicca Oliver, at the PBL State Conference at Virginia College in Greenville on April 7. The conference included seminars and competitive events, during which several PTC students were top finishers in a range of contests designed to test their business knowledge and skills.
PTC students excelled in their divisions, as follows:
Computer Concepts:                           Leon Goode, 2nd Place
Financial Concepts:                            John Barton, 1st Place
Personal Finance:                               Shakina Hamilton, 2nd Place
Help Desk:                                              William Buchanan, 1st Place and Leon Goode, 2nd Place
Programming Concepts:                     William Buchanan, 2nd Place
Administrative Technology:               Alina Williams, 1st Place
Networking Concepts:                        John Barton, sole competitor; qualified for national competition
These top finishers from PTC now are eligible to compete at the PBL National Leadership Conference this summer in Baltimore. Other PTC students attending the conference were Marquice Johnson and Bobbie Peterson.
PBL is the largest business student organization in the world, helping to prepare more than 10,000 members in 500 college chapters for careers in business.
PHOTO CAPTION
From left: PTC Students John Barton, Marquice Johnson, Leon Goode, Bobbie Peterson and William Buchanan at the April 7 PBL State Conference in Greenville.