Computer Technology Degree Offered in Newberry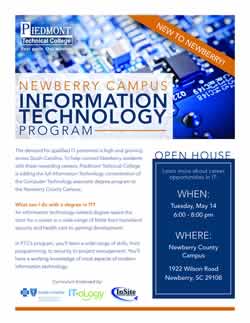 Piedmont Technical College has long prepared technicians to work in the continually advancing field of computer technology. Now, the college is expanding its degree offerings in Newberry with the addition of the information technology concentration.
"We conducted a survey in Newberry and the computer technology field was high on the list of programs that was of interest to the residents," said Lesley Price, department head of Information Technology. "The information technology concentration is a well-rounded degree."
The associate degree in computer technology, information technology concentration provides fundamentals in all areas including program management, wireless and virtualization. Students will also study courses in computer hardware, networks, operating systems, programming languages and database platforms. There is also a special topics course where the coursework will change every year.  Areas covered in this course could include computer forensics, e-mail servers or computer threats.
Price said the location of the campus is ideal for students looking to go into a computer technology field. Its proximity to I-26 offers several options for graduates.  The program will be offered in its entirety in Newberry through a combination of on site, online and hybrid classes. As a computer technology degree program, students who are registered full time in the program are eligible to apply for the Hi-Tech scholarship, which not only provides financial assistance to those who qualify, but also presents the scholars with a laptop upon graduation from the program.
"You have Greenville/Spartanburg one way and Columbia the other and there are a lot of jobs available for knowledgeable computer technicians in the metropolitan areas," said Price. "Computer technology is one of the fastest growing fields out there."  
An open house and information session for the new program will be held Tuesday, May 14 at the PTC Newberry Campus from 6-8 p.m. Computer technology faculty will be on hand to answer questions about the program and the Hi-Tech scholarship.    
For more information on the Computer Technology program, contact Price at (864) 941-8746 or at price.l@ptc.edu.