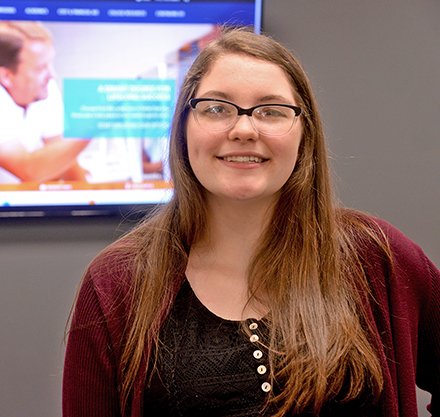 Dual Enrollment Program Opens Doors for PTC Grad
August 24, 2017
Grace Alger, like many students her age, has recently started working toward her bachelor's degree. For the 2017 Mid-Carolina High School graduate, this will be her second college degree, thanks to the dual enrollment classes she took from Piedmont Technical College.
"I wanted to get a head start for college and I wanted to see if it would help me prepare myself to go to a four-year school," Alger said. "Once I started taking dual enrollment classes, I realized I really liked the classes I was taking."
While at Mid-Carolina, Alger was able to take only two classes each semester. But she made the decision to branch out and do more. Through summer and online classes, she was able to complete her associate in arts degree in May 2017, three weeks before she graduated from high school.  
"I've always been nerdy, so it wasn't a big surprise to anyone," Alger said. "I don't think they realized I would go this far and actually get my associate degree."
Alger is attending the University of South Carolina this fall, pursuing a double major in art and comparative literature. Her goal is to become either a college professor and a translator. Not only is she starting as a junior, she was also selected as part of the Capstone Scholars Program, an invitation-only program at USC.
The Capstone Scholars Program is a two-year educational enrichment program, designed to provide opportunities both in and out of the classroom. Scholars are eligible to apply for a $2,000 travel grant to help with the cost of traveling abroad for Maymester and summer programs.  
"It's a great opportunity for me," she said. "Traveling abroad would be a great learning experience."
Alger believes the dual enrollment classes have made her more prepared for classes at USC.
"The instructors have helped me learn how to manage my time better and how to crack down on my procrastination," she said. "It's helped me learn that I have to get my assignments done on time, and that's really helped me be ready for my classes at Carolina."
For more information, contact the Dual Enrollment Office at (864) 941-8352 or go to www.ptc.edu/dualenrollment.