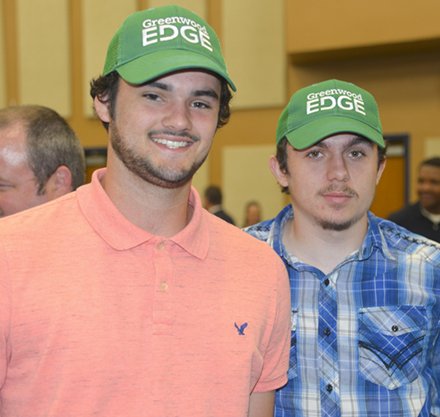 Greenwood Edge Signs 19 Recruits at PTC Ceremony
May 17, 2018
College recruiters look for qualities like talent, agility and the ability to effectively carry the ball. Nineteen Greenwood County high school students who have the right stuff recently made it to signing day. Their playing field? It's populated not by turf and football sleds but by CAD tools, safety goggles and robots. It's the arena of advanced manufacturing. The students sealed the deal at a signing day ceremony May 15 at Piedmont Technical College's Lex Walters Campus-Greenwood. The Greenwood Edge ― a program that enables students to earn a Manufacturing Production Technician Certificate through Piedmont Technical College (PTC) while still in high school ― sponsored the event.
"Each one of you represents the future of our community," Greenwood Promise Executive Director Kris Burris told the signees. "Greenwood Edge provides the opportunity for students to reach their professional and financial goals."
The signees, who will begin their studies this fall, will be able to earn industry-recognized certifications, including the South Carolina Manufacturing Certification, OSHA, Manufacturing Skills Standards Council (MSSC), Lean Six Sigma and Forklift. They will finish the program possessing skills that employers are looking for in employees right now, and participating employers will guarantee an interview to students who complete the program.
"By entering this program, you are investing in yourself and your future," said Debbie Walling, human resources director at Lonza. "We are in a thriving economy, but we have a shortage of prepared workers. It's hard to find that diamond nugget you are looking for. … Our commitment to you is this:  Finish the program. Come see us. We will grant you an interview."
The 19 student signees accepted to the Greenwood Edge program for fall 2018 are: Samuel Boyd and Gabriel Callahan from Emerald High School; Will Gallman and Colten Johns from Greenwood Christian School;  Devyne Brooks, Ryheem Bryant, Kyheid Carolina, Kendin Green, Kayla Harrison, William Hernandez, Clayton Moore and Marion Williams from Greenwood High School; Jacob Getsinger, Bryan Gossett and Jeremiah Sargent of Ninety Six High School; and Seth Alexander, Timothy Johnson, Blake McCarty and Keaton Weaver of Ware Shoals High School.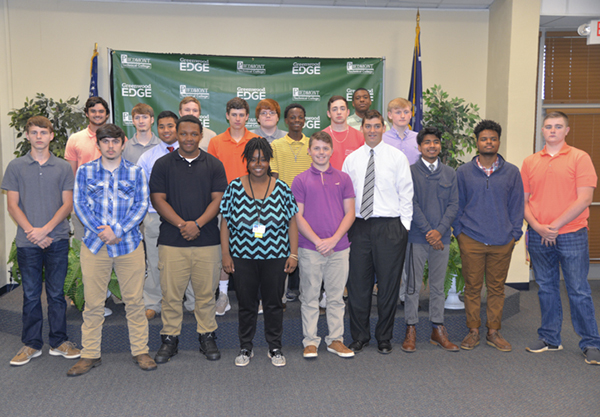 The program, a $2,070 value, is offered at no cost to students thanks to the generous support of the Greenwood Partnership Alliance, the Greenwood Promise and each of the county's three public school districts. The Greenwood Promise is the fiscal agent for the Greenwood Edge.
Participation in Greenwood Edge counts as one semester toward Greenwood Promise eligibility. The Greenwood Promise is an educational initiative to provide tuition assistance for post-secondary education for eligible Greenwood County graduates. Students who complete the Greenwood Edge program can go directly into the workforce or continue working toward a Mechatronics Associate degree, as they will already have completed a semester of required coursework.
"You live in a community that cares," PTC President Ray Brooks told the signees. "Your future is bright."