Higher Ed Summit Shares PTC's Lean Initiative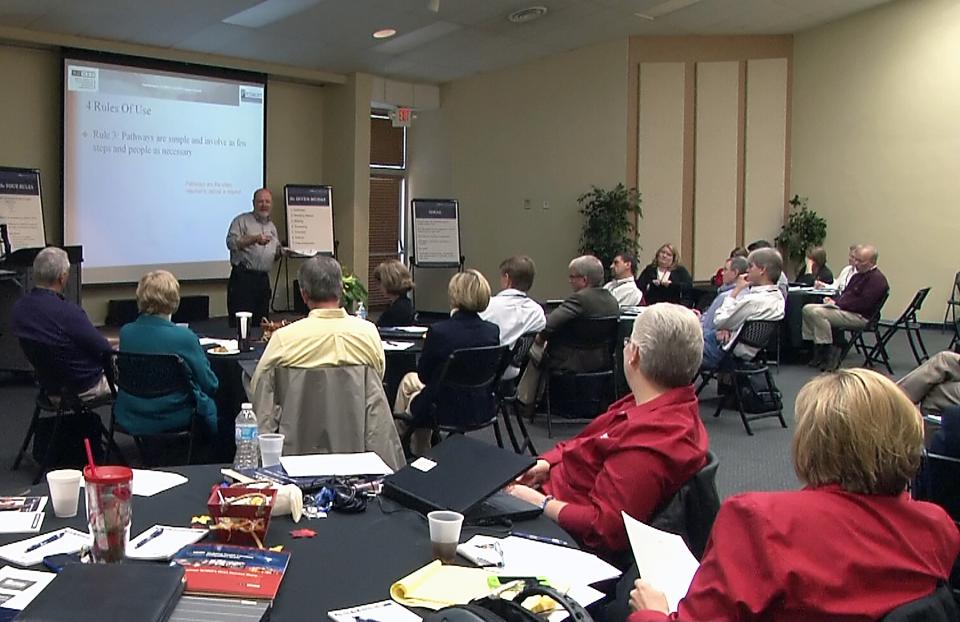 More than 35 representatives from colleges in the Carolinas as well as Georgia and Kentucky came together at Piedmont Technical College recently to learn how to improve the efficiency of their operations by implementing PTC's version of Lean. Lean is a system used widely in manufacturing to reduce cost, streamline processes and eliminate waste.
"This is a new way of thinking at Piedmont Tech and it's a new way of thinking in education period," said Lisa Bartanus, program manager with Continuing Education. "You can't keep doing the things the way you've always done them. But before you can change your behavior, you have to change your mindset."
The summit offered general sessions, interactive workshops and networking opportunities to introduce other institutions of higher education to the concept of Lean, made famous by Toyota and widely adopted throughout the private sector. Piedmont Technical College began its organizational change with the Lean program in the summer of 2008.
"Fundamentally, Lean has changed the way Piedmont Technical College addresses our students and goes about conducting our work," said Dr. Ray Brooks, president. "We are vastly better than we were, but we will continue to grow and improve using these Lean principles."
Because Lean methodology is grounded in data-driven problem-solving processes and the empowerment of faculty and staff to drive change, breakout sessions included how-to presentations on implementing Lean in individual departments and using the skills for larger endeavors. Sessions also addressed the impact on customer service to students and better preparing students to enter the work force.
"The participants have come from all over with different aims in mind," said Bartanus. "Regardless of what brought them here today, we're hoping that each participant can walk away with ideas that they can implement for action and results."
Photo Caption: Andy Carr, regional vice president with the South Carolina Manufacturing Extension Partnership, presents an introduction to Lean methodology at the Lean in Higher Education Summit held recently at Piedmont Technical College. More than 35 representatives of higher education from North and South Carolina as well as Georgia and Kentucky came together at Piedmont Technical College recently to learn how to implement Lean principles.