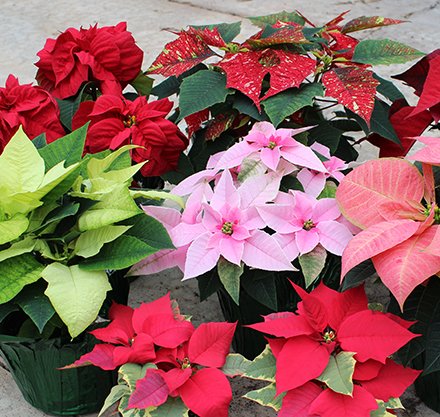 Horticulture Club to Hold Massive Poinsettia Sale
November 26, 2018
Long before children began writing this year's enthusiastic holiday letters to Santa, the Horticulture Club students at Piedmont Technical College (PTC) were busy cultivating and growing more than 1,000 poinsettia plants in their campus greenhouse. This Friday and Saturday, Nov. 30-Dec. 1, from 8 a.m. to 2 p.m., students will be selling the colorful results of their labors at the Horticulture Building and Greenhouse on the Greenwood campus.
Most South Carolinians are aware of the festive plant's local connection. While serving as the first U.S. Minister to Mexico in the mid-1820s, SC amateur botanist and statesman Joel Roberts Poinsett of Charleston was beguiled by the bright red plant that Mexicans called the "Christmas Star" or "Christmas Eve Flower" and brought samples back to the United States with him to cultivate. The plant soon became popularly known in this country as the poinsettia.
As an added bonus, products from other PTC student clubs also will be available as part of the sale, including culinary knives from the Phi Theta Kappa honor society, photo prints from the Photo Arts Club and dog collars and treats from the Vet Tech Club.
PTC invites the public to get into the holiday spirit by coming out to view and purchase poinsettias or creative gifts from its college student clubs. Directional signs to the greenhouse will be posted from Parking Lot #15 off South Emerald Road.
PHOTO CUTLINE
A sampling of the poinsettias that will be presented for sale by the PTC Horticulture Club.