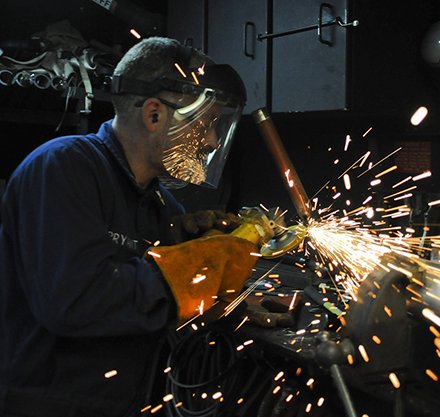 Industry Needs Prompt PTC to Create Tuition-Free Certificates
July 8, 2019
Those who may feel under-employed or want to upgrade their professional skills can take two semesters (or less) ― tuition-free ― and earn a certificate that can place them in a good, entry-level job with no waiting.
For a limited time, Piedmont Technical College (PTC) is offering an array of "Quickskills" certificates tuition-free for those who want to shake off any job-related inertia. These credentials align with current workforce needs in the region, and they are designed to get graduates to work quickly. Participants also may be eligible for a book stipend of up to $100 per semester.
"We created this opportunity in direct response to industry officials who have brought to our attention their challenges finding candidates who possess very specific skill sets to fill positions they have available right now," said Rusty Denning, associate vice president of economic development and continuing education at PTC. "Those with Quickskills certificates can fast-track into those jobs and even build on their credentials to advance in their careers."
PTC's eligible, tuition-free Quickskills certificates include:
Automation
Computer Certifications
CNC Operator
Emergency Medical Technician
Manufacturing Production Technician
Masonry
Phlebotomy
Precision Metrology
Welding
To be eligible for tuition-free Quickskills certificates, participants must be 18 years of age. They also will need to apply to the college, complete the financial aid process and submit a short scholarship application. Those who meet the criteria for Lottery Tuition Assistance are eligible for this program.
The overall value of these Quickskills certificates approaches $2,000 each, but for a limited time, PTC is offering them tuition-free so motivated individuals can quickly upgrade their skills, qualify for in-demand jobs or embark on new career paths.
"Those who may feel they've reached a work skills plateau and want more can take action now, reserve their seat in a Quickskills classroom, and swiftly jumpstart their professional lives," Denning said. "Plus, when they're ready, participants can make the move to extend their training and apply these credits to other programs at Piedmont Tech."
PTC will conduct Quickskills information sessions every Tuesday beginning on July 16 at 10 a.m. in Room 155 of the B Building on the Lex Walters Campus-Greenwood. For further details, visit www.ptc.edu/quickskills.