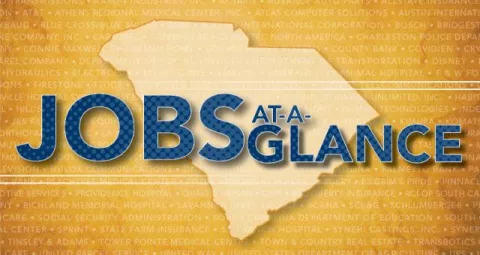 Jobs at a Glance: Openings for July 2013
About Jobs at a Glance
Piedmont Technical College receives news of new job openings all over the region on a regular basis and posts them to Jobs @ a Glance as a service to the community. In addition to providing information about local job opportunities, PTC also offers assistance with resume preparation, job interviewing tips, and more. For information on these services, please contact David Rosenbaum at rosenbaum.d@ptc.edu or visit SC Works in Room 101-A on the Lex Walters Campus-Greenwood.
Here are a few highlights from the last few weeks:
Stonemor Partners, LP is currently seeking a Funeral Home Manager for our Shuford-Hatcher Funeral Home locations. This position is responsible for planning, organizing, directing and supervising the general activities of the funeral home. 5+ years experience in the operation and administration of a funeral home. • Must be a licensed funeral director and embalmer.
Positions available in Gaffney and Greenville.
Deadline: 8/13/2013
Sandhills Veterinary Hospital, a one-year old practice in Northeast Columbia, is seeking a team-oriented veterinary technician to join a fast growing practice. Experience preferred but not required as on-the-job training is available for the right candidate. Most important traits are a willingness to pitch in to do whatever needs to be done, rotating availability for Saturday morning appointments and once every 5-6 weeks kennel duty (rotates among all staff).
Deadline: 9/30/2013
Eaton seeks a Design Engineer who will be responsible for product development of Medium Voltage electro-mechanical assemblies that meet applicable industry standards--including design, testing and verification activities. Among other responsibilities, the Engineer will lead designers in new product development projects; coordinate with Sales, Marketing and customers; work with manufacturing engineering on meeting new product manufacturability and cost goals; utilize 3D CAD software to create product design concepts.
Deadline: 7/30/2013
KSC in Greenwood seeks a welder who will be responsible for the set-up, lay-out and tack-up of various precision frame weldments and brackets. The successful applicant should have the ability to tack up structures to tight tolerance; move parts on and off machinery and throughout the shop; and read complicated prints and "spec weld symbols" in conjunction with manual machinist.
Typical work schedule is Monday through Friday 6:45AM to 3:45PM
Deadline: 7/19/2013
Proper Polymers in Anderson seeks a CMM programmer to support compliance with quality policies and procedures. The programmer will program and inspect using CMM with EZDMIS software, ensuring timely completion of dimensional part layouts and reports, and conducting part layouts and capability studies to assure parts meet or exceed dimensional requirements of the customer.
Required Education and Experience: High School Diploma/GED required. A one-year certificate from a technical college and three to five years related experience and/or training; or equivalent combination of education and experience. Strong EZDIMS experience. Two plus years of experience in a CMM Programmer role. Automotive Interior/plastics experience a plus. Competent in reading CAD data. Able to read & interpret blueprints.
Deadline: 8/01/2013
AllTech Systems, Inc. seeks an equipment service associate to troubleshoot robotic equipment and automotive industrial equipment. Extensive training offered on the job. This is a long term contract at the BMW Plant in Spartanburg, SC. Seeking a graduate with an A.A.S. in Mechatronics Technology, and preferably 2-3 years experience in some sort of electrical, mechanical, hydraulic or pneumatic work experience.
Salary: Day Shift: $26.50 per hour & 2nd Shift: $27.20
Deadline: 9/1/2013
About Career Services at Piedmont Tech:
Piedmont Technical College offers a full suite of career services, including planning, counseling, resume assistance, and a wide variety of job search resources. Employers: If you're searching for employees, please consider listing your job opening with us.