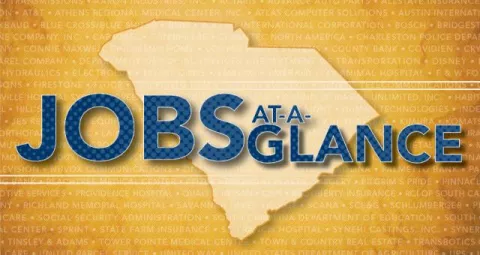 Jobs at a Glance: Openings for March 2013
About Jobs at a Glance
Piedmont Technical College receives news of job openings all over the region on a regular basis and posts them to Jobs @ a Glance as a service to the community. In addition to providing information about local job opportunities, assistance is also provided with resume preparation, job interviewing tips and more. For information on these services, please contact David Rosenbaum at rosenbaum.d@ptc.edu or visit SC Works in Room 101-A on the Greenwood Campus.
Here are a few highlights from the last few weeks:
Faurecia Interior Systems, North American division is looking for interns and trainees who wish to develop into Process Engineering positions for its JIT and Manufacturing site at Fountain Inn, South Carolina, USA. The role of the intern/trainee Process Engineer is to provide support to Program Manufacturing Engineers with program launch activity including but not limited to: drafting operator work instructions; coordinating lay-outs and line moves; entering document evidence into Faurecia systems; proposing improvements to processes; defining 5S standards; liaising with operators and training to new standards. 
Must be self motivated, dynamic, quick learner and studying towards or having completed an engineering degree/diploma (mechanical or industrial) and proficient in Excel. Experience in a manufacturing environment preferred.
Deadline: 4/30/2013
The City of Newberry Police Department is seeking a patrolman to perform general duty police work in an effort to protect life and property of Newberry's citizens through the enforcement of laws and ordinances. Work involves patrolling the city, conducting investigations, preparing cases for court, preparing various reports, and assisting citizens in an attempt to protect life and property of citizens through the enforcement of laws and ordinances. Employee works under stressful, high-risk conditions. Reports to the lieutenant. This position requires an associate degree in criminal justice, business, social science or other relevant field, with one or two years of experience in law enforcement; or any equivalent combination of education, training and experience, which provides the required knowledge, skills and abilities. 
Deadline: 3/15/2013
Resource Electric, LLC in Clinton, SC is seeking a maintenance technician whose duties will include troubleshooting and repairing equipment to keep a plant running at maximum efficiency. Duties will also include maintaining the equipment on a PM based schedule. An Associate Degree in the Industrial or Electronic Engineering field is required. PLC troubleshooting, mechanical skills and hands-on experience are a plus. This is a first shift position and overtime may be required.
Deadline: 7/1/2013
Always Best Care, Senior Services is seeking a Certified Nursing Assistant with a minimum of 2 years of experience working with a home care agency, assisted living, or skilled nursing facility. Experience working with seniors, and experience with Alzheimer's and Dementia are a plus. the successful candidate must be caring and compassionate, and able to provide companionship and enhance the quality of patients' lives. Some responsibilities include assistance with Activities of Daily Living (ADLs) such as bathing, dressing, grooming, incontinence care, meal preparation, light housekeeping, medication reminders, companion care, and transportation to appointments/run errands.
Deadline: 3/31/2013
Horry-Georgetown Technical College in Conway, SC is seeking an Information Technology professional to assist the Director of the Teaching Excellence Center (TEC) with activities including: planning, technical and functional administration of Learning Management System and other instructional technology systems, identification, integration and training needs to enhance the use of instructional technology by all faculty. This position will also assist in the promotion of instructional technology to enhance the learning environment. A bachelor's degree in Information Technology or related field of study, an associate degree and two (2) years journey-level work experience in a related field, or a high school diploma and four (4) years journey-level work experience in a related field. The position starts July 1, 2013.
Deadline: 7/1/2013
J. A. King & Company, LLC has a position available for a full-time QC Calibration Technician with potential for advancement in the Hartwell, GA / Anderson, SC area at one of their embedded customer service operations. Responsibilities will include performing in process inspections and conducting manufacturing process measurements; learning and utilizing software to record non-conformances and to provide root cause analysis; and meeting or exceeding all customer service expectations. The position offers an excellent benefits package, including a 401k, two weeks paid vacation per year, and a choice of health care plan (Health, Dental, Vision). Advanced training in a manufacturing maintenance position, calibration or metrology experience, and quality control inspection experience preferred.
Deadline: 3/31/2013
About Career Services at Piedmont Tech:
Piedmont Technical College offers a full suite of career services, including planning, counseling, resume assistance, and a wide variety of job search resources. Employers: If you're searching for employees, please consider listing your job opening with us.