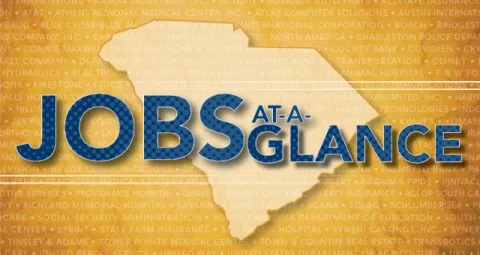 Jobs at a Glance: Openings for May 2013
About Jobs at a Glance
Piedmont Technical College receives news of new job openings all over the region on a regular basis and posts them to Jobs @ a Glance as a service to the community. In addition to providing information about local job opportunities, PTC also offers assistance with resume preparation, job interviewing tips, and more. For information on these services, please contact David Rosenbaum at rosenbaum.d@ptc.edu or visit SC Works in Room 101-A on the Lex Walters Campus-Greenwood.
Here are a few highlights from the last few weeks:
Piedmont Agency on Aging in Greenwood seeks a part-time teacher to oversee the after-school program including supervision of the staff. The teacher will provide planning and execution of appropriate early childhood education experiences with a variety of materials in the fields of art, music, literature, science, mathematics, etc. Must be professional, patient and nurturing and have a love and passion for young children. Experience leading, teaching and interacting in a classroom setting is preferred. Morning and afternoon part time hours available up to 28 hours per week.
Deadline: 7/1/2013
Bishop Tires in Clinton, SC seeks a technician trained in suspension, steering and basic mechanical. Interested candidates should contact Tammy Allen at (864) 833-4780 to set up an appointment.
Deadline: 6/30/2013
Life Line Screening in Spartanburg, SC seeks a medical assistant to learn and perform ABI, Osteoporosis Risk Assessment, Atrial Fibrillation and blood test screenings in accordance with the company's protocols and in a proficient and timely manner. Flexibility to work outside of normal business hours including 1-4 hours paid travel time in a team van. The Medical Assistant will be an integral part of a team delivering medically appropriate tests with an emphasis on clinical excellence, while focusing on providing an excellent customer experience. This is a full-time position with benefits available. 
Deadline: 9/1/2013
ZF Transmissions seeks an intern for the IT department. Job duties will include Intranet page updates, IT equipment inventory, revising internal/HR forms, imaging new computers, etc. Must be currently enrolled in 2- or 4-yr college pursuing an IT major or minor. Applicants should have previous experience with website development/code, strong MS Office/Adobe skills, previous experience creating PDF forms and new computer imaging. The internship will be at least 3 months long, and pays $12-$16/ hour depending on the year in school. 
Deadline: 5/31/2013
Resource Electric, LLC in Clinton, SC is seeking a maintenance technician whose duties will include troubleshooting and repairing equipment to keep a plant running at maximum efficiency. Duties will also include maintaining the equipment on a PM based schedule. An Associate Degree in the Industrial or Electronic Engineering field is required. PLC troubleshooting, mechanical skills and hands-on experience are a plus. This is a first shift position and overtime may be required.
Deadline: 7/1/2013
J. A. King & Company, LLC has a position available for a full-time QC Calibration Technician with potential for advancement in the Hartwell, GA / Anderson, SC area at one of their embedded customer service operations. Responsibilities will include performing in-process inspections and conducting manufacturing process measurements; learning and utilizing software to record non-conformances and to provide root cause analysis; and meeting or exceeding all customer service expectations. The position offers an excellent benefits package, including a 401k, two weeks paid vacation per year, and a choice of health care plan (Health, Dental, Vision). Advanced training in a manufacturing maintenance position, calibration or metrology experience, and quality control inspection experience preferred. Salary: $15 and up depending on education and experience
Deadline: 6/01/2013
GE Power & Water in Greenville, SC seeks a welder to prepare, arrange, fit and assemble a variety of materials (stainless, carbon, nickel alloy, cobalt alloy, HastX, Nimonic, etc,) and components using a variety of weld processes (tig, stick, & flux core) in a gas turbine manufacturing facility. Applicants should be graduates of an accredited welding program or have a minimum of 2-years industrial/construction or similar commercial welding experience and be proficient to successfully pass required weld testing and certification in the following: SMAW (Stick), GTAW (Tig), or FCAW (Flux Core).
Deadline: 6/01/2013
About Career Services at Piedmont Tech:
Piedmont Technical College offers a full suite of career services, including planning, counseling, resume assistance, and a wide variety of job search resources. Employers: If you're searching for employees, please consider listing your job opening with us.