June 16 Career Fair Exclusively for Employment at Piedmont Tech
Piedmont Technical College (PTC) is seeking professional faculty and staff for a variety of positions across seven campuses. Accordingly, college officials are prepared to interview employment prospects at its upcoming Career Fair on Thursday, June 16, 2022, from 9 a.m. to 1 p.m. at the Medford Family Event Center on the Greenwood campus.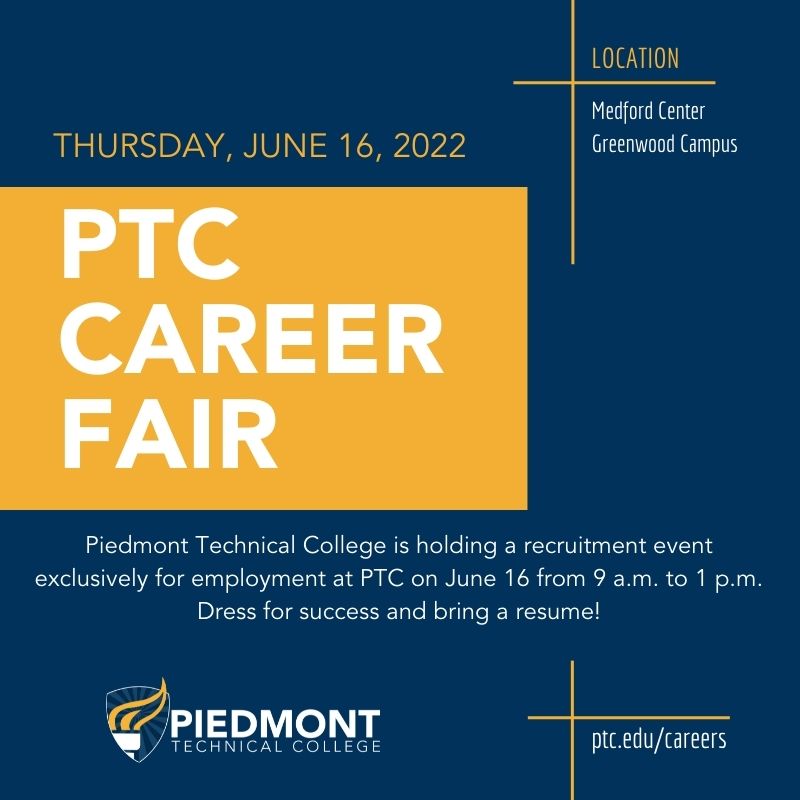 "This recruitment event is exclusively for employment at Piedmont Tech," said PTC Vice President for Human Resources Alesia Brown. "This is a truly uplifting place to work with great benefits and flexible hours. When you work at PTC, you are part of a higher mission, and you are a member of a professional team committed to student success."

Current openings — many of which are faculty positions — include roles in the disciplines of advanced manufacturing, mathematics, healthcare, business and education, information technology, science/biology, skilled trades, and more. 

Specific faculty positions include:  Academic Fieldwork Coordinator, Biology Instructor, Developmental/Transitional Math Instructor, Dean of Workforce Innovation, Electronic Engineering Technology Instructor, Economics Instructor, Mathematics Instructor, Veterinary Technology Instructor, and Welding Instructor for the Edgefield prison.

Specific staff positions include:  Building Grounds Specialist, Director of Information Technology Applications, Director of Donor Services (Mortuary Services), Information Technology Infrastructure Technical Lead, and Systems Programmer Developer. 

"If you have experience in any of these fields, you may qualify," Brown said. "Come out and see how you can make an impact on student success!"

PTC is an equal opportunity employer. For position details, visit www.ptc.edu/careers. 

###