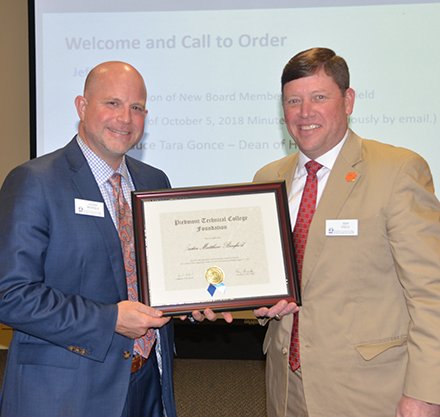 Laurens-Based Prisma Health Executive Joins PTC Foundation Board
February 12, 2019
The Piedmont Technical College (PTC) Foundation recently welcomed Justin Matthew Benfield to its board of directors.
Benfield is chief operating officer for the southern region at Prisma Health, formerly Greenville Health System. He is based at Laurens County Hospital in Clinton. In this role, he oversees Prisma Health's operations at the Laurens County Medical Campus as well as physician practices and outpatient services in Laurens, Abbeville, Newberry and Greenwood counties.
"As Piedmont Technical College continues to grow its nursing and other health care programs, we are particularly excited to welcome someone with Justin's extensive health care background to our Board," PTC Foundation Board Vice Chairman Jeff Field said. "It is obvious that Justin cares about our community, and we look forward to working with him to bring educational opportunity and economic prosperity to the region we serve."
Benfield earned his bachelor's degree in health care management from Southern Illinois University–Carbondale and a master's degree in business administration with a focus in health care from Southern Wesleyan University. His record of service on governing boards is expansive. Benfield serves on the boards of the Laurens County Chamber of Commerce, the Laurens County Development Corporation (Executive Committee), Laurens County Future Scholarship and the United Way of Laurens. He and his family are members of Buncombe Street United Methodist Church in Greenville.
"I am honored to serve on the Board of the PTC Foundation," Benfield said. "It is truly exciting to serve the Foundation at a time when the college is growing so robustly and enrollment is on the rise. During my time on the Board, I pledge my commitment to sustaining that growth for future generations."
PHOTO CUTLINE
New PTC Foundation Board Member Justin Benfield, left, and Board Vice Chairman Jeff Field.