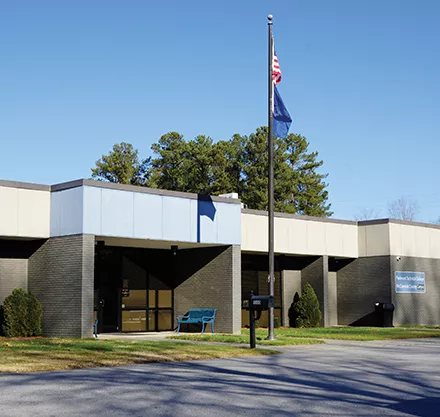 McCormick Middle College to Move Back to PTC McCormick County Campus
After a year of fully virtual instruction, McCormick County School District and Piedmont Technical College (PTC) will be returning the McCormick Middle College to its original home on the PTC McCormick County Campus this fall term. 

"One of the lessons we've learned from our experience with Covid is that it's important for our students to have a sense of place—and to have a connection to our local community. McCormick County is immensely proud of these students, so we're happy that we've been able to work with Piedmont to begin the transition back to local course delivery for the upcoming school year," said Dr. Jaime Hembree, superintendent of McCormick County School District. 

When it comes to academic rigor and career development, McCormick High School offers opportunities on par with schools many times its size thanks to the critical partnership between PTC and the school district. The McCormick Middle College is just one example of what can be achieved when like-minded organizations partner to expand opportunity for youth in their communities through dual enrollment programs.

Dual Enrollment is a concept in which students can take college courses while still in high school. This affords many high schoolers a taste of college-level academics so they can gain confidence that they can indeed succeed in college. 

"We're continually working with McCormick County Schools to deepen the ways we work together and to provide additional options for students," said Tameika Wideman, director of Dual Enrollment at Piedmont Technical College. 

The Middle College program has a longstanding history in McCormick County. Launched in the fall of 2011, it is a prime example of a school district providing students with a structured way to maximize the opportunity that comes along with dual enrollment, because participants can earn an associate degree while still in high school. Those credits can transfer to a four-year college or equip them with the skill set they need to enter the workforce immediately and earn a good living.

In past years, up to 30% of the McCormick High School graduating class has earned an associate degree concurrent with high school graduation. 

In addition to the Middle College, McCormick County School District also partners with PTC to provide a wide range of career pathway coursework, including mechatronics, automotive, welding, machine tool, HVAC, cybersecurity and criminal justice on the Greenwood Campus. The District provides students with transportation to take advantage of these opportunities. 

"PTC is committed to making opportunities in dual enrollment available to the widest possible number of students in our service area," said Dr. Hope E. Rivers, president of PTC. "We know that this coursework can change lives and have seen it firsthand over and over. We continue to be impressed with the forward-looking, innovative way that McCormick County School District provides opportunities to their students." 

PTC strives to make opportunities for early exposure to college-level coursework available to all students, so classes are available to all South Carolina residents taking at least 6 credit hours (generally two classes) tuition-free.
###
PHOTO:  PTC's McCormick County Campus