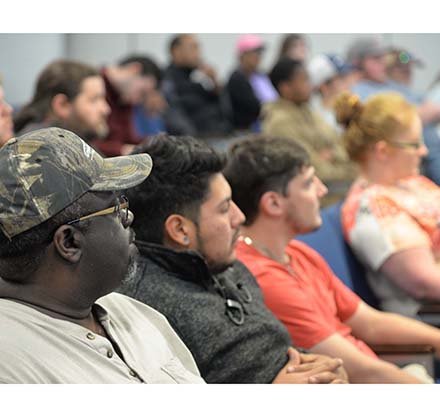 Piedmont Tech Begins New Automotive Manufacturing Apprenticeship Program
March 2, 2018
Did you know that it takes 12 hours for a series of robots to apply five coats of paint to a BMW vehicle and that, when completed, these layers add about 25 pounds to the vehicle? Folks who attended a special apprenticeship information session at Piedmont Technical College (PTC) on Feb. 22 learned this and more.
"Though it's still very new, response to the BMW Scholars program has been enthusiastic so far," said Chris Lipp, director of PTC's Center for Advanced Manufacturing.
Earlier this year, BMW announced it was adding PTC as its fourth education partner (along with Greenville Technical College, TriCounty Technical College and Spartanburg Community College) offering an apprenticeship program in which qualified students attend class full time and work at BMW 20-25 hours per week. It's an especially sweet opportunity for enrolled PTC students because the costs for tuition, books and health care benefits are covered, and apprentices earn an hourly wage for their shift work. To date, every Scholar since the program started in 2011 has been offered a full-time position with the automobile manufacturer.
"We are very excited to be partnering with BMW to offer this apprenticeship program to area students. Already, there has been a great deal of interest in the program," Lipp added. "It's another great opportunity for students who wish to pursue a career in advanced manufacturing."
The pace at BMW's Spartanburg plant is challenging.
"We produce about one car every 90 seconds," said Eugene Grant, technical scholar supervisor at BMW. The plant produces 1,400 vehicles a day. Time is of the essence. "If the line stops and you lose 90 seconds, you lose one car!"
Grant told those in attendance that manufacturing companies in the Upstate are competing for the same pool of people. Competition is fierce. Many years ago, only about 3 percent of students considered manufacturing as a career path. "We are changing that mindset," he said.
The BMW Scholars program offers four training paths: Logistics (manage material delivery systems), Technical (maintain robots or become production associates), Automotive (verify vehicle, mechanical, and electrical systems), and IT (information technology).
Apprentices receive a starting wage of $13 per hour while they are still in school and working part time. Ninety-five (95) students are currently enrolled, and ― because BMW is expanding the program ― new classes will be enrolling on a quarterly basis.
This opportunity is available only to those enrolled at PTC and other select area technical colleges. Interested PTC students are encouraged to contact Chris Lipp at Lipp.C@ptc.edu, (864) 682-3702, or Charles Dixon, Dixon.C@ptc.edu, (864) 941-8656.
PHOTO CAPTION
PTC students attend an information session to learn more about opportunities at BMW Manufacturing.