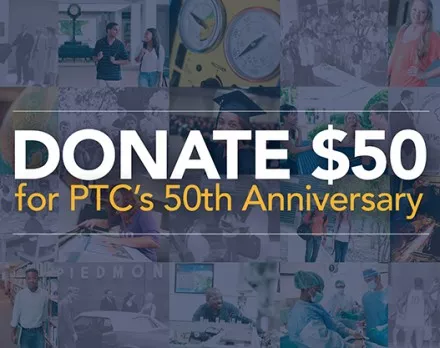 Piedmont Tech Celebrates 50th Anniversary with Scholarship
Tis the season of giving. If you are looking for a way to give back to the community, Piedmont Technical College has just the thing.
Piedmont Tech has been celebrating its 50th anniversary this year. To commemorate this milestone, the college is working to endow a 50th Anniversary Scholarship.
"For 50 years, the college has been impacting lives within our seven county area," said Fran Wiley, assistant vice president for development. "Establishing this scholarship will help current and future PTC students achieve their dreams for generations to come."
The campaign to endow the scholarship launched using social media as a way to give, something new for the Foundation. The goal is to raise $15,000.
"To reach our goal of $15,000, we need 300 people to donate at least $50 each, or even more if they choose," said Wiley. "It's a small amount when you realize it will help provide affordable access to education for Piedmont's students for the next 50 years and beyond."
For more information on the 50th Anniversary Scholarship or how to donate to the endowment online, go to www.ptc.edu/50 or contact Wiley at (864) 941-8351 or wiley.f@ptc.edu.