Piedmont Tech Opens New Expanded County Center in McCormick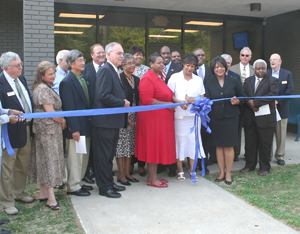 Piedmont Technical College officially opened its new facility Tuesday with a dedication and ribbon cutting ceremony. More than 100 people turned out to tour the new campus.
"The college has looked forward to the opening of a new McCormick campus for a long time," said Jennifer Wilbanks, dean of Piedmont Tech's county centers.
Wilbanks recognized the PTC Area Commission, PTC Foundation, PTC faculty and staff, the USDA Rural Development, West Carolina Rural Telephone, officials from McCormick County and the Town of McCormick, McCormick CPW, McCormick County School District and McCormick County Transportation Committee, entities that contributed to the completion of the project.
"No one person or one agency could have made this happen," said William Whitfield, chairman of the PTC Area Commission. "I would like to thank everyone involved in this."
The 7,000 sq. ft. technology center will begin offering classes for the summer term. Only about one-third of the building underwent renovations, Wilbanks said, which will allow for expansion and the addition of new programs in the future. The former center, which is only about 2200 sq. ft., was the smallest facility in Piedmont Tech's seven-county area and was a log cabin constructed during the Great Depression.
"That building was built in a time when there wasn't a lot of hope. We have seen that building serve in many different capacities," said Dr. Ray Brooks, president of Piedmont Tech. "We're moving out of one cabin that was built with hope and with an idea for a better future into a facility that is the same."
Piedmont Technical College assumed ownership of the old McCormick High School technology center thanks to a generous gift from the McCormick County School District in June of 2010.
"Without the courage and the vision of the School Board, we would not be here today," Brooks said.
Photo Caption: Piedmont Technical College and McCormick officials prepare to cut the ribbon announcing the grand opening of the new McCormick County Center.