Piedmont Tech Signs Agreement with readySC and ZF Group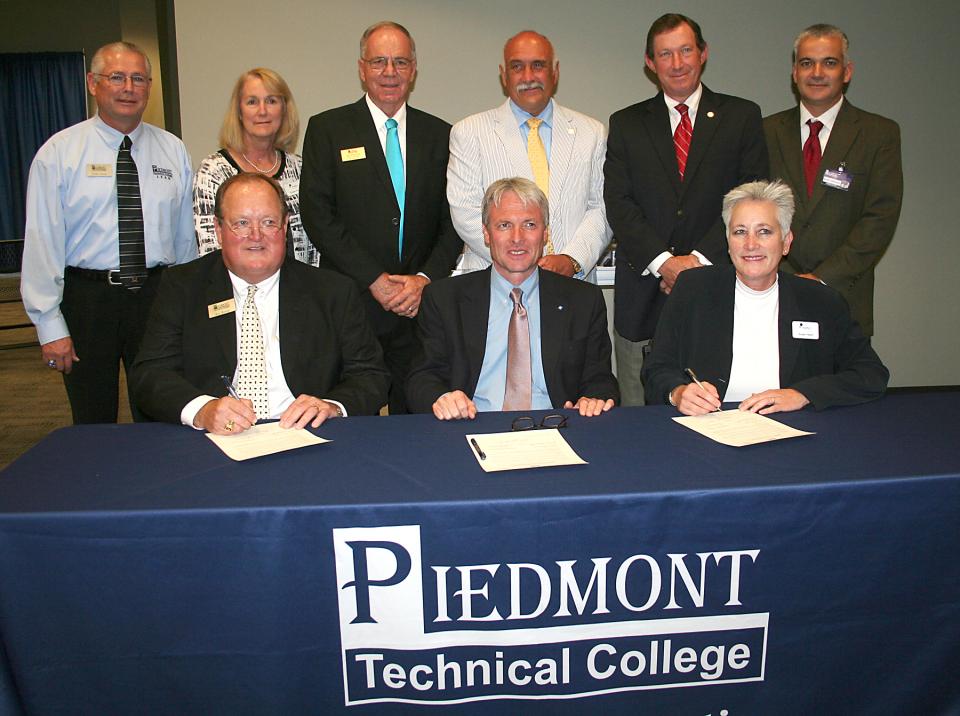 Representatives from Piedmont Technical College, readySC and the ZFGroup took advantage of the Open House festivities at the new Center for Advanced Manufacturing (CAM) in Laurens to solidify the agreement between the three entities concerning all training for the company.
"This agreement that confirms our commitment to work collaboratively to provide the training for ZF employees," said Susan Heath, area director for readySC.
The training will be offered at the new Piedmont Tech CAM. The facility came about thanks to a partnership between Piedmont Technical College, the PTC Foundation, county and city governments, Laurens County Economic Development Corporation and local industry. The facility was initially planned to provide readySC, a division of the South Carolina Technical College System, with a dedicated space to meet ZF Group's initial training needs in collaboration with PTC industrial faculty, but industry leaders throughout the county saw the Center's potential to benefit their operations.
The first phase of a renovation for the CAM included three classrooms, a CNC Lab, and a CMM lab for precision measuring of parts, providing readySC with the necessary tools to meet ZF Group's training needs as they bring new employees on board and ramp up their new facility in northern Laurens County.
"We are pleased to be able to work with readySC to provide training so that the residents of the our region will be prepared for the critically important high-tech manufacturing jobs that industries like ZF Group are bringing to this this area," said Dr. Ray Brooks, president of PTC. "A prepared workforce is essential to the economic development of this region."
Photo Caption: Representatives from Piedmont Technical College, readySC and the ZFGroup recently signed an agreement will solidify the agreement between PTC, readySC and ZF that all training for the company will be provided by readySC and the College. Participating in the signing ceremony were, front from left, Dr. Ray Brooks, president of Piedmont Tech; Dr. Ludger Reckmann, CEO of ZF Transmissions LLC; and Susan Heath, area director for readySC. Back, Keith Lasure, dean of engineering and industrial technology at PTC; Susan Pretulak, vice president of economic development and workforce competitiveness for readySC; William Whitfield, PTC area commission chairman; Rep. Mike Pitts, District 14 representative; Jim Coleman, Laurens County Council chairman; and Rusty Denning, associate vice president of Continuing Education and Economic Development at PTC.