Presidential Medallions Presented at Spring Commencement
Piedmont Technical College (PTC) President Dr. Ray Brooks honored eight college associates and community leaders with the Presidential Medallion, the college's most prestigious award, at PTC's recent spring semester commencement exercises. Instituted in 1991 during the college's silver anniversary celebration, the medallions recognize individuals who have made significant contributions toward excellence in education. Receiving the award were: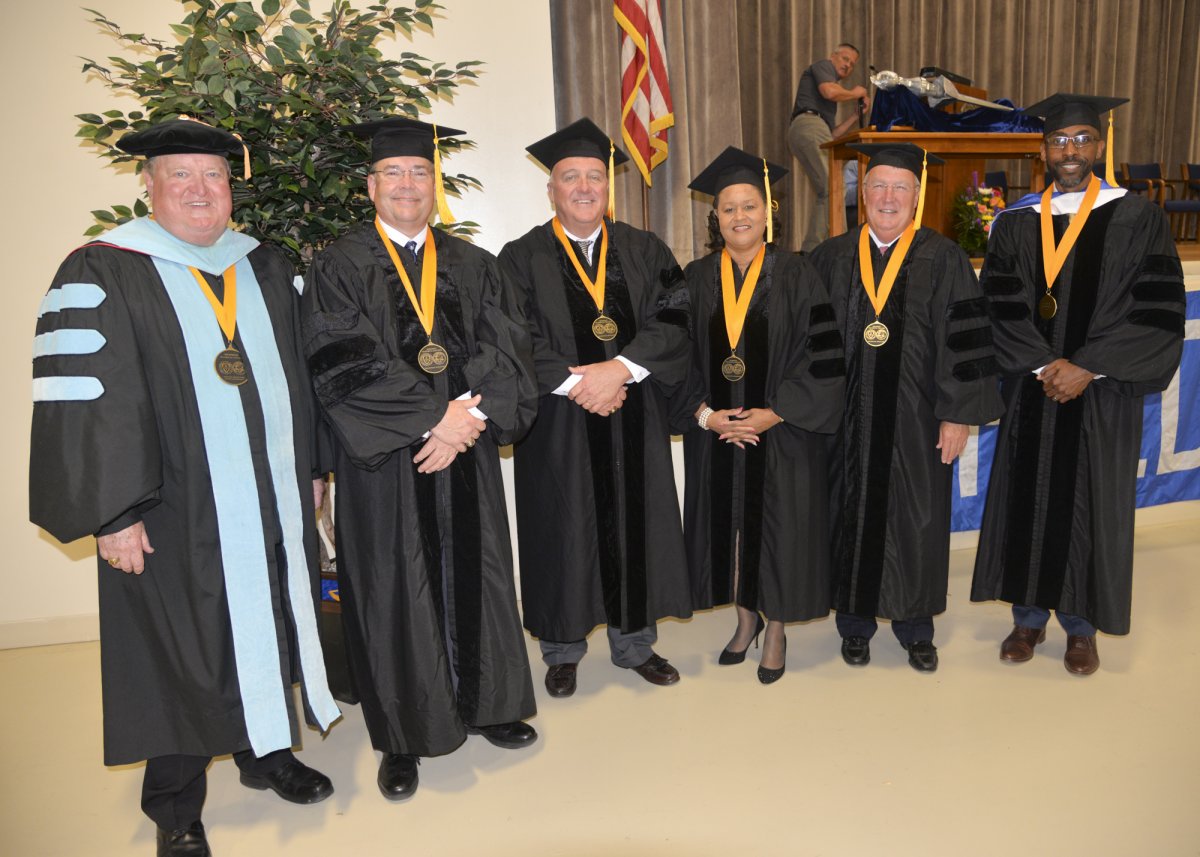 Sen. Mike Gambrell ― Honea Path native, public servant, and businessman Mike Gambrell served in the South Carolina House of Representatives from 2006 until 2016, when, upon the untimely death of Sen. Billy O'Dell, he was elected to the South Carolina Senate for District 4. It is a role in which he continues to serve. He graduated from Belton Honea Path High School, attended Palmetto Boys State, and graduated from Clemson University with a degree in business administration. He is the sole owner of M&R Enterprises, has been a volunteer firefighter for decades, and remains active in his community and church. Gambrell and his wife, Reene, live in Honea Path on a farm once owned by his grandparents.
Josh Lindsay ― With master's degrees in public safety and criminal justice, Josh Lindsay has served part-time as an assistant municipal court judge in Clinton since 2015. He is a former SLED special agent, police station manager for the UN Mission in Kosovo, and also served with the Greenville County Sheriff's Department and Spartanburg Public Safety Department. Lindsay began at Piedmont Tech as an adjunct criminal justice instructor in 2008, coming on full time in 2011 as the program's director. Last year, he was promoted to dean of business information technology, public service and commercial arts. He's also a children's author who released his first book this year.
Jackie Mathis ― A Greenwood native, Jackie Mathis not only is a Piedmont Tech alumna but also one of its longest-serving employees. For more than 25 years, she has worked at PTC, first in college communications, then enrollment and communications, and now in marketing/public relations. She holds two associate degrees from PTC, so sharing the good news about the college is both a mission and a pleasure. Never one to toot her own horn, the soft-spoken Mathis prefers to work quietly behind the scenes so that deserving programs and individuals may shine in the spotlight. Mathis enjoys helping out on committees at the college and at her church, Beulah Baptist Church in Greenwood. She is the mother of two daughters and three grandchildren.
Rep. John McCravy ― Greenwood attorney and South Carolina House Rep. John R. McCravy III began his legal career as staff attorney for the Supreme Court of South Carolina. Subsequent positions included city attorney for Greenwood and founding partner at McCravy, Newlon and Sturkie Law Firm. He formerly served on the board of the SC Supreme Court Commission on Grievances and Discipline. McCravy was elected to the state Legislature in 2016. He holds a bachelor's in sociology with a minor in political science from Clemson University and received his Juris Doctor degree from the University of South Carolina School of Law. He and his wife, Dana, have two grown children and two grandchildren.
Mamie Nicholson ― Mamie Nicholson has served as a program officer at the Self Family Foundation in Greenwood for nearly two decades. She earned her bachelor's degree in business from Limestone College and also holds an associate degree in business from Piedmont Technical College. Ms. Nicholson served on the Board of Trustees of Lander University from 1996 to 2016. In 2017, the state House of Representatives adopted a resolution expressing appreciation for her longtime service to Lander. She also has served on numerous other boards, including Self Regional Healthcare, the Greenwood County Community Foundation, the United Way, and Greenwood Rotary Club. She is married to South Carolina Sen. Floyd Nicholson. They live in Greenwood.
Jim Pfeiffer ― Self Regional Healthcare President and CEO Jim Pfeiffer has been an instrumental cog in the wheel that is The Greenwood Promise, an organization dedicated to providing scholarships that offset post-secondary tuition balances for every high school graduate living in Greenwood School Districts 50, 51, or 52. A longtime leader in health care administration, he also serves on numerous governing boards, including Health Sciences South Carolina, the SC Hospital Association, Palmetto Hospital Trust, the Greenwood Partnership Alliance, the Foundation for a Greater Greenwood County, the Piedmont Technical College Foundation, the Salvation Army, and the Greenwood Regional Rehabilitation Hospital. Pfeiffer earned a bachelors in biology and MBA in finance from Florida State University.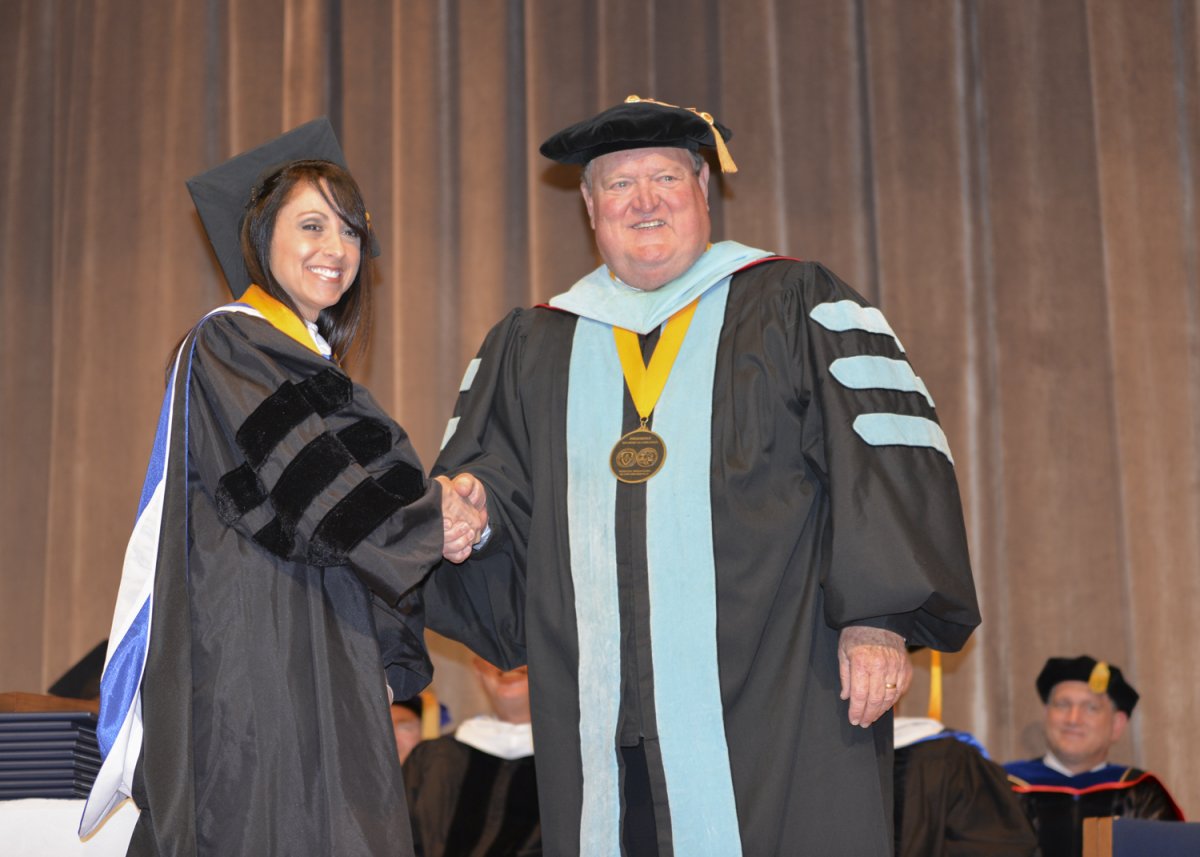 Lynn Slater ― Lynn Slater is a former small business owner and an experienced administrator who worked in the banking industry for several years. She came to PTC in 2011. In addition to serving as an executive assistant in academic affairs, she also works on several important college committees. Slater is a two-time winner of the SCTEA Staff Employee of the Year award. She holds an Administrative Professional Expert Certification from the Professional Business Institute and is a member of the International Association of Administrative Professionals. The busy mother of five enjoys spending time with her family, including two grandchildren. Other pastimes include reading and practicing yoga.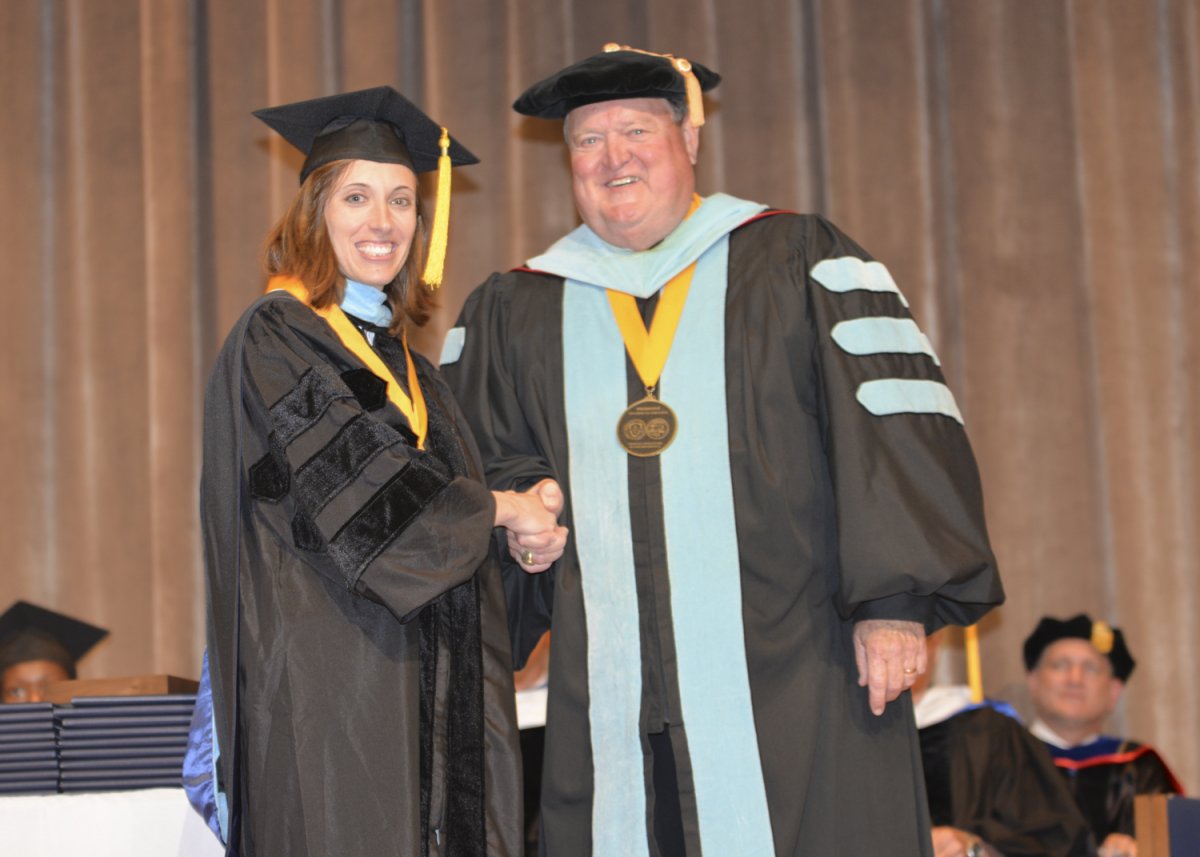 Cami Westall ― A native of Asheville, North Carolina, history instructor Cami Westall earned her bachelor's in political science and French from Presbyterian College. She came to Piedmont Tech in 2008 after receiving her master's in history from the University of Alabama. With wit and energy, she engages her students through unique projects, interviews, games, and new technologies. A former adjunct instructor herself, Westall mentors many adjuncts and others on faculty at PTC. Her contributions to the college include hundreds of hours of volunteering with events and recruitment, and she has been very active in developing Open Educational Resources (OER) courses to save students money on books and materials. Westall also assists with an elementary afterschool program every week.
PHOTO CUTLINES
Presidential Medallion recipient Jackie Mathis, left, of Greenwood, with PTC President Dr. Ray Brooks.
Five of the Spring 2019 Piedmont Technical College Presidential Medallion recipients, from left:  PTC President Dr. Ray Brooks, Sen. John McCravy, Rep. Mike Gambrell, Mamie Nicholson, Jim Pfeiffer, and Josh Lindsay.
Presidential Medallion recipient Cami Westall, left, with PTC President Dr. Ray Brooks.
Presidential Medallion recipient Lynn Slater, left, with PTC President Dr. Ray Brooks.