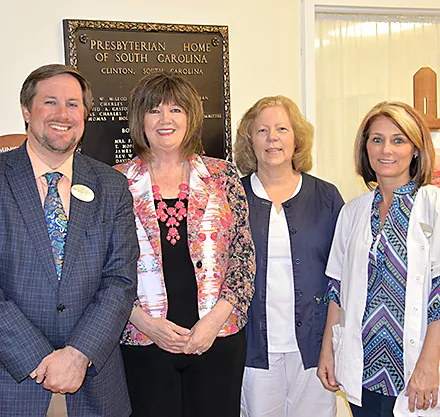 PTC Establishes Partnership with Presbyterian Home
Certified Nursing Assistants (CNA) are in high demand in Laurens County, but have proven to be hard to find. As a means of dealing with this shortage, Presbyterian Home in Clinton and Piedmont Technical College have formed a partnership to train CNAs in-house.
"Over the past few years, we have seen a drastic drop in the number of CNA applications we have received," said Crystal Gibbs, director of nursing at Presbyterian Home. "In the past, many of our CNA positions were filled with students who were seeking their nursing degree from Piedmont Tech. But having a CNA is no longer required for the program."
To address the issue, Gibbs contacted Deborah Hoffman, program manager for health with Piedmont Technical College's Continuing Education and Economic Development Division. A solution soon presented itself.
"We advertised for positions and chose the candidates who exhibited the necessary skills and desire to be CNAs at Presbyterian Home," said Gibbs. "Then we sent those candidates to Piedmont Tech to become CNAs."
The new employees began classes and, after they had completed 16 hours of in-class instruction, started their training at Presbyterian Home. At the end of the class, the employees were slated to take the state certification exam.
"We wanted to invest in these candidates and grow them from the very beginning all the way through our organization to show them we were committed to them," said Brandon Hair, administrator at Presbyterian Home.
As the need continues to outpace the available work force, Gibbs said they plan to provide more training through the partnership in the future. Hoffman said the partnership was just one example of Piedmont Tech filling a need in the community.
"The partnership we developed with Presbyterian Home provided a solution to their personnel issue," said Hoffman. "We consistently work to find solutions for training issues that any local business may need."
"It has been very beneficial to have this partnership with Piedmont Technical College," said Hair. "Our mission is to enrich the quality of life for seniors of all faiths and we need qualified CNAs to help fulfill that mission."
For more information on training opportunities, contact Continuing Education at (864) 941-8400.
Photo Caption: Piedmont Technical College and Presbyterian Home have partnered to provide training for Certified Nursing Assistants at the facility. Pictured are, from left, Brandon Hair, administrator at Presbyterian Home; Deborah Hoffman, PTC continuing education program manager for health; Debra Mulhall, CNA instructor; and Crystal Gibbs, director of nursing at Presbyterian Home.