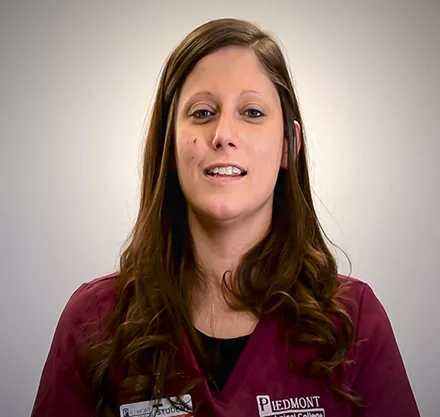 PTC Foundation Honors Scholarship Recipients
Every spring, Piedmont Technical College (PTC) recognizes and celebrates students who have been awarded one of more than 85 scholarships available from the PTC Foundation. Again in 2021, as a cautionary measure, the college on April 1, 2021, conducted its scholarship recognition ceremony online over its "PTC Live" social media channels.

"In practical terms, a scholarship is simply a fiscal tool to help students pay for college. But what does a scholarship actually mean?" PTC President Dr. Hope E. Rivers said in her taped introduction, "A scholarship award is validation. A scholarship award says that its benefactors have faith in you. They believe you will succeed, and you are worthy of their investment in your education. You got this!"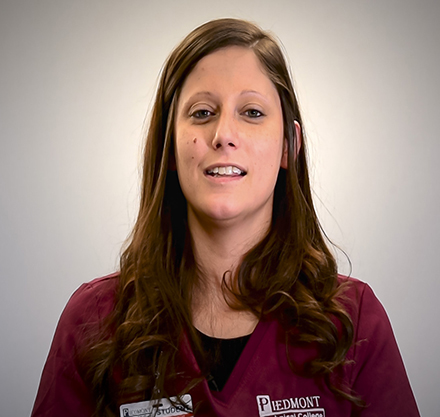 Indeed. Alyssa Flynn, an associate degree nursing student and Strom Thurmond Scholar from Newberry, exuded confidence in her remarks as one of three scholarship recipients featured on the video. After graduation, she hopes to work as a trauma nurse while pursuing a bachelor's degree.

"Since starting the nursing program, I have been able to work in a hands-on clinical setting. These opportunities have helped me gain essential tools needed for the health care field, and they have also helped me to understand that I have chosen the correct career path," she said. "Not only has this scholarship been financially meaningful but emotionally as well because it has helped strengthen my belief in myself."

"Every single day, our generous benefactors are making a difference," said Fran Wiley, associate vice president for development at the Piedmont Technical College Foundation. "On behalf of the PTC Foundation Board and the entire college community, I want to thank our donors for making our scholarship program possible."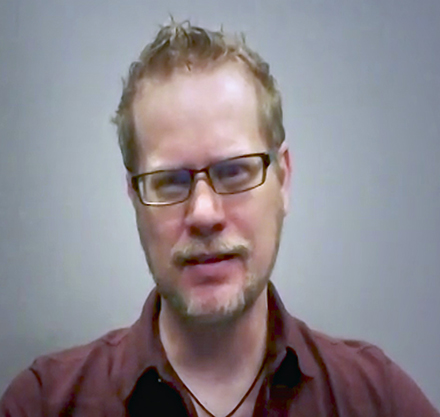 Jason Martin of Batesburg, a Derrick Scholar majoring in mechatronics technology, is strongly motivated to succeed in college as an example to his three daughters. 

"I have taught my three daughters that, regardless of where you come from, … every person on the planet has a particular genius that is personal to them," he said. "College is one of the best ways to explore what that might be and also learn the skills you need to advance yourself into a career that is utilizing that genius. I believe that every person should go to college, and particularly a technical college, so that they can develop those skill sets and learn what they might be successful at later on in life."
Merry Lu Han, who received the PTC Foundation Scholarship, is majoring in adult echocardiography. She would like to continue her studies, earn a bachelor's degree, and perhaps one day teach college students like herself. 

"I think my compassion and dedication to others are helping me to succeed in college. Working here as a student in the Cardiovascular Technology Program is helping me to achieve my goals and dreams," she said. "Receiving this scholarship allowed me to have some financial relief and focus more on my studies. … I am greatly appreciative of the financial support that the college has given me."

"The best advice I can give someone considering attending school is to stop making excuses and just do it!" Flynn said in conclusion. "Celebrate the small achievements, set goals, and always believe in yourself!"

To view the video and complete list of scholarship recipients, please visit www.facebook.com/PiedmontTech. 
PHOTOS (from video): 
•    Alyssa Flynn
•    Merry Lu Han
•    Jason Martin 
The individual scholarship winners are:

Anna Lewis, Abbeville First Bank Endowed Scholarship 
Chasity Cox, Agape Senior OTA Scholarship
Stephanie West, AJ Welch Memorial Scholarship
Caleb Fincannon, Alfred and Miriam Adams Endowed Scholarship
Lauran Bouchillon, Allred Leadership Endowed Scholarship 
Carmen Doubrava, Allred Leadership Endowed Scholarship 
Kaitlyn Neal, Allred Leadership Endowed Scholarship 
Jasmine Wells, Allred Leadership Endowed Scholarship 
Brenda Cook, Annie Lee Swygert Memorial Endowed Scholarship
Brianna Pearson, Annie Lee Swygert Memorial Endowed Scholarship
Penny Jordan-Gresham, Bailey Foundation Endowed Scholarship
Somekia Key-Williams, Bailey Foundation Endowed Scholarship
William McClellan, Bailey Foundation Endowed Scholarship
Sheresa Sullivan, Bailey Foundation Endowed Scholarship
Christina Sumeral, Bailey Foundation Endowed Scholarship
Christopher Lee, Brighter Futures Scholarship
Jamie Adams, C. Y. Thomason Sr. Memorial Healthcare Scholarship
Trevor Neal, C. Y. Thomason Sr. Memorial Scholarship
Bryan Bohler, Casandra Cae Laster Memorial Scholarship
Haley Bedenbaugh, Charles Baumeister Memorial Endowed Scholarship
Kassidy Jennings, Computer Consultants & Merchants, Inc. PTC Golf Classic Scholarship 
Katina Sargent, Countybank Foundation Scholarship 
McKenzy Butler, Derrick Scholars Endowed Scholarship
Landon Epps, Derrick Scholars Endowed Scholarship
Amy Marshall, Derrick Scholars Endowed Scholarship
Jason Martin, Derrick Scholars Endowed Scholarship
Brooklyn Overholt, Derrick Scholars Endowed Scholarship
Meredith Cameron, Doris Suber Family Endowed Scholarship
Harley Charles, Doris Suber Family Endowed Scholarship
Keren Santos-Vicente, Dr. Sandra Calliham McMullen Scholarship
Anna McKinney, Emerald Ink and Stitches Golf Classic Scholarship
Deepkumar Patel, Emerald Ink and Stitches Golf Classic Scholarship
Chandler White, Enviva Golf Classic Scholarship
Casey Hendrix, Ernest Prewett Alumni Association Endowed Scholarship
Tyler Rauton, First Citizens Scholarship
Barry Wicker, Frank Wardlaw Memorial Scholarship
Alberto Gomez, Fujifilm Manufacturing U.S.A., Inc Scholarship
Drayton Branham, G. B. Elledge Endowed Scholarship
Hannah White, Game Changer Scholarship
Kirkland Gilliard, Greenwood Chamber of Commerce Community Scholarship
Caleb Wright, Greenwood Chamber of Commerce Community Scholarship
Kenneth Thompson, Greenwood Corvette Club Scholarship
Lawrance Partlow, Greenwood Corvette Club Scholarship in Memory of Dennis Smith
Stevie Bowie, Greenwood Rotary Club Industrial Scholarship
Ashley Pridgen, Gwen and Gene Hancock Memorial Respiratory Care Scholarship
Kally Rauch, H. Kelley Jones Scholarship
Quashayla Elmore, Henry Blohm Leadership Endowed Scholarship 
Natalie Rikard, Henry Blohm Leadership Endowed Scholarship 
Sherry Manly, Honeycutt Scholarship
Amber Henderson, Human Services Scholarship
Comeshia Gray, Jeanne C. Florence Memorial Endowed Scholarship 
Jacob Childress, John Heydel Cardiovacular Scholarship
Merry Han, John Heydel Cardiovacular Scholarship
Vanessa Otts, John Heydel Cardiovacular Scholarship
William McCord, Judy Daulton Accounting Scholarship
Terry Lancaster, L. Ruple Harley, Sr. Memorial Endowed Scholarship 
Daniella Gamboa Coleman, La Puerta De Esperanza Scholarship
Daniela Jimenez-Leon, La Puerta De Esperanza Scholarship
Cheraden Allison, Lady Bug Memorial Scholarship
Justin Abadia Juarez, Lakelands Home Builders Association Scholarship 
Lucy Homes, Laurens County Chamber Cecil Davenport Memorial Endowed Scholarship
Chloe Manley, Laurens County Chamber Cecil Davenport Memorial Endowed Scholarship
Ashton Myrick, Laurens County Chamber Cecil Davenport Memorial Endowed Scholarship
Promise Stephens, Laurens County Chamber Cecil Davenport Memorial Endowed Scholarship
Judith Szymanski, Laurens County Chamber Cecil Davenport Memorial Endowed Scholarship
Nancy Wood, Laurens County Chamber Cecil Davenport Memorial Endowed Scholarship
Austin Harvley, Laurens County Water & Sewer Commission PTC Golf Classic Scholarship
Heather Case, Lena Wood Warren Scholarship
Brittani Osborne, Lonza Endowed Scholarship
Carla Germany, Louise Rambo Nursing Scholarship
Constance Lawson, Lucille Brooks Memorial Scholarship 
Thomas Thompson, Lucille Brooks Memorial Scholarship 
Noah Guire, Lula M. Smith Healthcare Endowed Scholarship
Codi Hudgens, Lula M. Smith Healthcare Endowed Scholarship
Kevin Jones, Lula M. Smith Healthcare Endowed Scholarship
Brantley Langley, Lula M. Smith Healthcare Endowed Scholarship
Samantha Plumley, Lula M. Smith Healthcare Endowed Scholarship
Jake Roberts, Lula M. Smith Healthcare Endowed Scholarship
Mariano Cotoc Riscajche, Manning Family Endowed Scholarship
Ytoshia Gilchrist, Manning Family Endowed Scholarship
Jessica Davis, Martha B. Williams Memorial Scholarship
Ashton Cathey, Medford Family Foundation Scholarship 
Dashun Boyd, MJA Endowed Scholarship 
James Coats, MJA Endowed Scholarship 
Anthony Noah, Jr, MJA Endowed Scholarship 
Jonathan Link, Mr. "B" Automotive Technician Endowed Scholarship
Allyson Davis, Newberry County Memorial Hospital Scholarship
Holly Guida, Newberry County Memorial Hospital Scholarship
Norma Navarrete, Newberry County Memorial Hospital Scholarship
C'Xaurius Corley, Newberry Electric Cooperative Scholarship
Shannon Harrison, Nora Wells Cooner Memorial Scholarship
Destiny Robinson, Norbord South Carolina, Inc. PTC Golf Classic Scholarship
Shannon China, Olly and Ross Garrison Memorial Endowed Scholarship
Rebecca Bolen, Paul DeLoache Memorial Endowed Scholarship
Anthony Ramirez, Paul DeLoache Memorial Endowed Scholarship
Cheleka Garrett, People That Care Scholarship
Tracy Rymszewicz, PTC 50th Anniversary Scholarship
Danielle Chappell, PTC Foundation Board Scholarship
William Haynes, PTC Foundation Board Scholarship
Layton Logan, PTC Foundation Board Scholarship
Rosalyn Miller, PTC Foundation Board Scholarship
Levanah Reil, PTC Foundation Board Scholarship
Morgan Shealy, PTC Foundation Board Scholarship
Rachel Shore, PTC Foundation Board Scholarship
Emily Whitten, PTC Foundation Board Scholarship
Liberty Adams, PTC Golf Classic Endowed Scholarship
Tatyanna Allen, PTC Golf Classic Endowed Scholarship
Amanda Bissonnette, PTC Golf Classic Endowed Scholarship
Elizabeth Clark, PTC Golf Classic Endowed Scholarship
Kenya Cook, PTC Golf Classic Endowed Scholarship
Wanda Davis, PTC Golf Classic Endowed Scholarship
Ariel Dombroski, PTC Golf Classic Endowed Scholarship
Kelsey Epps, PTC Golf Classic Endowed Scholarship
Brian Gordon, PTC Golf Classic Endowed Scholarship
Rashona Lytes, PTC Golf Classic Endowed Scholarship
Joshua Manley, PTC Golf Classic Endowed Scholarship
Hailey Roach, PTC Golf Classic Endowed Scholarship
Cordell Rush, PTC Golf Classic Endowed Scholarship
Sheresa Sullivan, PTC Golf Classic Endowed Scholarship
Cheyenne Suttles, PTC Golf Classic Endowed Scholarship
Kaitlyn Vickery, PTC Golf Classic Endowed Scholarship
Terrica Williams, PTC Golf Classic Endowed Scholarship
Michael Winfrey, PTC Golf Classic Endowed Scholarship
Shandrea Williams, Rad Tech Scholarship
Trevor Clary, RMBE Lipford Scholarship
Brandy White, Self Regional Healthcare PTC Golf Classic Scholarship
Julian White, Senator Floyd Nicholson PTC Golf Classic Scholarship
Krystal Land, Sterilite Corporation Endowed Scholarship
Shannon Martin, Sterilite Corporation Endowed Scholarship
Angela Butler, Strom Thurmond Endowed Scholarship
Waled Elwan, Strom Thurmond Endowed Scholarship
Alyssa Flynn, Strom Thurmond Endowed Scholarship
Bobby Killingsworth, Jr, Strom Thurmond Endowed Scholarship
Zachary McDavid, Strom Thurmond Endowed Scholarship
Darius Moton, Strom Thurmond Endowed Scholarship
David Patterson, Strom Thurmond Endowed Scholarship
Cearah Jones, Sylvia MacFarlane Veterinary Technology Club Scholarship
Jessica Bullard, Taylor Foundation of Newberry Scholarship
Emilee Carpenter, Taylor Foundation of Newberry Scholarship
Jenifer Jumper, Taylor Foundation of Newberry Scholarship
Amanda Morris, Taylor Foundation of Newberry Scholarship
Tiffany Smith, Taylor Foundation of Newberry Scholarship
Johnathan Tlahuechtl Huerta, Taylor Foundation of Newberry Scholarship
Makayla Porter, The Charlie Foundation Scholarship
Carter Curry, The Links at Stoney Point PTC Golf Classic Scholarship
Tung Pham, The Links at Stoney Point PTC Golf Classic Scholarship
Alicia Summer, The Links at Stoney Point PTC Golf Classic Scholarship
Joshua Atkins, Tour de Tech Scholarship
Tiffany Blackmon, Veterinary Technician of Excellence Scholarship 
Lola Allen, W. A. Klauber Memorial Endowed Scholarship
###