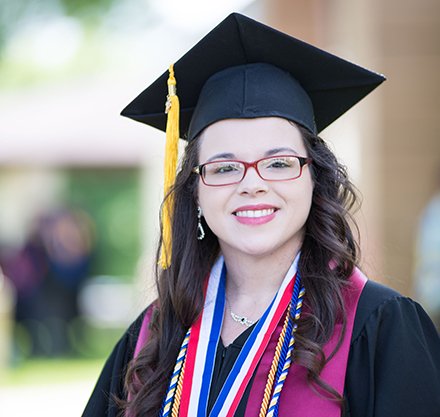 PTC Grad Tina Magnussen Honored with New National Scholarship
May 31, 2018
Tina Magnussen, who graduated this spring from Piedmont Technical College (PTC) with an associate degree in nursing, has been named an inaugural 2018 New Century Workforce Pathway Scholar and will receive a $1,250 scholarship.
This new scholarship is the first of its kind to support students at associate degree-granting institutions who plan to enter the workforce upon the completion of a degree or certificate on a national scale. The program is sponsored by The Coca-Cola Foundation and the Phi Theta Kappa honor society.
Magnussen is the recipient of this year's President's Award, PTC's most prestigious honor, and was a featured commencement speaker in May. She also was honored with a Divisional Distinguished Student Award. Magnussen was selected for the scholarship because she was the highest-scoring All-USA Academic Team applicant in South Carolina.
"I have never applied for this scholarship before because I never thought I would win," Magnussen said. "It was one of the biggest, most pleasant shocks I have ever experienced."
Magnussen plans to pursue either a bachelor's in nursing or an RN to MSN degree next spring.
"Tina Magnussen is an impressive student and great role model for others seeking to follow their dream and make a brave, mid-career change," said Jack Bagwell, PTC vice president for academic affairs. "We are very proud of this exceptional young woman."
"We congratulate Tina Magnussen for receiving this prestigious scholarship, and we are honored to partner with The Coca-Cola Foundation to recognize her outstanding achievements," said Phi Theta Kappa President and CEO Dr. Lynn Tincher-Ladner. "Scholarship programs like this are integral for creating opportunities for students to succeed as they prepare to enter the workforce and for putting college completion within reach."
New Century Workforce Pathway Scholars are selected based on their academic accomplishments, leadership, activities, and how they extend their intellectual talents beyond the classroom. More than 2,000 students were nominated from across the country. Only one New Century Workforce Pathway Scholar was selected from each state.
"Education can change lives and help ensure that young people can realize their full potential," said Helen Price, executive director of The Coca-Cola Foundation. "The Coca-Cola Foundation places a high priority on supporting education to help build strong communities."
Magnussen and the other New Century Workforce Pathway Scholars have been invited to be recognized during the Association of Community College Trustees' (ACCT) Congress in New York City in October 2018.
Piedmont Technical College, founded in 1966 and accredited by the Southern Association of Colleges and Schools Commission on Colleges, is a comprehensive two-year college offering university-level education and hands-on career training. With locations in each of the seven counties we serve--Abbeville, Edgefield, Greenwood, Laurens, McCormick, Newberry and Saluda--as well as an online campus accessible anywhere there's an internet connection, Piedmont Tech works to make the advantages of higher education available to everyone, regardless of their personal circumstances or previous educational preparation.
Phi Theta Kappa is the premier honor society recognizing the academic achievement of college students to grow as scholars and leaders. The Society is made up of more than 3.5 million members and nearly 1,300 chapters in 10 nations. Learn more at ptk.org.
The Coca-Cola Foundation is the global philanthropic arm of The Coca-Cola Company. Since its inception in 1984, the Foundation has awarded more than $830 million in grants to support sustainable community initiatives around the world. For more information about The Coca-Cola Foundation, please visit coca-colagivingback.com.
PHOTO:  PTC Graduate Tina Magnussen