PTC Graduate Finds Success through Tragedy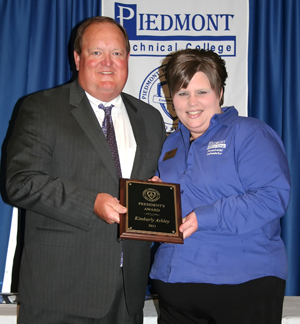 Kim Ashley's life has taken many twists and turns. While not all of those twists have been happy, she will tell you they have transformed her life.
A native of Abbeville, Ashley moved to Greenwood in 2008. She dropped out of high school to pursue her dream of having a family. She later returned for her GED, but she said college was not for her. Then, with a spur of the moment decision, she enrolled at Piedmont Technical College.
"My daughter was enrolled here and she kept talking about how great it was," Ashley said. "So I woke up one morning and decided that I was going back to school."
Ashley, a mother of five, said her family's reaction was shock and disbelief. But, she was determined. She applied to PTC and entered the late term in the spring 2009. She said she was looking for something quick and enrolled in the medical coding certificate program.
Then came a twist. The program was merged into the administrative office technology (AOT) degree program and Ashley found herself on the way to an associate degree.
"I've always wanted to work in an office, a doctor's setting, in health care," Ashley said.
Ashley said she liked what she was learning and was excited about pursuing a career. Her daughter was a student, and Ashley's drive inspired her mother to enroll in the veterinary technology program.
Then another turn.
Ashley's son, a rising senior at Emerald High School, was enrolled in dual enrollment classes and had plans to attend Piedmont Tech in the horticulture program, hoping to transfer to Clemson University. But in July 2010, Ashley lost her son in a car accident.
"The outpouring of love from people on this campus was wonderful," she said. "I got the most beautiful heart-felt card from Shelby Dominick because she remembered registering him for the dual enrollment classes."
Through the tragedy, Ashley found a new calling. Following graduation in May, she plans to enter the funeral service program in the fall.
"If you had told me a year ago that I was going to do funeral service, I would have laughed at you," she said. "When we lost my son, the love they gave us, something rose up inside me that said I want to do this. I want to be able to give back what they have given me."
Ashley is now a Piedmont Technical College graduate, but she is not through. She completed her AOT degree with a medical coding/billing concentration in May, but she will be returning to the funeral service program in the fall. Ashley was also presented the institution's most prestigious honor, the President's Award. She was named outstanding graduate in the information technologies division and in her curriculum.
While at PTC, she served as a member of Phi Theta Kappa, the International Honor Society of the Two-Year College, and was named to the South Carolina All-State Academic Team. She also represented Piedmont Tech as a Presidential Ambassador.
Ashley said she has been approached by friends who have thought about going back to school. She tells them that if she can do it, so can they.
"My message would be no matter how young or how old you are, just do it," she said.
Photo Caption: Kim Ashley, right, was presented the Piedmont Technical College's most prestigious honor, the President's Award, by Dr. Ray Brooks.