PTC President's Award Winner Taking the Next Step
As a traveling nurse, Kaylynn Knight's mother spent much of her time on the road. Through this journey, Knight has had a variety of experiences. She has lived in 14 different cities spread over six states, from California to South Carolina. But it has made her more aware of the need to help others.
"I met this autistic boy who was the sweetest person you could ever meet," Knight said. "It gave me a passion to help those with special needs."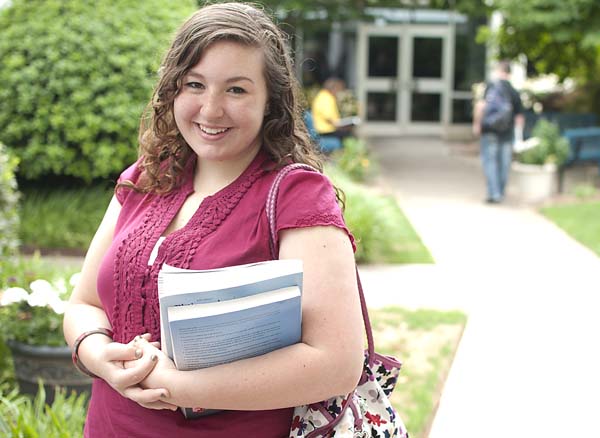 Upon her graduation from Ninety Six High School in 2009, Knight knew she wanted to attend college.
"I hadn't been in South Carolina quite a year then, and I didn't know if I could go to college here or if I could even afford it," Knight said. "I heard that Piedmont Tech was good and it was affordable."
Knight enrolled in the associate in arts program, knowing she could complete her first two years at Piedmont Tech before transferring into a baccalaureate degree program. She plans to major in special education and psychology.
"I want to do speech therapy, but you have to have a master's degree to practice," she said. "I love working with special needs children, so I want to start off with teaching."
Piedmont Tech allows for students to get a great foundation before they go off to a four-year college.
Knight is now a Piedmont Technical College graduate and is deciding on which four-year university to attend this fall. She completed her degree in May, but she also achieved much more than that. Knight was presented the institution's most prestigious honor, the President's Award. She was also named outstanding graduate in the arts and sciences division and in her curriculum.
While at PTC, she served as a member of Phi Theta Kappa, the International Honor Society of the Two-Year College, and was named to the South Carolina All-State Academic Team. Knight was involved with Psi Beta, the psychology honor society, the Psychology Club and the Christian Student Union. She also represented Piedmont Tech as a Presidential Ambassador.
"I would recommend Piedmont Tech to anyone, especially students who have just graduated from high school," Knight said. "Piedmont Tech allows for students to get a great foundation before they go off to a four-year college."