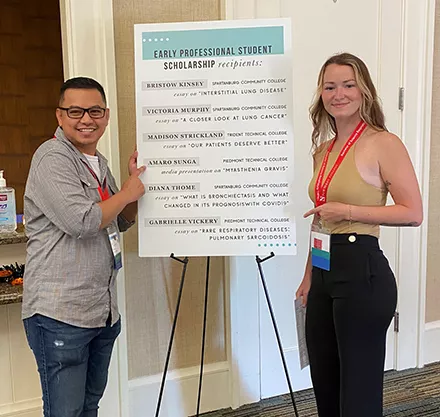 PTC Student-Authored Research Papers Lead to Scholarships
Piedmont Technical College (PTC) is pleased to announce that two of its second-year Respiratory Care Program students recently won scholarships for research papers they wrote. The students — Amaro Sunga and Gabby Vickery — were honored at the SC Society for Respiratory Care (SCSRC) State Conference in Myrtle Beach. 

The road to recognition started when PTC Respiratory Care Program Director and Instructor Ann Piggott gave her students an assignment to write a research paper or media presentation about a respiratory disease of their choice. She says she tries to take students to the conference every year, and they award scholarships based on research essays. 

"The SCSRC has been really great about welcoming students. They have a special breakout session just for them. This year, the students actually got some hands-on experience with different products. I was kind of jealous!" Piggott said. "They recognize that this is the future of respiratory care. It's important to be part of a professional organization." 

Amaro chose myasthenia gravis as the topic for his paper. It is a disease that can weaken muscles of the respiratory system, resulting in breathing problems.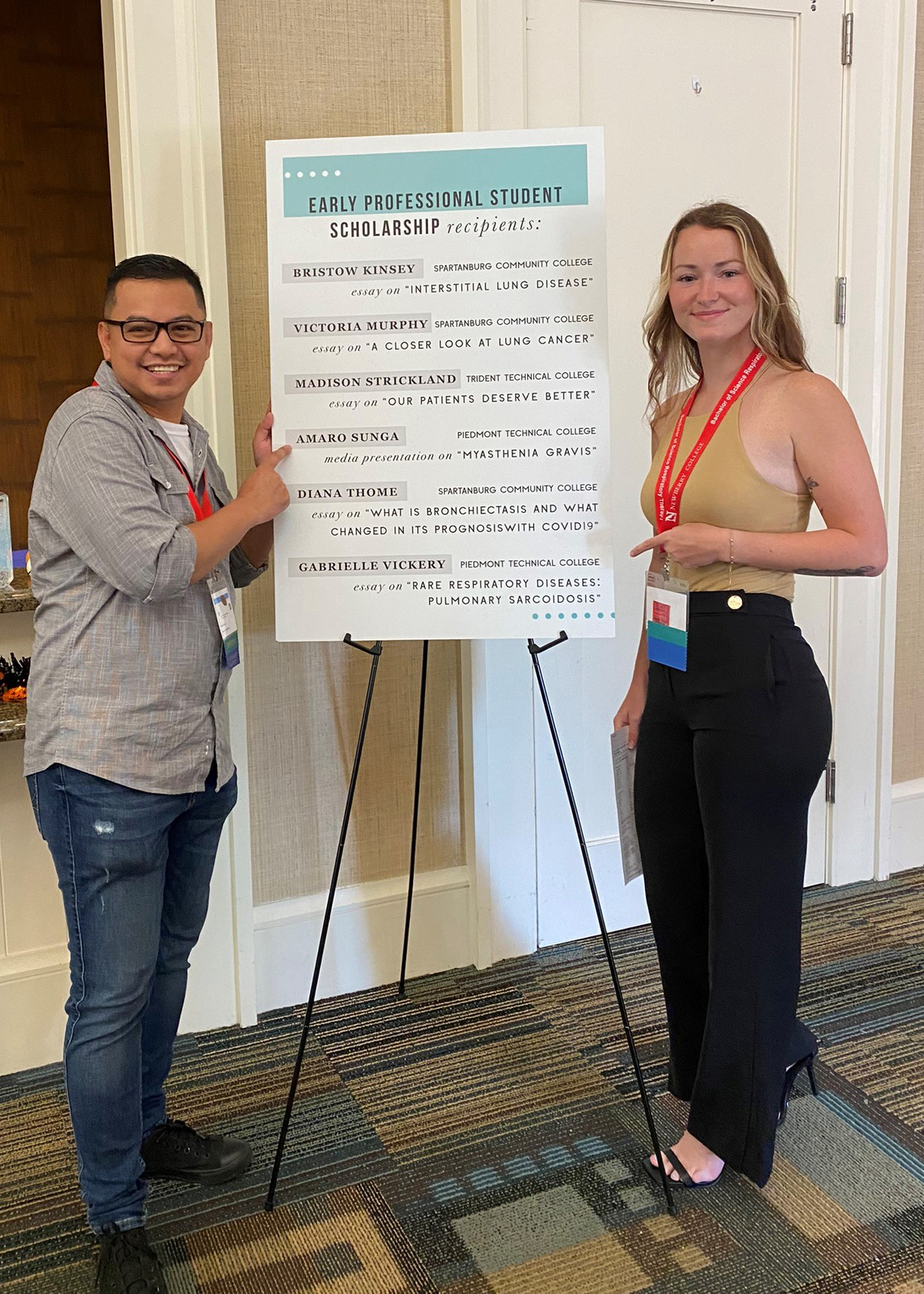 "I was full of joy when I heard about the recognition, because the hard work of doing it paid off," Amaro said. "Attending the conference makes me excited for the future career waiting for me in respiratory care."

For her paper, Gabby chose to write about pulmonary sarcoidosis, a disease for which her stepfather is participating in a patient trial in Charleston. It is a rare condition caused by inflammation that causes the formation of lumps, or granulomas, in the lungs. If the inflammation does not heal, it can advance to extreme scarring of the lungs and impede breathing. 

"I enjoy writing, and this was something close to me, so I went full in," Gabby said. "I didn't know much about it, so I learned a lot through my research. It is so cool to see how treatment options have advanced." 

The students accompanied Piggott to the conference, where they received their scholarships in person and got to sit in on some session presentations. 

"It was great. As students, we haven't been in the field a long time, so it was good exposure. It was an outstanding time," Gabby said. "I am glad Ms. Piggott pushed us to write papers and go to the conference." 

To learn more about PTC's Respiratory Care Program, go to www.ptc.edu/respiratorycare. 
###
PHOTO: 
•    Amaro Sunga and Gabby Vickery display their scholarship awards at the conference.