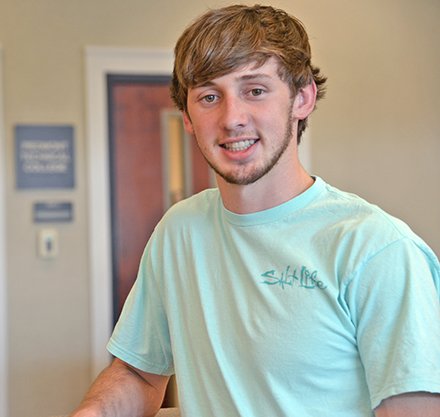 PTC Student Takes First Steps Toward Future with Dual Enrollment
September 7, 2017
Austin Francis is looking toward the future and a successful career that will last. For the 2017 Clinton High School graduate, the dual enrollment classes he took from Piedmont Technical College were the first steps to that future.
"A friend's dad was teaching at the Center for Advanced Manufacturing (CAM) and he was telling us how manufacturing is moving into robotics," Francis said. "Mechatronics deals with robotics and I knew that would be a good field for me."
While at Clinton, Francis completed 13 hours toward the mechatronics technology degree. This fall, he is enrolled in the mechatronics program at PTC and he said the dual enrollment classes helped him get a head start on his degree.
"It's so much better learning hands-on in the lab," he said. "It taught me more by doing it than just learning from a book."
Francis has his eye on a career at ZF Transmissions and the dual enrollment classes have helped open that door. He was recently accepted into the apprenticeship program at ZF. 
"They work with your school schedule," Francis said. "It's on-the-job training as well as learning in the class."
Francis believes the dual enrollment classes are a great opportunity for students who plan to attend college.
"The dual enrollment classes will help you learn more than just the regular high school classes alone," he said. "They were challenging classes, but the hands-on training was doing exactly what I'm going to do on the job. I wanted to know the most I could about the career I wanted."
For more information, contact the Dual Enrollment Office at (864) 941-8352 or go to www.ptc.edu/dualenrollment.