PTC Wins Prestigious Bellwether Award
Piedmont Technical College's implementation of Lean in Higher Education has been awarded the prestigious 2013 Bellwether Award, which recognizes outstanding and innovative programs in community college education. The winners were announced earlier today at the Community College Futures Assembly (CCFA) annual meeting in Orlando.
Piedmont Technical College is the first and only college from South Carolina to be recognized with this award. The College's program was chosen out of a pool of hundreds of entries from all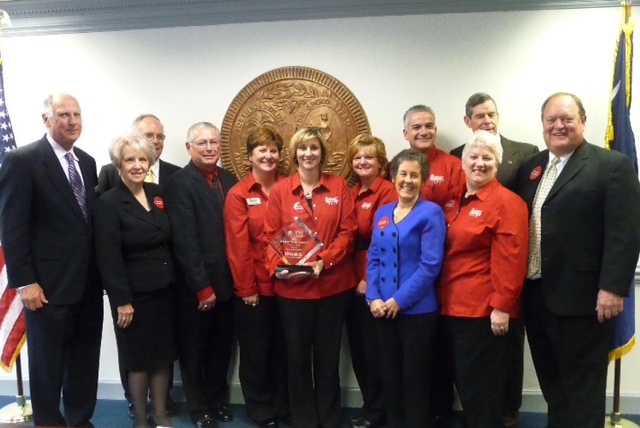 over the United States.
The Bellwether focuses on cutting-edge, trendsetting programs that other colleges might find worthy of replicating. It has been called "the award of awards," and has been compared to football's Heisman Trophy because it is competitively judged and given by community college peers.
PTC won in the Planning, Governance and Finance category, which recognizes programs or activities that improve efficiency and effectiveness in the community college, for the program "Lean in Higher Education: How it continues to Change Our Culture."
Made famous by Toyota and widely adopted throughout the private sector, Lean is a methodology designed to increase efficiency, to decrease waste, and to use empirical methods to redesign processes to produce the maximum value.
The college's presentation focused on the cost savings and efficiencies gained over the course of its Lean implementation and presented a roadmap for implementation at other colleges.
PTC began its organizational change with the Lean program in the summer of 2008.
"In 2008, we were working to determine how to continue to deliver high quality programming in a time of declining revenue. The question was, and remains, 'With our budget challenges, how do we get better instead of entering into a downward cycle of retrenchment and cutting?'" said Dr. Ray Brooks, president.
"By choosing Lean, we picked the right tool to move forward," said Keith Lasure, associate vice president of process development and dean of engineering and industrial technology. "It's about eliminating waste and increasing efficiency—two critical factors in an economy like this one."
Grounded in data-driven problem-solving processes and the empowerment of faculty and staff to drive change, Lean methodology is allowing the College to increase efficiency, trim costs without cutting services and to be more responsive to students and customer needs. PTC is undergoing a complete cultural change with a focus on continuous improvement—a direction vital to the College's future.
"Our strategic plan is our roadmap through the next few years, and Lean is the vehicle that's going to get us there," said Brooks.
The Bellwether Awards are given annually in three categories: Instructional Programs & Services; Planning, Governance & Finance; and Workforce Development. 
For more information about PTC's Lean in Higher Education, contact Keith Lasure at lasure.k@ptc.edu.