PTC's Second Award-winning Cobra Could Be Yours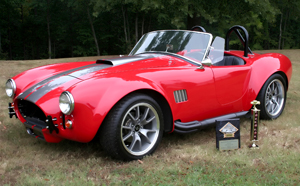 The Piedmont Technical College Foundation is providing the opportunity for one lucky person to drive off in a 1965 Cobra Replica.
The Foundation is offering up to 500 tickets for a $100 donation per ticket for the purpose of a drawing to select one winner to win the second student-built Cobra.
The Cobra Project was a joint effort between the first year and second year students in Piedmont Tech's automotive technology class. The top two percent of those students were chosen to work on the prized creation that was started in late October 2006. This was the second effort in building a Factory Five kit.
"It is the ultimate tool to illustrate to the community and to enthusiasts of all ages the quality of our automotive technology program," said Keith Lasure, dean of engineering and industrial technology at Piedmont Tech.
Like its predecessor, the 2009 project is a 1965 Cobra Replica, but with its own personality. The '79 Lamborghini-red version has twin roll bars, a different rear-end and a different composition on the engine. Between the driver and the passenger seats is an embroidered coiled cobra that warns drivers of the speed and power that the Cobra possesses.
Tickets will be available through December 2 or until 500 are sold. On Dec. 5, 10 finalist tickets will be drawn. The winner of the Cobra will be selected from those 10 finalists through a reverse drawing at the Piedmont Technical College employee Christmas luncheon on Dec. 15.
Tickets are available from any Foundation board member, the PTC automotive technology department or Fran Wiley, executive director of the PTC Foundation. Part of the proceeds from the ticket sales will go to scholarships and to assist the automotive technology department. Rules and conditions can be found at www.ptc.edu/cobra. For more information or to purchase tickets, contact Wiley at (864) 941-8351 or at wiley.f@ptc.edu.