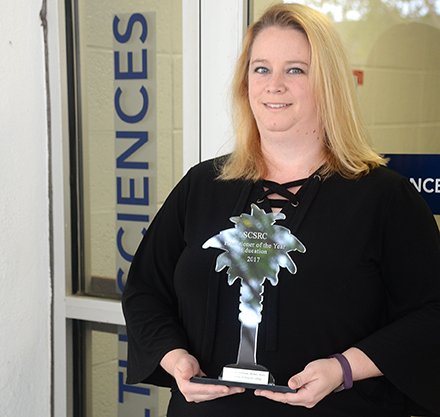 Respiratory Care Instructor Wins State Award
October 20, 2017
Karla Gilliam, respiratory care instructor at Piedmont Technical College, has been named the 2017 South Carolina Society of Respiratory Care (SCSRC) Education Practitioner of the Year.
"This is a huge honor," Gilliam said. "We have a very strong respiratory society and we have very strong respiratory therapists in the state, so for me to stand out is one of the highest honors I've had."
The SCSRC recognizes one education practitioner of the year statewide, who strives to elevate the respiratory care profession. Gilliam was recognized at the annual SCSRC Conference.
A statement from the scholarship committee stated, "It is clear from the application that you make a daily impact to elevate our profession and that you are highly respected within the realm of respiratory care. Your twelve years of leadership in the educational arena of respiratory care has earned you this honor."
Gilliam graduated from the respiratory care program at Piedmont Tech in 2003 and entered the workforce. As her love of the field grew, she wanted to share that passion with others. In 2005, Gilliam became an adjunct clinical instructor for the program. In 2009, she was named full time director of clinical education.
Gilliam earned her bachelor's degree and master's degree from American Intercontinental University. She said she doesn't miss working in the field because she feels she has the best of both worlds in her role as a teacher.
"Here, I can share my passion and teach other people how to do the job," she said. "But, I teach clinical, so I am still involved with patient care."
 "We are proud of all that Karla has achieved since joining the faculty at Piedmont Tech," said Ann Piggott, respiratory care program director. "This award is simply a reflection of all the hard work and dedication she puts into preparing our students."