SCTEA Honors Piedmont Tech Educators
Three Piedmont Technical College (PTC) associates were honored as Outstanding Educators for the 2019-2020 academic year at the annual South Carolina Technical Education Association (SCTEA) convention, held Feb. 13-15, 2020, in Myrtle Beach.
The PTC honorees, who were recognized along with colleagues from sister technical colleges, are:  Nita Staley-Abney, PTC Department Head, Math and Social Sciences, and Psychology Instructor (faculty); Tameika Wideman, PTC Registrar (administrator); and Lynn Slater, PTC Executive Assistant to the Vice President for Academic Affairs (staff).
Dr. Staley-Abney lives her life grounded in faith and lifted by a loving family she adores. She earned her bachelor's degree from the City College of New York, her master's in counseling and psychology from Troy University and her Ph.D. in educational psychology from Capella University.
"I'm overwhelmed and extremely honored to receive this recognition," Staley-Abney said. "As with everything we do at PTC, it is most decidedly a team effort, and I am grateful to my many supportive colleagues who help our students succeed every day."
Last year, Staley-Abney received the college's most prestigious award, the Presidential Medallion, which is reserved for individuals who have made significant contributions toward excellence in education.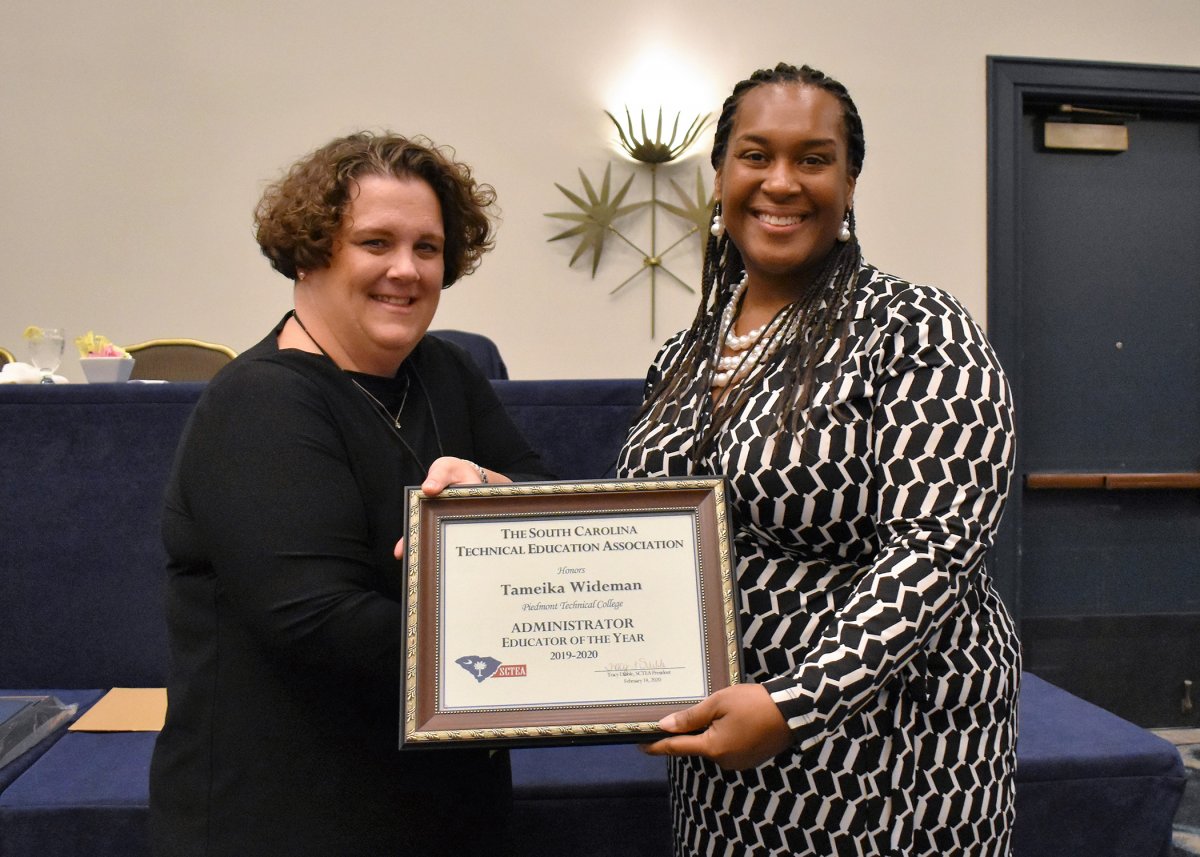 As registrar at PTC, Wideman manages the staff and daily operations of the Student Records Office. The office's work touches on all aspects of the student enrollment cycle. Wideman oversees course registration, graduation and all enrollment-related student records business. She credits her team's commitment to customer service and excellence for her success.
"I lead a team of dedicated professionals that helps ensure the success of our students and colleagues," she said.
Before coming to PTC, Wideman served as a recruitment coordinator at Erskine College and a marketing analyst for the Erwin Penland agency in Greenville. She holds a master of science in organizational management – analytics from Charleston Southern University and a bachelor's in business administration from the College of Charleston.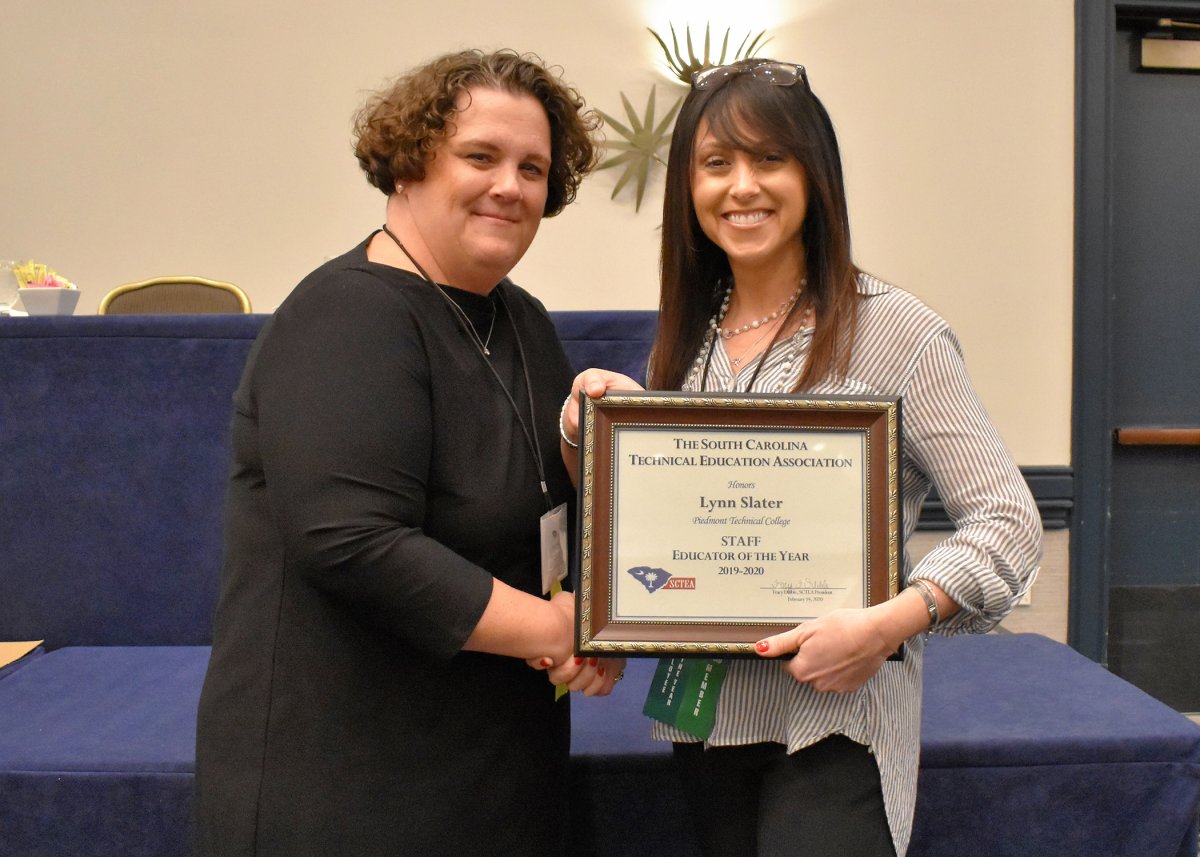 Slater has a reputation around PTC as the campus go-to girl for good reason. There are very few college-related affairs that she hasn't touched in some capacity. In addition to her packed "day job" coordinating the academic side of PTC, she also manages volunteers and a raffle for the annual PTC Foundation Golf Tournament, serves on the college's Scholarship Committee, coordinates the annual United Way Campaign, works on the Adjunct Expo Committee, and supports official events of the Student Services Division.
"It is my pleasure to serve, especially when it's Piedmont Tech," Slater said, "because anything I give to the college is returned to me exponentially in terms of goodwill and personal fulfillment."
Slater, who also was awarded PTC's Presidential Medallion last year, is a member of the International Association of Administrative Professionals. This is the third time she has been singled out for SCTEA recognition.
PHOTOS:
Dr. Nita Staley-Abney, right, with SCTEA President Tracy Dibble.
Tameika Wideman, right, with SCTEA President Tracy Dibble.
Lynn Slater, right, with SCTEA President Tracy Dibble.