Sease Keeps Newberry Campus on Track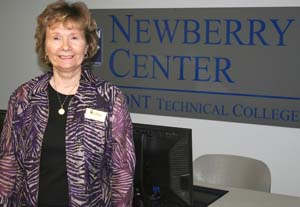 Marilyn Sease considers herself blessed to be a part of the Newberry Campus of Piedmont Technical College.
"I had such a pleasant experience as a student at Piedmont Tech," Sease said. "They were so full of encouragement that I knew the institution would be a fine place to be employed."
Sease holds an associate in arts and an associate in science from Piedmont Technical College. She also earned a bachelor's degree from Franklin University. She came to Piedmont Tech in 1996 when the new Newberry Center was opened as the coordinator of the campus.
As director of the Newberry Campus, Sease oversees every aspect of the campus, from staffing and budgeting to registration and advisement of students. Her dedication to the students in Newberry has now been recognized by her peers. She was recently awarded the Piedmont Technical College Staff Excellence award. Sease says she was honored, but she doesn't do the job for the accolades.
"That was a nice surprise. It was quite a privilege," she said.
"I love the faculty, the staff and the students I work with each day. It's like I'm home."
Sease has seen the Newberry Campus grow from seven classrooms to the current campus and she is very excited for the completion of the new facility, which will allow the college's enrollment and offerings in Newberry to continue expanding.
"We hope to enhance the offerings we have now, and there will definitely be more classes offered," said Sease. "We also hope to bring back many of the continuing education classes that we had to discontinue because we didn't have the room for them."
A lifelong resident of Newberry, Sease said she couldn't be happier with how the Newberry Campus has grown.
"People keep asking me if I'm going to retire soon, but I love what I do," she said. "I love the faculty, the staff and the students I work with each day. It's like I'm home."