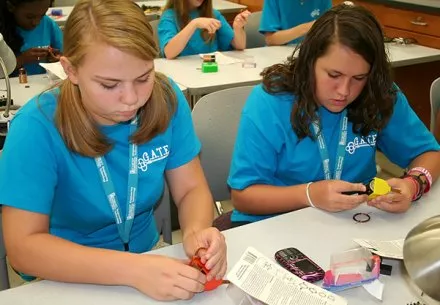 Teen Tech Provides Summer Options for Teens
Piedmont Technical College is offering an exciting slate of programs for youth this summer. From aviation to photography, there are a wide variety of different, fun and exciting programs. Get hands-on with future agents in training, mechatronics and automotive technology programs or put your imagination and creativity to work through baking, drawing and sewing offerings.
Teen Tech is a collection of summer programs geared toward students ages 13-17 that combine creativity and imagination into an engaging learning experience. Those camps are Become a MAKER – Designing with Arduino, June 12-15; Digitech Camp, June 12-16; Aviation Expedition, June 19-22; Automotive Technology, June 26-29; Future Agents in Training, June 26-29; Grandma Didn't Sew Like This, July 10-13; Amazing Artist, July 10-13; Girls Achieving in Technology and Engineering (G.A.T.E.), July 10-13; Adventures in Robotics, July 10-13; Junior Dessert Designer, July 17-20; Electronic Power, July 24-27; Camp Millionaire, June 12-16 at the Newberry County Campus; Explore Mechatronics, July 24-27 at the Center for Advanced Manufacturing in Laurens County; and Ready, SET (Science, Engineering and Technology), Go, July 31-Aug. 3 at the Laurens County Campus.
All programs will be held at the Greenwood campus unless otherwise noted. The deadline to register for all summer programs is June 2. For more information on all of the camp opportunities and to register, contact Vickie Baldwin at (864) 941-8602 or go to www.ptc.edu/camps.