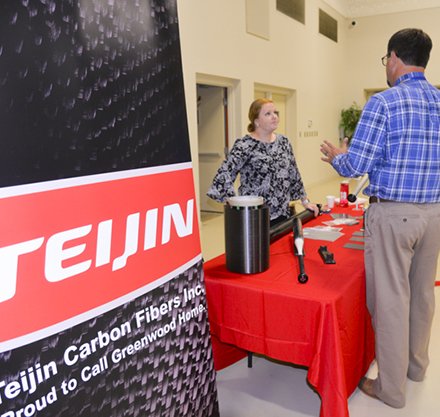 Teijin to Headline Regional Job Fair Oct. 30
October 17, 2018
Over time, the impersonal, online nature of today's employment searches can make a job-seeker feel a bit isolated. What would you give for a face-to-face encounter with representatives from companies that are actively hiring? Your time is the only price of admission to the Upper Savannah Regional Job Fair coming up from 10 a.m. to 1 p.m. on Oct. 30 at the James Medford Family Event Center at Piedmont Technical College (PTC) in Greenwood.
Teijin Limited, a Japanese information technology company that broke ground for its carbon fiber manufacturing plant on 440 acres along Highway 246 in Greenwood this summer, will be a prominent presence among the exhibitors. Teijin's investment here is creating an estimated 220 new jobs.
"I think this is exciting. They are Greenwood's newest high-tech employer. Teijin has put up billboards all around town, and it has created a lot of buzz. People are curious," said Ann Skinner, director of workforce development for the Upper Savannah Council of Governments. "This is the first event where they are going to talk about their workforce needs."
More than 70 companies with some 2,500 open positions in manufacturing, government, health care, education and more will be onsite at the event to welcome job-seekers and answer any questions they may have and even take applications on the spot.
In addition to Teijin, confirmed exhibitors for Oct. 30 include Alupress LLC, Colgate-Palmolive, Greenville Health System, Lonza, Michelin, Milliken & Company, Piedmont Technical College, the SC Department of Corrections, Self Regional Healthcare and Walmart Distribution.
"All of our exhibitors are quality employers, and they are looking for people with very specific skills," Skinner added. Having the Job Fair open not only to students but also the general public presents a wider candidate pool and an exciting prospect for them.
Employers suggest bringing plenty of resumes with you and dressing as if you were actually on a job interview. It's also a good idea to go in with a strategy, having researched the companies you most want to pursue employment with. Impress employers by showing them you've done your homework.
While at the Job Fair, attendees also can learn about training and educational opportunities available through PTC that can strengthen one's resume and prospects for nabbing that coveted position.
Check out the Upper Savannah SC Works Facebook Page for updates on the Job Fair and spotlights on individual employers that will be there.
PHOTO CUTLINE
Greenwood High School Principal Chad Evans visits the Teijin display at a recent industry showcase at Piedmont Technical College.