Veterinary Technology Program Works with Local Shelter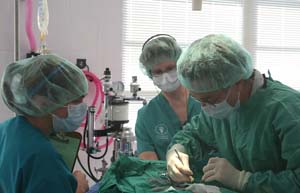 The Veterinary Technology program at Piedmont Technical College is training future technicians with the help of local shelters.
"Our animals come from the shelter and it's a win-win situation for everyone," said Sylvia MacFarlane, instructor and program coordinator. "Our students learn to do their procedures on the shelter animals and in turn, the animals go back to the shelter as better candidates for adoption."
The animals, mostly dogs and cats, receive a variety of medical procedures from therapeutic grooming and bathing to blood work to being spayed and neutered. All of the procedures are performed under the close supervision of MacFarlane, a licensed veterinary technician, and Dr. Ruthie Buist, an instructor and a licensed veterinarian. 
"Technicians are not allowed by law to do surgery so they do anesthetic monitoring and surgical assisting, jobs they will be performing in their careers," MacFarlane said.
In appreciation for the animals that are provided, the program and the Vet Tech Club participate in a wide variety of community events that benefit the local shelters. They participate in Bark to the Park in Columbia, Oktoberfest in Newberry and the Wag n' Walk in Laurens. At each event, the club sells items to raise funds which are then divided between the local shelters and a scholarship fund for the students.
"We do mostly monetary assistance because that is what these shelters need," said MacFarlane.
One of only three programs of its kind in South Carolina, the program at the Newberry County Campus offers an Associate in Applied Science with a major in Veterinary Technology and serves the entire mid-state area. The curriculum prepares graduates to assist large- and small-animal veterinarians and provides opportunities for careers in research laboratories and pharmaceutical and veterinary supply businesses.
For more information on the Veterinary Technology program, contact MacFarlane or Buist at the Newberry County Campus at (803) 276-9000 or e-mail to macfarlane.s@ptc.edu or buist.m@ptc.edu.
Photo Caption: Veterinary Technology students Mary Lominack of Newberry (left) and Rose Walker of Blythewood assist Dr. Scott Mader as he performs surgery on a cat from the Newberry County Animal Care and Control Center. The shelter provides animals to the Veterinary Technology program to help teach medical procedures.