Intrepid PTC Veterinary Technology Instructor Wins National Recognition
Piedmont Technical College (PTC) Veterinary Technology Instructor Melissa Entrekin is a crusader for her profession. She has invested hours of personal time advocating for fairness and equity in the pay and licensing of veterinary technicians. The average pet owner might be surprised at issues present in some veterinary practices. Just because staff members may wear scrubs does not guarantee that all are actually licensed to practice certain procedures on pets. Some, in fact, may have no formal training at all.

"Veterinary Technology is the only health care field where you go to school, earn your degree, and can legally work beside someone without a formal education, credentials, or a license to practice," she said. "Pet owners take their beloved pet to a veterinary practice under the assumption that the staff are formally trained and held accountable to a regulatory agency similarly to the human health care team members. It has been a hard conversation to have. We need policymakers to do the right thing and be part of progressive change."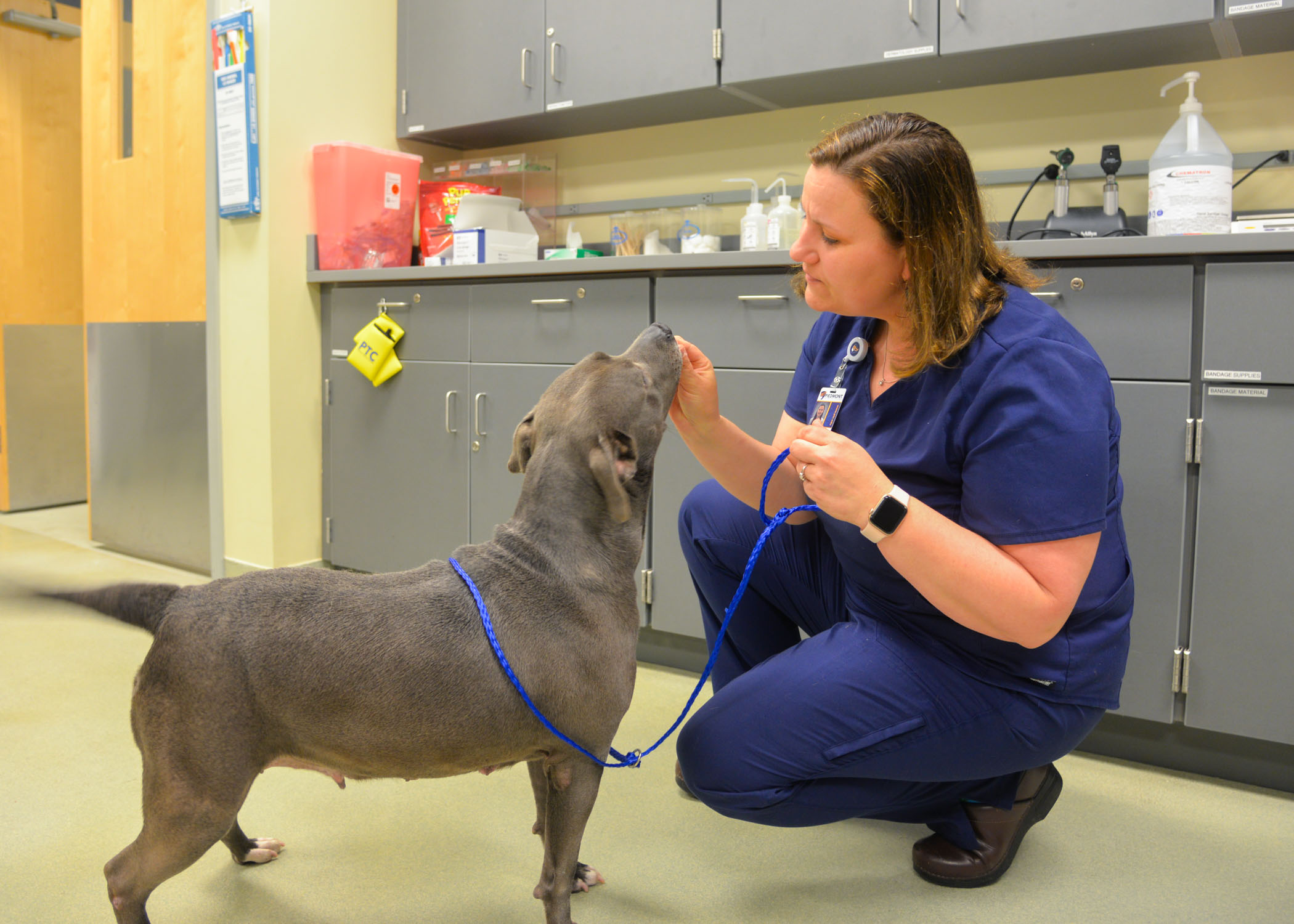 Entrekin's message may not be well-received everywhere, but she is determined to continue her campaign to raise standards and pay in the vet tech profession. For her tireless advocacy and overall excellence, Entrekin was named the National Association of Veterinary Technicians in America (NAVTA) Veterinary Technician of the Year. And while accolades are not her end goal, it is nice to be recognized for hard work that is often done behind the scenes. 

"I was really surprised to get this national award. It's just little me in this little town. (Entrekin lives in Clinton and works in Newberry.) I am just humbled — super humbled," she said. "There are so many veterinary professionals who paved the way for me to be on this path and who have inspired me. I hope those I have crossed paths with in my career know that I am doing my best to represent them well and to have an impact on the profession. Every pet, client, colleague, and student has mattered to me throughout my career. My goal is to have a positive impact on this career field and to leave the veterinary profession in a better place than when I entered the field. I want people to know they have mattered to me in my career."

Entrekin noted that veterinary technicians can earn between $19 and $24 per hour in the PTC service area, which is a little higher than average. She encourages students to keep a high wage standard and avoid working for practices that continually underpay. If an individual has earned a degree, passed national board exams, and is a licensed professional, they should be paid accordingly. 

"PTC graduates up to 24 students each May, and the demand is high for graduates. There are lots of jobs," she said. "There are more technicians in the area who are eligible to become licensed but don't because it is so expensive. It costs $330 to take the VTNE® (Veterinary Technician National Exam). We build that cost into our fees so when our students graduate, they get a voucher to take the exam. … Another reason that eligible technicians do not become licensed in South Carolina is because statutes governing the profession allow non-licensed personnel to perform the same job duties as those who are licensed. Therefore, it will be up to policymakers to help make this change."

Licensing standards vary by state. In South Carolina, the state Department of Labor, Licensing, and Regulation (LLR) oversees veterinary technician licensing.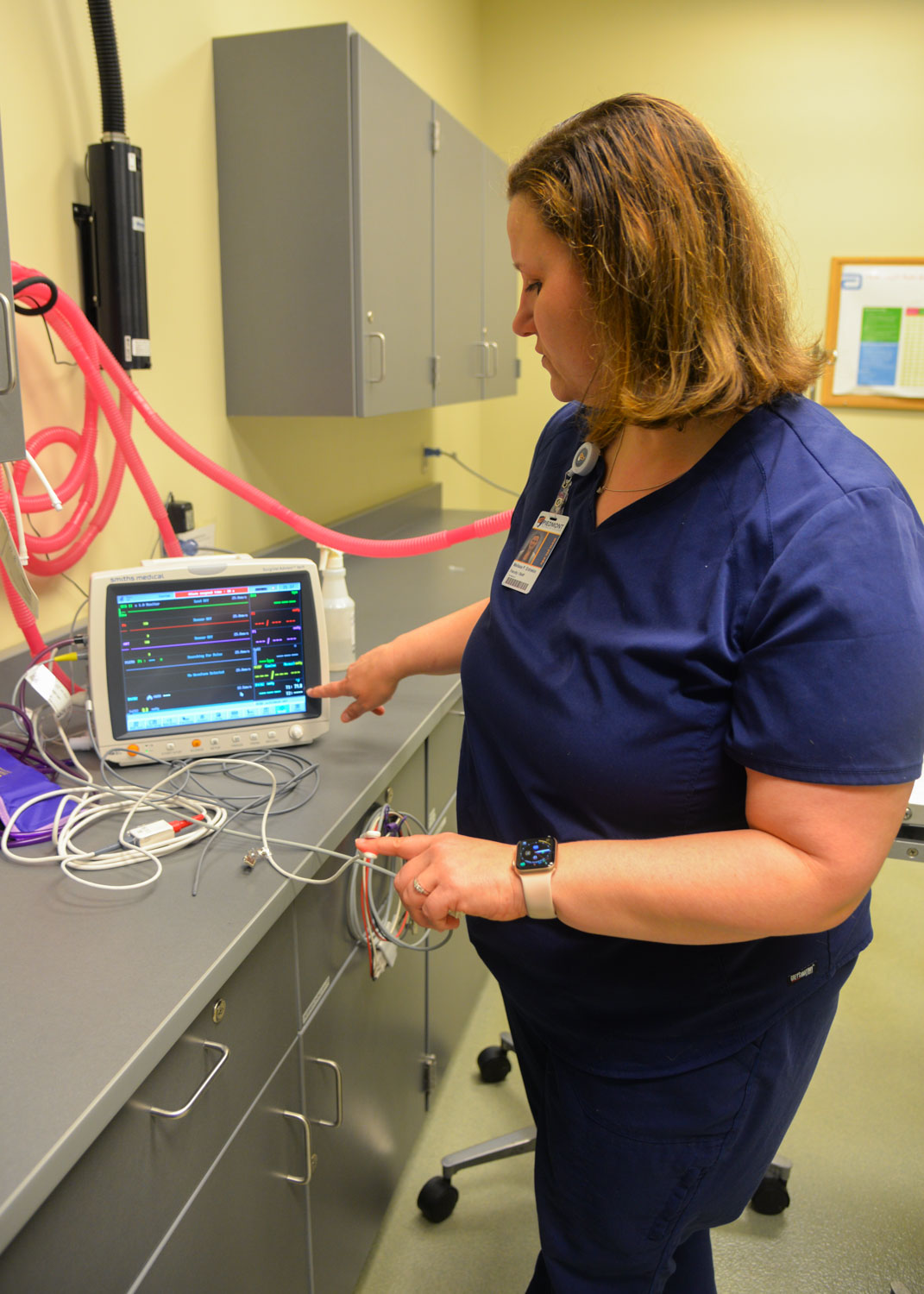 "It's about accountability," Entrekin said. "Licensed vet techs (LVTs) are regulated by the LLR, but the LLR has no jurisdiction over those who do not have licenses. It's discouraging, demeaning, disrespectful to those who are credentialed and disappointing that it is still allowed." 

Entrekin noted that if you put all health care procedures routinely practiced on humans, such as imaging, medication administration, phlebotomy, and surgery, into a blender, you would get a composite of skills a veterinary technician is tasked with.

"You can't have people run rogue and misrepresent themselves as vet techs when they are not licensed," she said. "We are slowly getting there. A lot of eyes have been opened."

Entrekin is the South Carolina district representative for NAVTA and president of the state association. In these roles, she spends the majority of her free time traveling to and attending board meetings, legislative hearings, and other proceedings to educate decision-makers on the profession's most compelling issues. 

"The fact that the state still allows non-licensed individuals to perform veterinary skills is highly demeaning," she said. "Legally, a clinic can hire someone off the streets who worked in retail last week. They can be titled a "vet tech" and be entrusted to place intravenous catheters and monitor your pet's anesthesia the next week. This is a problem. There are too many loopholes and gray areas."

The outspoken instructor noted that many veterinary practices need to increase wages, which will support quality care and professional accountability. "When they invest in somebody, that person will invest back into them," she said. "There is no excuse for allowing clinics to have non-licensed staff." She added that, ultimately, informed consumers may be the ones to lead the push for change.

Other issues in the profession include compassion fatigue and burnout. Work/life balance and mental health need to be supported across the board.

"One of the first signs I have noticed in staff members who are experiencing compassion fatigue is that they will stop talking to the animals," Entrekin said. "That's a sure sign of burnout."

While the U.S. Bureau of Labor Statistics projects the demand for vet techs will grow by 15% in the coming decade, burnout and attrition will create challenges to fill positions with qualified candidates. 

"We graduate as many as we can, but some won't stay in the profession," Entrekin said. "They will say, 'I love the work, but I don't get paid enough, and anybody without a license can perform my job duties.' … They work in the field for an average of five years before leaving."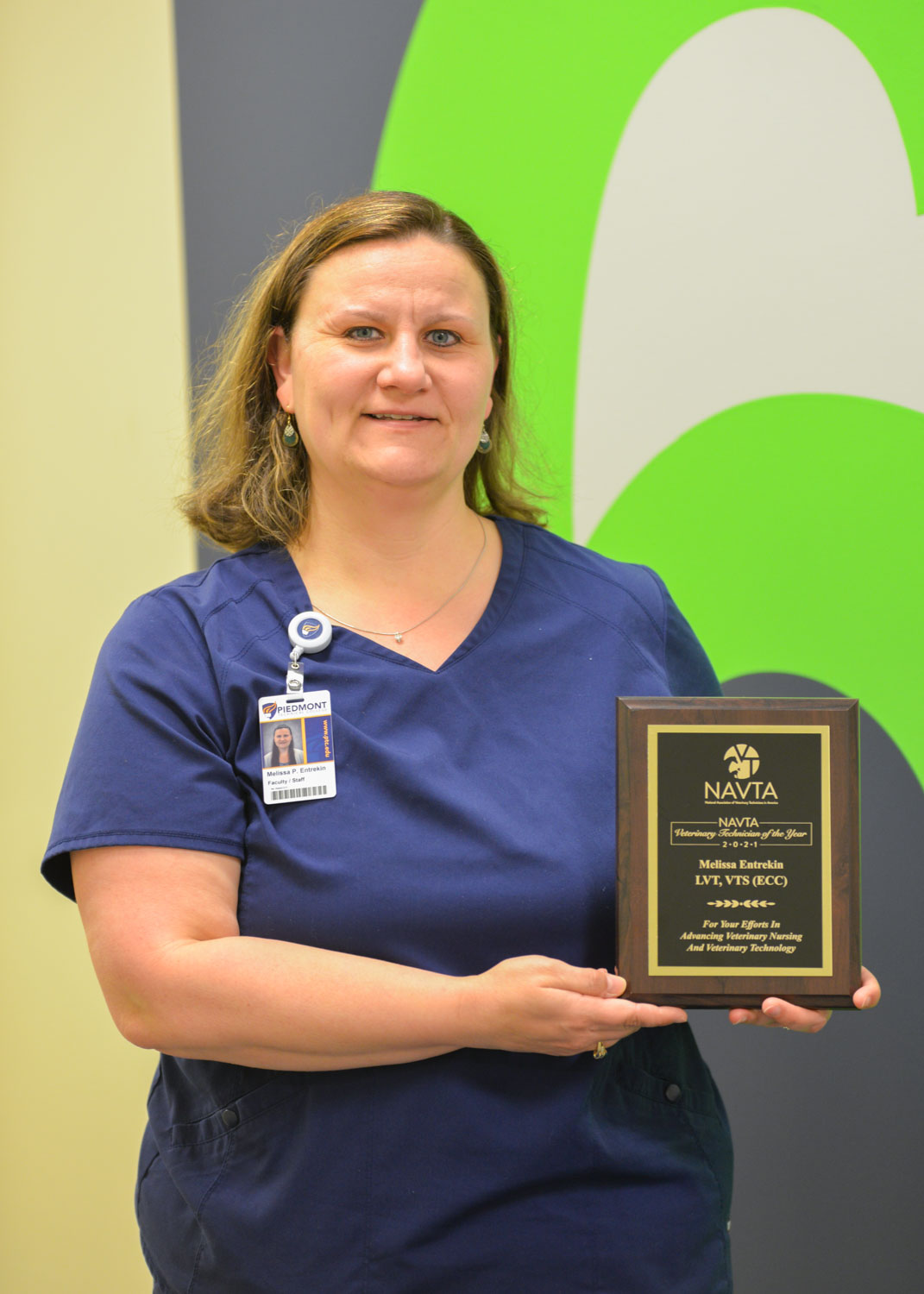 In nominating Entrekin for the award, her colleagues noted that she is 100% devoted to the profession. 

"Melissa is a great role model for veterinary technicians," NAVTA President Ashli Selke, RVT, CVT, said. "She clearly has a lot of energy, is highly motivated, and gets great results."

Entrekin says this award is game-changing, but her proudest achievement is seeing students graduate and do amazing things in their careers. 

"I have always been an advocate for the profession. I became very headstrong about making this a better profession for our graduates," she said, "Receiving an award like this gives me a bigger platform and voice." 
For more information about PTC's Veterinary Technology Program, visit www.ptc.edu/vet. 
PHOTOS: 
•    PTC Veterinary Technology Instructor Melissa Entrekin
•    Entrekin rewards a canine patient for good behavior
•    Entrekin demonstrates some new equipment in the Vet Tech lab