Piedmont Tech Filling Prescription for Success
Clay Sprouse's students recently begged for more than their allotted time in the Piedmont Technical College (PTC) pharmacy technology laboratory. They actually wanted to stay after hours. That was a first.
"My students stayed after lab class because they wanted to have more practice," Sprouse said. "I have never had that happen before. When you get to that point of the day, when it's their time ― it's voluntary time ― I can't say no."
The dedicated pharmacy tech lab at PTC has been transformed this year, which is likely a strong contributing factor in its appeal. In January 2018, the program's accrediting body conducted an onsite visit. Observations and recommendations from the visiting team from the American Society of Health Systems Pharmacists ― as well as input from the program's advisory board of local pharmacy professionals ― led to this year's dramatic improvements to an already solid facility.
"Sometimes you need outside eyes to see what you could be doing. I am receptive to all kinds of feedback," Sprouse explained. "They gave us a great review, but they also had ideas for things we could do better."
Sprouse says the college has always met every need brought to its attention. This time was no different. Just after the program's reaccreditation, PTC invested more than $50,000 in recommended new equipment and upgrades, including a simulated drive-up window, an automated dispensing cabinet, a new medication cart, an incubator for fingertip testing and new prescription processing software. Lots of people aren't aware that the PTC lab is a fully licensed, non-drug dispensing pharmacy.
"The lab needs to look and feel like a real working pharmacy. We have essentially a completely different lab from what we had before," Sprouse said. "We have all the bells and whistles you would find in any hospital pharmacy."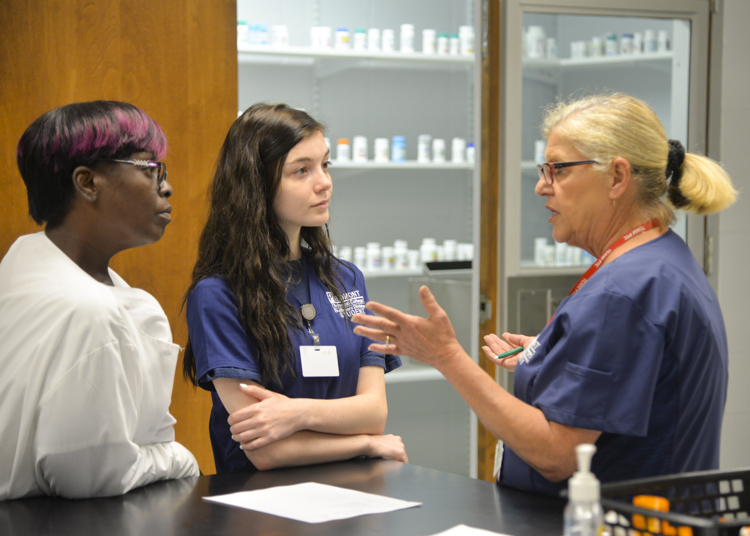 While in the PTC lab, student technicians are required to wear uniforms, are assigned to certain sections of the lab, and given tasks just as they would be assigned on the job. Sprouse is well-acquainted with pharmacy operations, having worked for CVS for several years in what might be described as a mild accident.
"When I was a sophomore in college, I was hired by CVS in Greenwood. It was meant to be just a part-time job," Sprouse explained. "Within six months, I felt like I had a good feel for what to do behind the counter. Even while attending the University of South Carolina (majoring in political science), I transitioned into a lead technician role in Columbia."
He eventually began working for CVS full time while still in college. Almost seamlessly, that evolved into a 10-year gig.
"I was good at what I did at CVS," he said. "I was invited to be part of a training team traveling the country where they were developing markets. CVS had bought Eckerd's, and I was part of the Eckerd's Transition Team. It snowballed and led to more promotions with the company, including some management."
Around 2005, Sprouse felt the pull to return home to Greenwood. Soon, the teaching position with PTC became available, and he went for it. After having extensive experience training others, he felt that teaching could be a natural fit. He now holds a master's in education with an emphasis on curriculum instruction.
A 'Goofball' With the Right Stuff
Sprouse is passionately committed to his job. He says the main challenge is to keep the material fresh. With the obvious rapport he has with his students, he is succeeding in that endeavor. They clearly respond well to Sprouse's playful energy and contagious enthusiasm.
"The class is a lot of fun," said student Jordan Hampton. "Clay is a goofball, but he hits all the major topics and prepares us for what we will experience in the clinical setting."
Hampton says she is leaning toward a career in a hospital pharmacy setting. Right now, while attending PTC, she works for a major retailer stocking shelves. "It puts gas in the car," she said.
Hampton's favorite part of the pharmacy tech program is working in the lab. "To go into the lab and see hands-on how it's actually done, that cements the information in my head," she said.
"I love teaching," Sprouse says. "After doing this for seven years, I am guessing that I have graduated about 100 students. With a lot of them, I can see an immediate change in their lives. When they graduate and get that job, when they are finding a home in the pharmacy world, I know I have made a difference."
He tells his students that they have many work options to choose from, because there are many pharmacy settings in the world.
"You have to get acclimated to the job and the environment to be an effective team member," he said. "I don't just teach skills. I also try to teach them those work ethic skills (WES) that the college is focused on. They can be the most successful when they are an engaged member of the team. We are all successful when we and the person next to us are successful."
Toward that end, Sprouse's class does team-building activities and encourages social bonding, such as eating lunch together.
'We Have To Be On Our Toes'
Sprouse says the pharmacy world has changed a lot since he started as a technician in college. He is determined that his students will be prepared. In hospital-based pharmacies, for example, pharmacy technicians are assuming more and more responsibility, including medication reconciliation and meeting patients upon admission to log their medications and doses (essentially take a patient history). It's a critical role, because an estimated 33 percent of readmits to the hospital are caused by some medication event.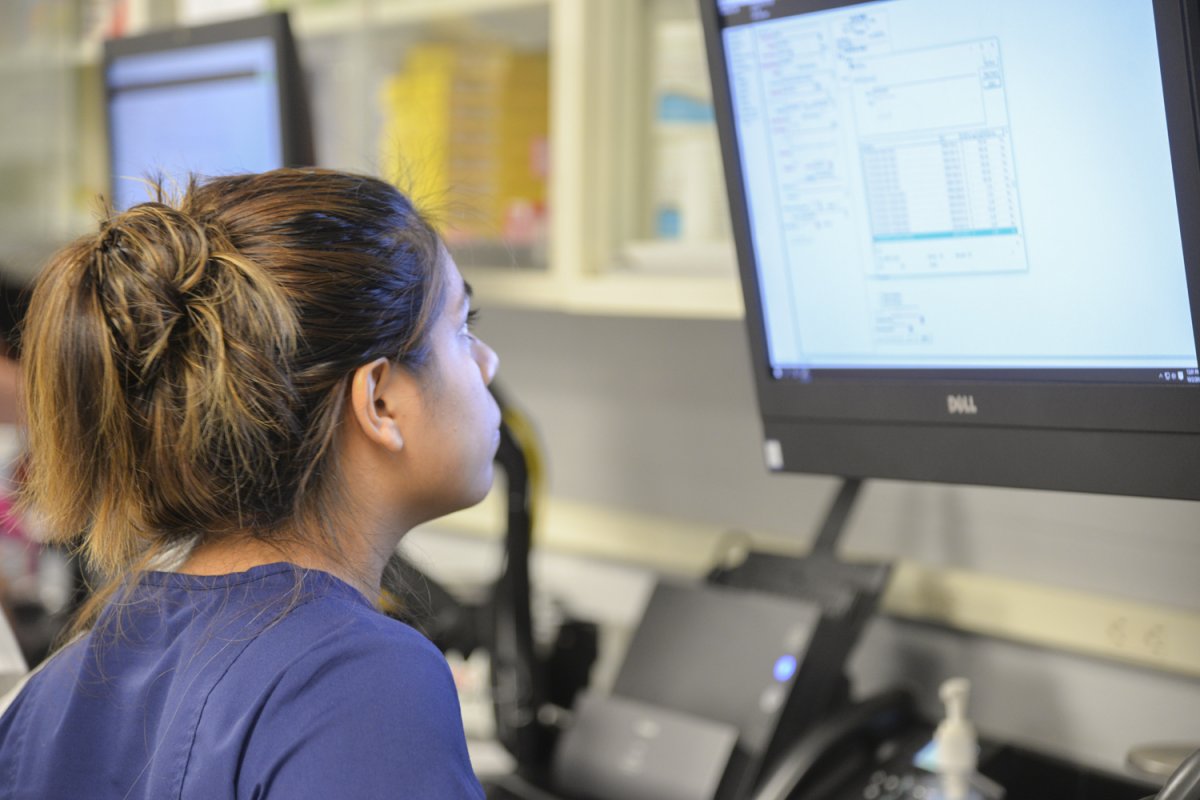 "If (hospital) pharmacists are out on the floor doing exit interviews, who is picking up the slack?" Sprouse asked. The pharmacy technicians. In retail pharmacies, pharmacists are busier and busier counseling patients. Again, the pharmacy technician increasingly provides more support.
With the exception of narcotics, some 90 percent of prescriptions today are "e-scribed" (electronically submitted). This practice has greatly enhanced accuracy and safety. There also are measures in place to identify fraud or dangerous drug-seeking behaviors. "We need to train our students to identify the red flags," he said. "We have to be on our toes."
Over the years, Sprouse has nurtured relationships with pharmacy employers in the region. They often turn to PTC when they are searching for candidates to fill their technician positions.
"I feel I have earned the trust of area pharmacies. We are producing quality, patient-centered technicians, and that is what they want," Sprouse said. "We are the go-to source for a majority of pharmacies around here. Obviously, we are doing something right or they wouldn't call."
As the profession continues to evolve, Sprouse is confident that PTC can meet the need.
"Pharmacy technology is a living, breathing thing," he said. "Because of some of the new tools we have to work with, I feel like it's given me new life in the classroom to do an even better job of conveying to students what they will see out in the real world."
PHOTO CUTLINES
Clay Sprouse, left, works with a student in the lab.
A pharmacy technology student checks the lab's inventory.
A pharmacy technology student reviews a prescription received electronically.
Adjunct Instructor Denise Schumacher, far right, explains an exercise to students.