The Sky's the Limit for Certified EMTs and Paramedics Trained at PTC
Students in the Emergency Medical Technician Program at Piedmont Technical College (PTC) recently learned about career options available after completing their one-semester EMT Certificate. A "Muffins for Medics" information session on June 9 featured several professionals in the health care first-responder field sharing insights about their work. As students enjoyed refreshments and coffee, they learned that their opportunities are not limited to work on the ground. If they so choose, they eventually may even take to the skies.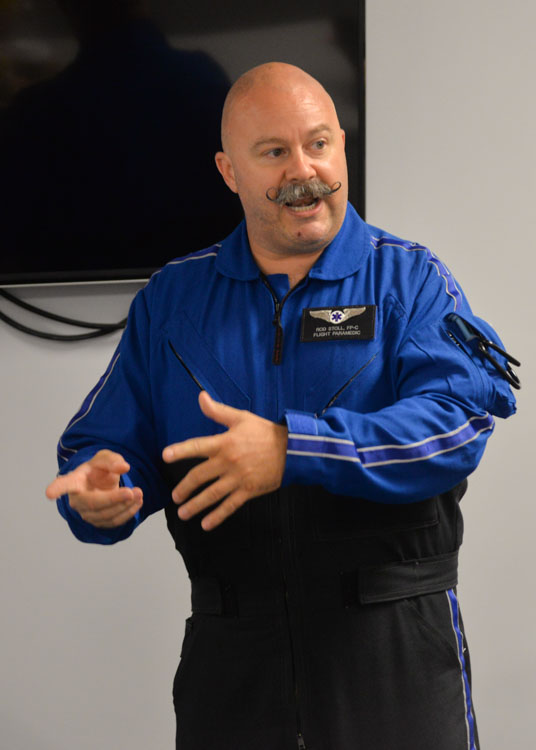 Rod Stoll, a flight paramedic with Life Flight Air Medical Transport, told the group that the basic EMT course they are taking will serve as the core to a health care career layered in progressive increments. Around every turn are more choices that go in many directions.

"What you learn now is the foundation for where you are going," he said. "That continues into nursing, medical school, or critical care transport. … We are the 1% of the 1%. Statistically, about 1% of the population works in health care, and 1% of those people work in critical care."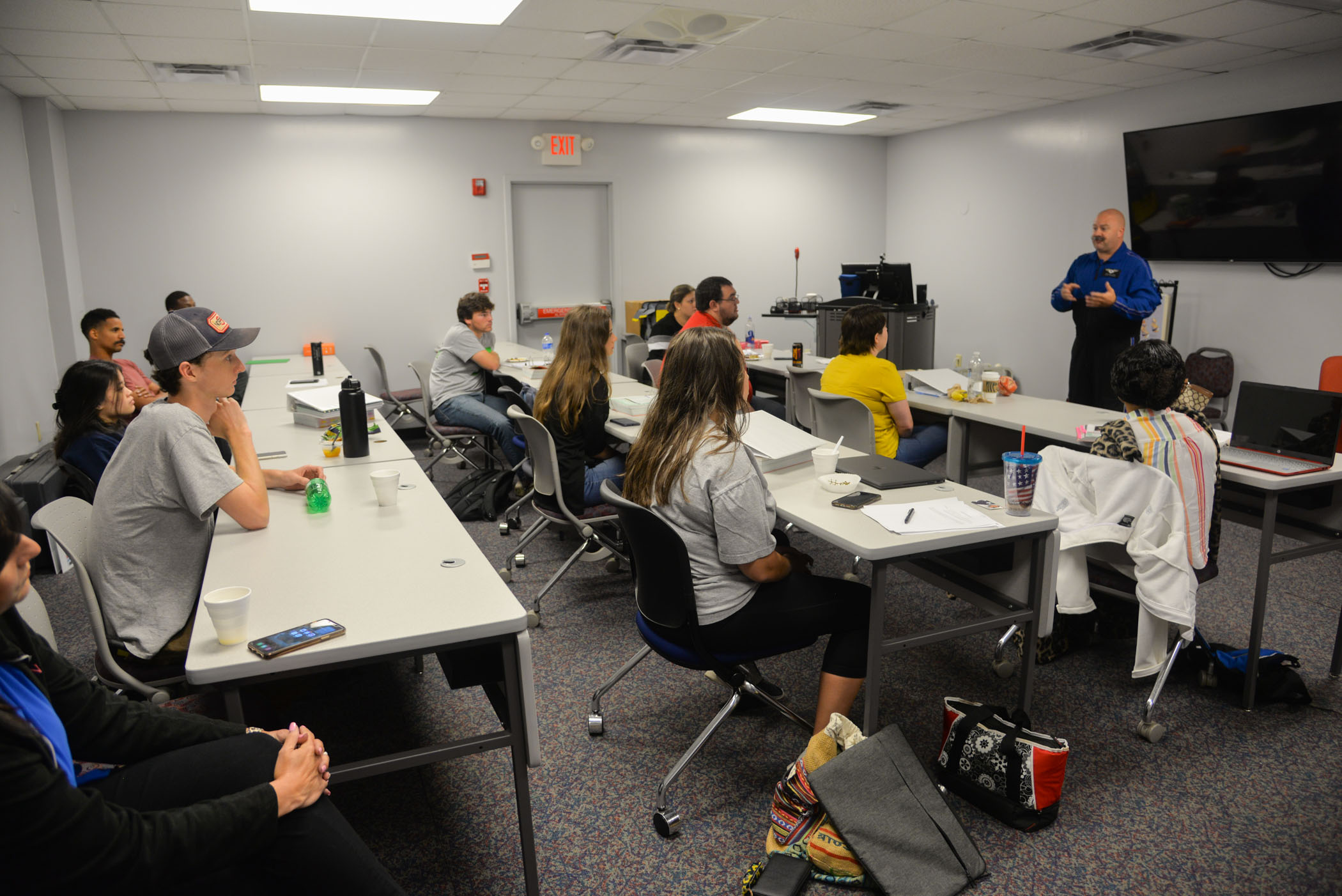 Life Flight helicopters are equipped to function as mobile intensive care units. The aircraft generally are staffed by a critical care flight nurse and a certified flight paramedic. Stoll noted that there are several different levels of paramedicine, including: tactical paramedicine supporting SWAT operations; community paramedicine, which is offered at PTC and Stoll described as the "general practitioner of the paramedicine world"; flight paramedicine, which involves air transport of critically ill or injured patients; and critical care paramedicine. 

Stoll said a paramedic usually must have at least three years of experience before they can get into critical care paramedicine and eight years if they are interested in a flight program. "You can get there," he said. "It is possible." 

While prospects for flight or critical care paramedicine — for those who want to pursue that career path — may be several years off, the journey from EMT to other occupations includes many fulfilling opportunities.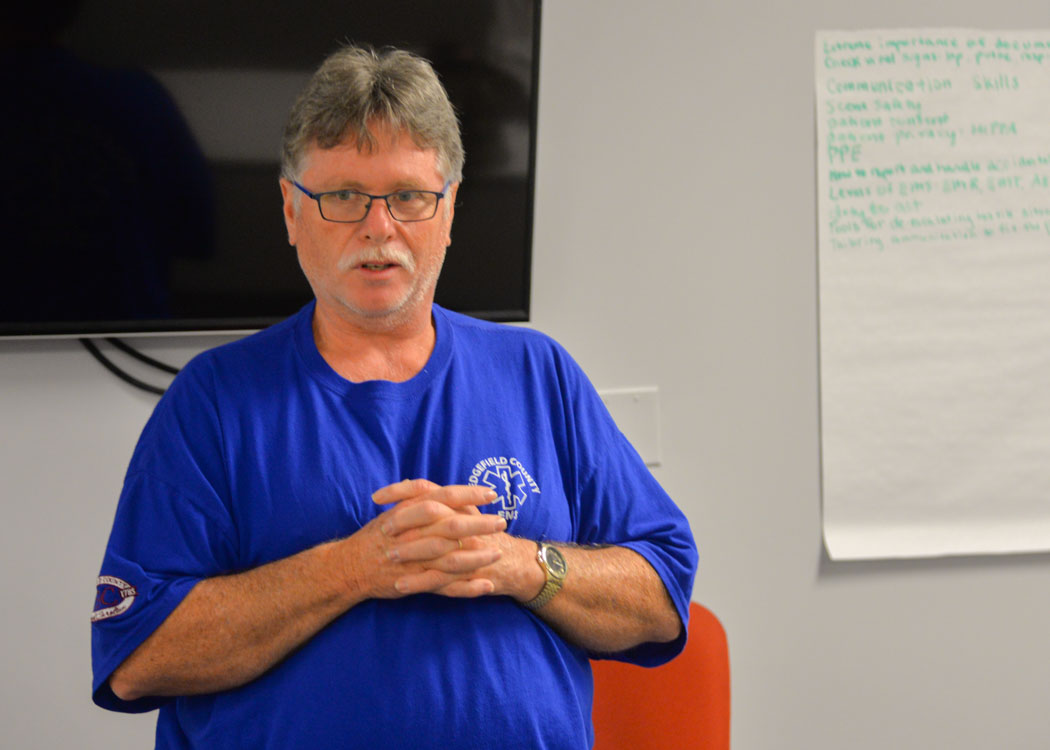 Mike Butler, training director for Edgefield County EMS, has happily served as a paramedic since 1996. He noted that the job is rarely routine. No day is the same.

"Start riding a truck (ambulance)," he said. "You will see, hear, and do things you never thought you would ever do. … When do we see patients? At their worst. You have to handle them professionally. It's very eye-opening." 

Most community paramedics earn about $40,000 a year to start, he said, but the pay range can depend on the type of "truck" you are in. There are 911 vehicles as well as general practice vehicles. The GP vehicles may pay up to $3,000 more per year. 

Perhaps the most exciting thing about EMT/Paramedic training is that the demand is very strong.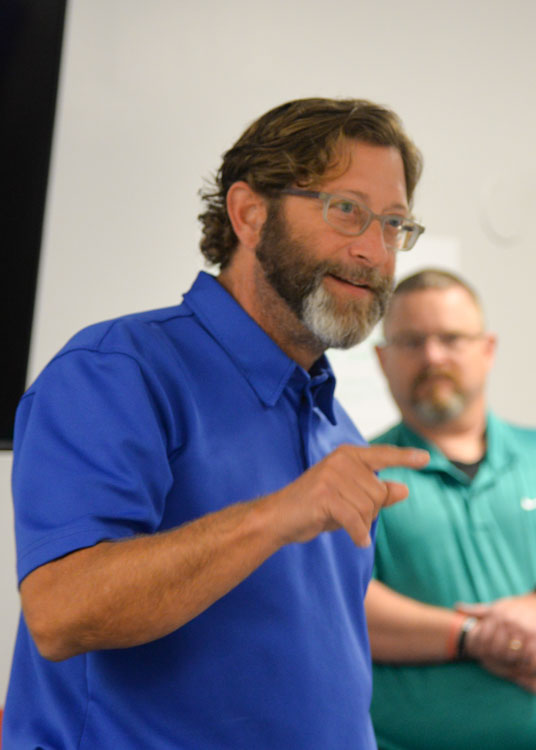 "The average age of a paramedic in South Carolina is 49 years old. They will be coming out of the workplace, and we are looking for y'all to fill that void," Steve McDade, PTC Paramedic Program Director, told the group. "I am looking for the next leaders of EMS in South Carolina."

McDade noted that there are 269 EMS agencies across the state, and opportunities are abundant right now, putting many candidates in the "driver's seat." He encouraged students to seek out their niche in the health care field and choose something they love. 

"The jobs are there, and they have gotten better. There are flexible hours. You can choose the shifts that fit your life schedule," he told the students. "The career ladder is there. … Everything you do will be centered around teamwork. Steve and I will do everything possible to make you successful."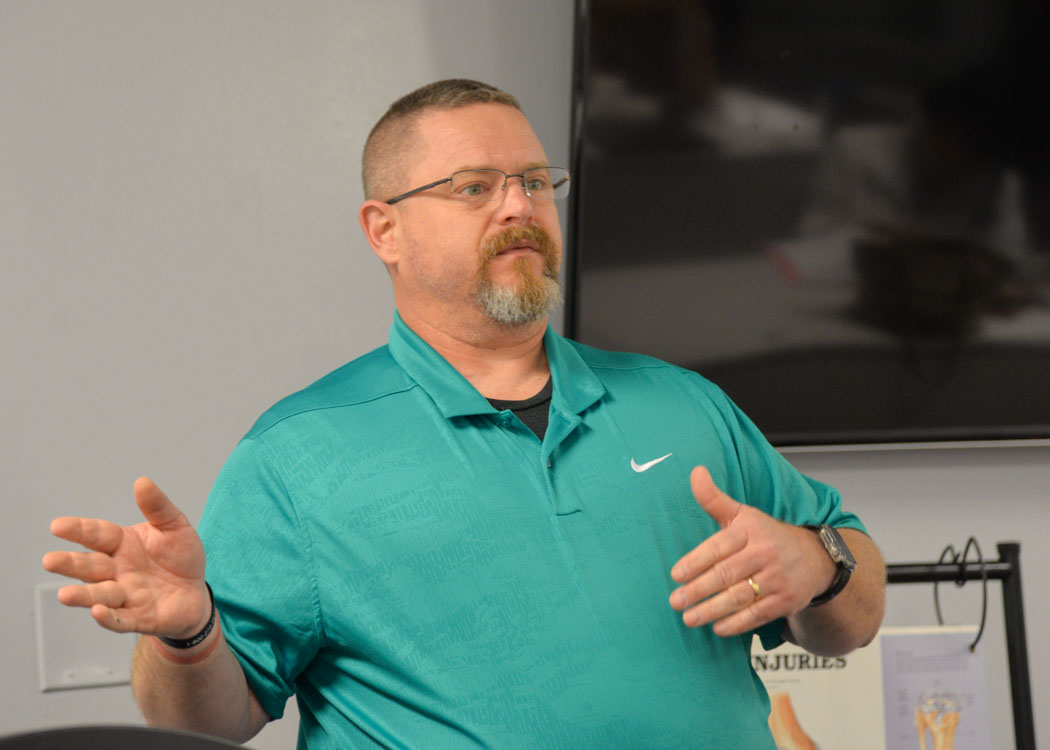 Steve Hudson, Paramedic Program coordinator and lead instructor, said that he felt the basic EMT training was even more difficult than paramedic training because the EMT instruction is establishing the core competencies that apply across the board. 

"You are building your foundation. It becomes easier as you go, but it still is a lot of work. You have to make a commitment to be in paramedic school," he said, adding, "There are paramedic positions open at every agency in our seven-county service area."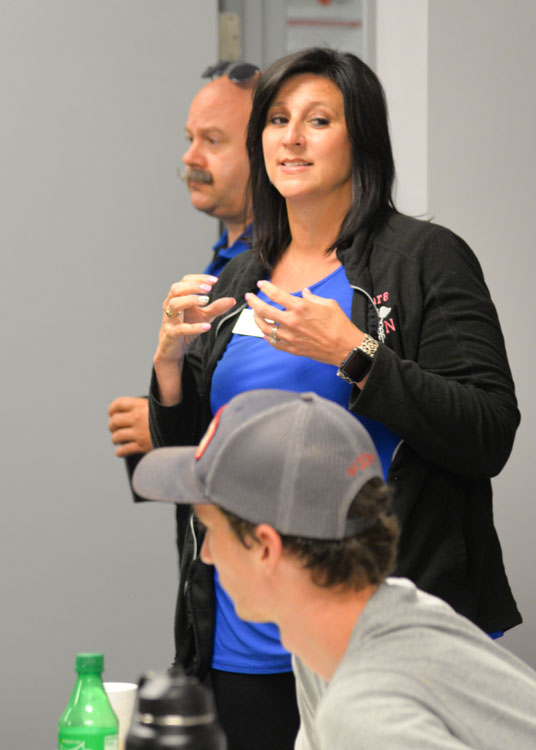 Nursing is another field some EMTs and paramedics may gravitate toward. PTC Health Care Dean Tara Gonce noted that, regardless of where one turns at each fork in the road, the learning never really stops in health care. Because of their background and training, paramedics make excellent candidates to enter the nursing field. 

"I have always thought nursing and paramedicine go hand-in-hand. We work together," she said. "You are the ones who deliver the patients to us, and we take care of them after that. … Remember that the learning never stops. You will crave more. You want to do more in health care. It changes so much day to day. You never stop learning."

Breaking Bread with Recruiters

The EMT/Paramedic Program on June 17 held a "Lunch and Learn" event that was basically an abbreviated job fair with tables set up for recruiters from several EMS agencies on hand to speak personally with students who will be entering the job market soon.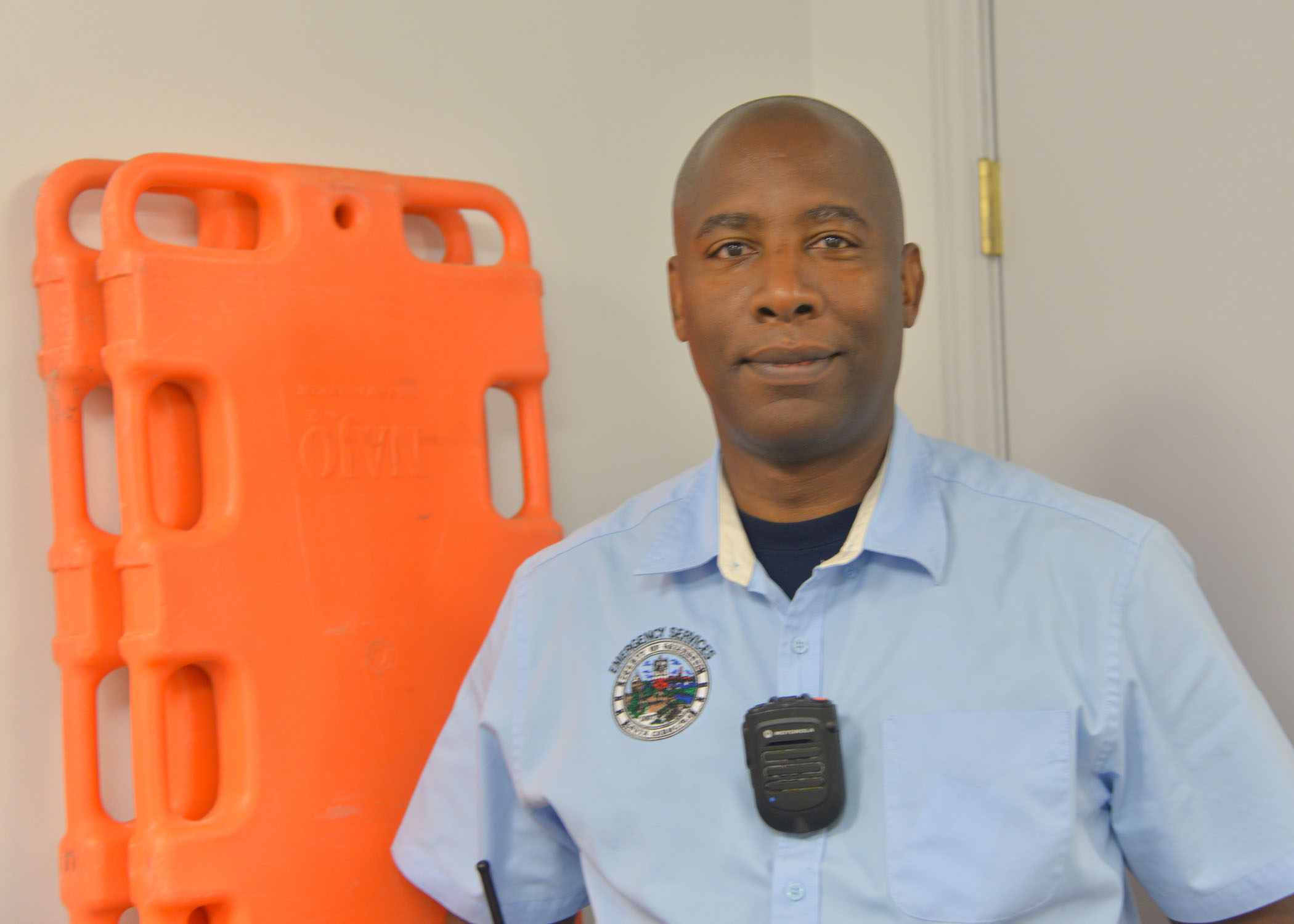 Derek Oliver, Director of Emergency Services for Greenwood County, said the pandemic over the past year has impacted the EMT shortage, as some professionals made difficult choices to leave their jobs to stay home with children after schools closed or care for relatives who had fallen ill. Others may have balked at the risk involved with transporting COVID-19 patients. 

"COVID did not help the situation. Some people had to leave," Oliver said. He does recruiting outreach through multiple channels, including high school and college campus visits as well as local job fairs. The agency also reaches out via email and social media. "The kind of information I give out is mostly about salary, because money is important to everyone. I also give potential recruits the opportunity to ride around on one of our units."

Butler, with Edgefield County EMS, doesn't mince words about the hard realities of the job. It is exhilarating to save lives, but no call is routine. EMTs may deal with belligerent, mentally ill, intoxicated, and noncompliant patients who resist or interfere with their own care. This reality poses some risk to the EMT, but there are resources to help these professionals cope with any trauma and stress that may come with the job.

"If we get a call, and we know the patient is dangerous, we generally get law enforcement to accompany us," he said. 

Oliver, who has been in his position for two years, acknowledged that even seasoned EMTs may need some extra support sometimes. The department has a standard Employee Assistance Program (EAP) that offers a limited number of cost-free conferences with psychologists. Beyond that, they may be referred to a specialist for longer-term support. 

"Over time, the job can impact morale and mental health. I work hard to promote a healthy work/life balance. I prefer you spend your time off … off," he said. "We want to avoid that fast burnout."

In addition, Greenwood EMS utilizes SC FAST, an organization that provides training and support for the state's first responders in an effort to prevent or mitigate issues such as Post Traumatic Stress Disorder (PTSD). "They are available to come whenever we need them," Oliver said.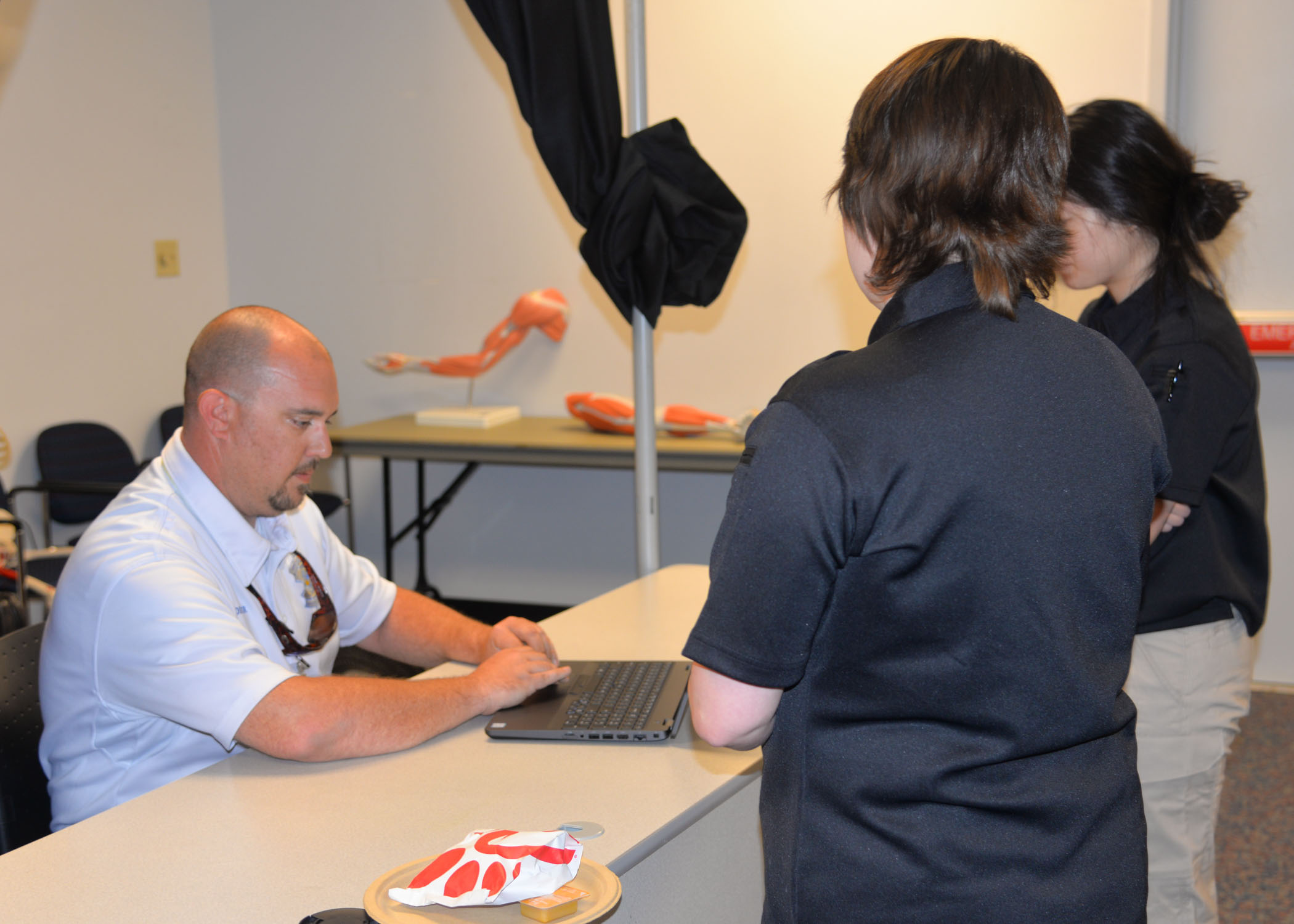 Will Blackwell with Abbeville County EMS told students that, being in a rural area of the state, EMTs in his division have the opportunity to learn and do more, beyond transport. 

"We are with a patient a lot longer and have a chance to give medication and other things," he said. "You tend to get more clinical experience." Abbeville County's nationally renowned Community Paramedic Program has been operating since 2014. The program identifies health risks and provides follow-up care as well as acute illness and injury care to community residents.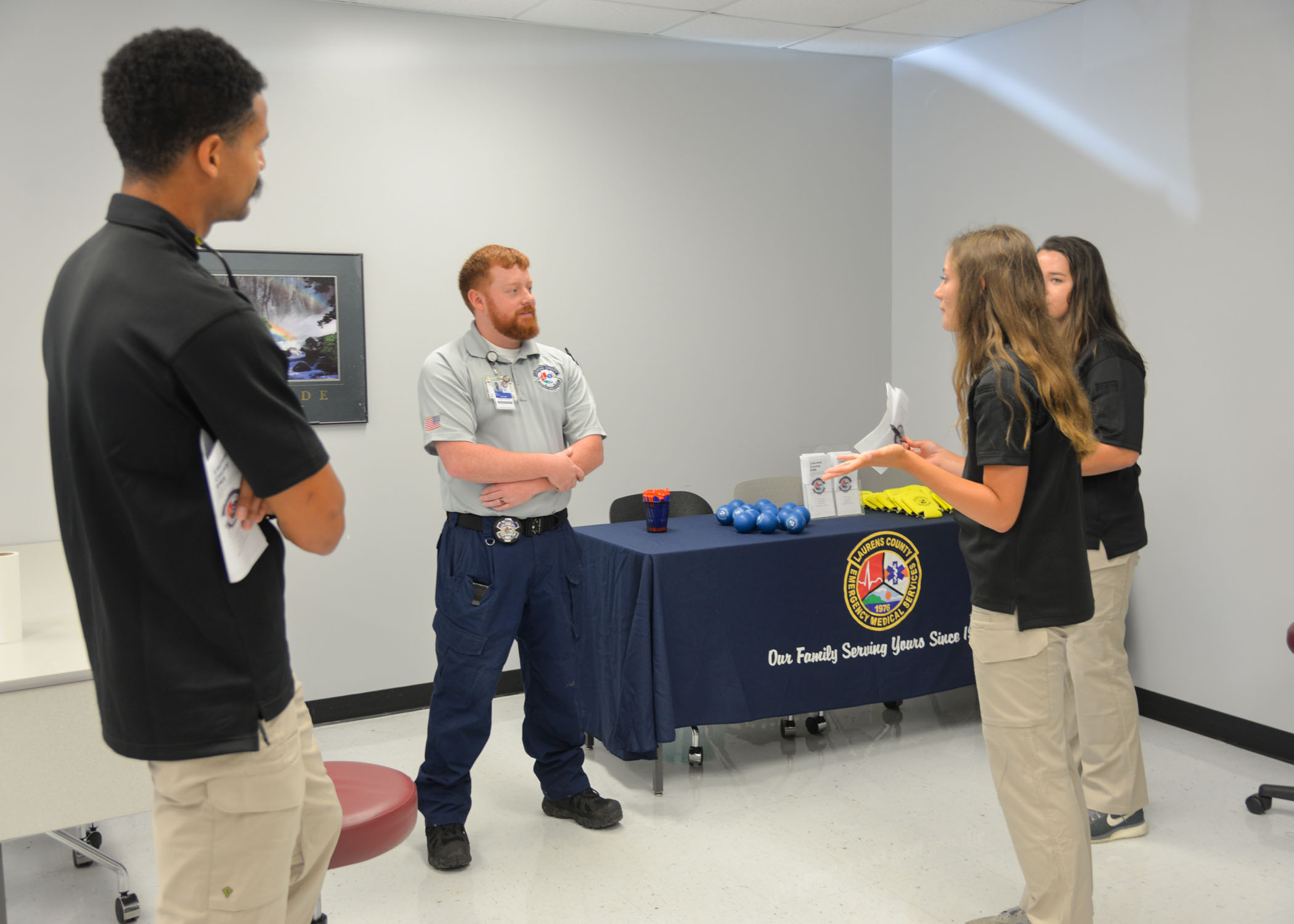 Cameron Word with Laurens County EMS had a handful of students transfixed with stories from the field. Some were ready to apply on the spot, even if available positions truly started at the bottom.

"We have driver positions open right now for our non-emergent transport truck," he said. "It's a good way to get into the field and then work your way up." 

Word himself is a graduate of the PTC program's first EMT cohort, receiving both the program award and Health Care Division award. 

EMT opportunities are not limited to government. Representatives from the privately owned Thorne Ambulance Service were on hand to answer questions and outline benefits for those willing to make a minimum two-year commitment. The company provides ambulatory and wheelchair transport for patients needing skilled transport to doctors' offices or hospitals, as well as basic life support services for the medically homebound. Thorne also operates Advanced Life Support ambulances for critical care patients.

"Everyone gets into EMS for different reasons," said Thorne Operations Manager Rob Moore, a veteran. "After getting out of the military, of course I needed to pay my bills, but I also wanted to help people," which is similar to reasons for serving in the military.

A number of grants and other funding sources combine to make EMT or paramedic training financially painless.

"There are a dozen different ways that you can get this training free," said Ann Skinner, workforce development director at the Upper Savannah Council of Governments. Upper Savannah received a half-million, four-year grant to train 100 EMTs and paramedics. Piedmont Tech is a grant partner in the national H1B Rural Healthcare Initiative. Therefore, the prospect of tuition costs should not deter anyone from considering EMT training opportunities.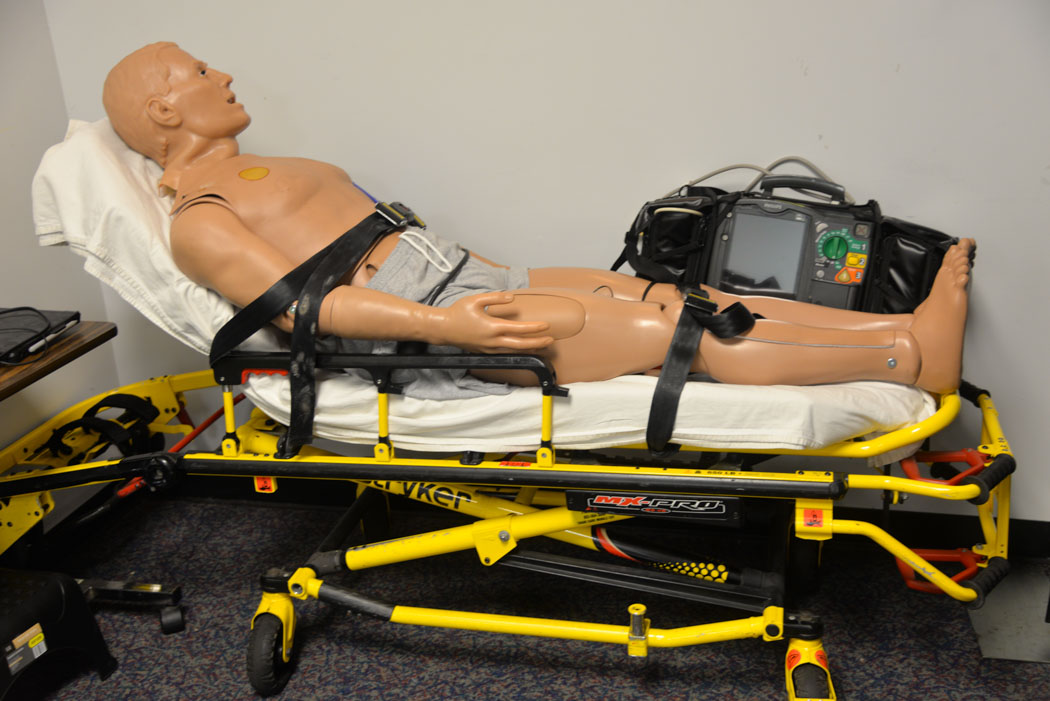 "We do a little bit of everything in EMS and paramedicine," Hudson said. "You can look in the mirror and know at the end of the day that you have made a difference in someone's life. I wouldn't trade it for anything in the world."

PTC will graduate its second class of paramedics in December. Upon graduation, they are eligible to test for National Registry Certification. Many of these students work as EMTs while training to be paramedics.
PTC's full-term fall semester runs from August 23 to Dec. 10, 2021. For more information about PTC's EMT and Paramedic training programs, go to www.ptc.edu/emt.