Students Meet with State Ag Commissioner
The seemingly endless rain couldn't keep 15 hardy students from the Piedmont Technical College (PTC) School of Agriculture from traveling from Saluda to Greenwood to hear SC Commissioner of Agriculture Hugh Weathers address the Small Business & Farmers Rural Strong Expo on March 4 at the Medford Center. Even the Commissioner joked about the weather.
"There are some challenges in the industry right now," Weathers said in his opening. "The soil and the markets are a little soggy!"
Sounding more like a banker than a farmer, Weathers shared all manner of statistics about world financial markets and how an incident abroad, such as a delay in the soybean harvest in Brazil or the spread of the coronavirus, can impact agribusiness across the entire globe.
"The USDA (U.S. Department of Agriculture) has focused on how to position our producers to gain a foothold in the markets," he said. It was a timely message during National Agriculture Month.
Weathers discussed a number of issues and some initiatives underway to help address them. The 4th generation farmer noted that it is imperative to recruit new farmers to keep South Carolina's agriculture strong and competitive.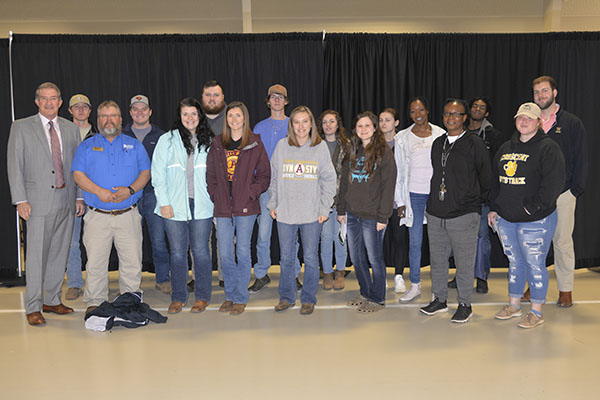 "The average farmer in South Carolina is about 60 years old," he said. "Where are we going to find the next generation of farmers?" The SC New and Beginning Farmer Program was established in 2011 in partnership with the Clemson Cooperative Extension to provide a series of workshops to teach the fundamentals of farm business management as well as more advanced topics. The program makes participants aware of local, state and federal resources available to them and offers experiential learning through real-world application.
PTC students represent the next generation of farmers and agricultural professionals.
"As longtime farmers begin to retire, it is increasingly important that their knowledge is passed along to the next generation," said Diversified Agriculture Instructor Roger Estridge. "As more young people become interested in farming, one of their biggest challenges is access to enough land. I'm glad our students today got to hear about many of the resources, including low-interest loans, available from the U.S. Department of Agriculture."
Weathers also touted the creation of the Agribusiness Center for Research and Entrepreneurship (with the appropriate acronym ACRE), which awards grants of up to $25,000 to foster research that can strengthen the prosperity and competitiveness of the state's agribusinesses.
"I think bright minds in agriculture can really innovate," he said. "We can help them mold their ideas into a business. If they are going to fail, we want them to fail on paper – white paper – not the green kind. We think bright minds dedicated to research can develop some of the great answers" to questions such as how to preserve food using less sodium or ways to introduce and sustain hemp products. To date, ACRE has provided funding to as many as 15 people who have presented a promising idea.
"About 8-9% percent of your disposable income is spent on food," Weathers noted. "We product the safest food for the lowest cost in the world. … These are agriculture investments that may make a difference."
To learn more about PTC's Diversified Agriculture Program, visit www.ptc.edu/ag.