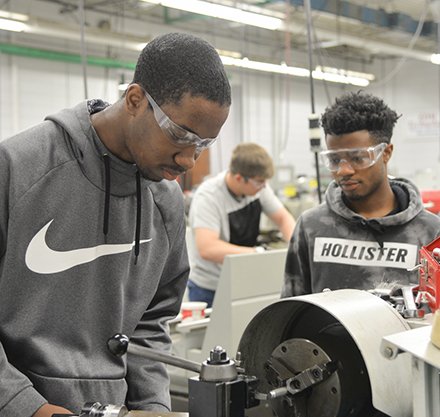 PTC Offers Tuition-Free Option for Dual-Enrolled High School Students
June 27, 2019
If you could earn college credit while still in high school—tuition-free—why wouldn't you? That is exactly what Piedmont Technical College's Dual Enrollment students will be able to do starting this fall.
"A new scholarship created by the South Carolina General Assembly is allowing us to provide this tuition-free opportunity to students in our region," said Kris Burris, Piedmont Tech director of Dual Enrollment. "This should make it possible for more students to pursue transferable college credit and career preparation during their junior and senior years in high school."
Legislation for the SC Workforce and Industrial Needs Scholarship (SC WINS)—a statewide program designed to address workforce shortages—passed in May. As a result, the new scholarship has allowed Piedmont Tech to make classes for high school students much more affordable. 
Specifically, South Carolina residents taking at least 6 credit hours (generally two classes) per semester can attend classes tuition-free at their high school, on a PTC campus, or online. In addition, if students are enrolled in at least one course designated as a "critical workforce area," they will be eligible to receive a book allowance up to $300 per academic year. Parents and students can visit www.ptc.edu/dual for full pricing details.
A wide variety of options are scheduled at area high schools and on PTC campuses—from classes that will transfer to four-year colleges and universities to courses designed to help students jump-start a career. High school students can check with their guidance counselor for details about offerings.
"We're excited to be able to lower costs for our Dual Enrollment students," said Dr. Ray Brooks, Piedmont Tech President. "We already have a large number of students complete coursework through our program each year. Many even receive their associate degree at the same time as their high school diploma. This change will allow many more high school students in our region to build in-demand skills and save big on their college education."
Learn more about Piedmont Tech's Dual Enrollment offerings at www.ptc.edu/dual or call 864-941-8397.
Related Stories:
PHOTO CUTLINE:  These dual-enrollment students from McCormick High School took machine tool classes at PTC in Greenwood this past spring.